This EP was released on March 1st this year. For some reason the Bandcamp page for this project has the release date listed for February 22nd, so I was pretty disappointed when it didn't drop that day. As of 2:12 AM on March 1st, it's still not available on Bandcamp. It's on iTunes though, so I'll be streaming it through Apple Music. If you were to ask me about underrated MCs today, Substantial would probably be one of the first artists I mentioned. His first album was almost entirely produced by the legendary producer Nujabes. I think that album is amazing. It's a shame more people haven't heard it. All his other albums are good too. He released a project of tracks that are basically just him rapping over songs from the Samurai Champloo soundtrack, which was pretty cool. He released an album under Mello Music Group, which was dope. His latest Rap album came out in 2017, and in my opinion it's the best thing he's done since that first album with Nujabes. The two albums he did with Marcus D as Bop Alloy were nice too. He released an instrumental album last year, which I haven't gotten around to checking out yet. Anyway, this project here is half original material, and half remixed material. I've never heard a project from Substantial that I didn't think was good, so I'm expecting this to be dope. Every song is self produced.
1. While They Sleep featuring 
Stephanie Gayle
This is an original song. Stephanie Gayle has been working with Substantial since the 2000s. However, she used to perform under the stage name "Steph the Sapphic Songstress." I didn't even know she changed her name until I saw her alongside Substantial during one of his "[SUBSTANTIAL SUNDAYS]" livestreams. Anyway, the production on this track is REALLY great. I think this is actually my first time hearing any of Substantial's work as a producer, and it's honestly way better than I was expecting it to be. Goddamn. This hook with Stephanie is amazing. Goddamn. This is so fucking good. The first verse from Substantial was great. The song's about Substantial balancing his family life with his work as a musician. I love the piano in this beat. The instrumental is really beautiful honestly. The second verse was dope. Wow. This song is fantastic. I don't have a single gripe with it. I love everything about this track. The production is stellar, the vocals from Stephanie Gayle are angelic, and Substantial did a great job with the verses. This shit is dope af.
2. Exposition (Remix)
This is a remix of the opening track from The Past Is Always Present in the Future, which is Substantial's 2017 album. That version is produced by JsouL, and it's pretty good. The version on this project is a little slower, but I honestly like the production more here. It's a bit more melodic. Substantial killed that verse too. I love the content about how black people are unjustly treated in the United States. The production on this one sounds more emotional than that of the original. I think the vocals on the hook are performed by JsouL, but I may be wrong about that. Anyway, I think this is a really great remix. Any remix that I like more than the original version of the song is a success to me. This shit is dope af.
3. Alone in the Rain featuring 
Stephanie Gayle & Mason Lieberman
I think this was the first single released from this project. Actually, the previous track was the first single. I hadn't listened to any of them before starting this review. Anyway, I really love the jazzy production on this track. It's kind of hard to believe that Substantial produced this all by himself because it sounds like the instrumental is performed by a full band. Oh, apparently Mason Lieberman's contribution to this song is the electric guitar and cello. It's dope that he actually got some live instrumentation for this song. The way Substantial was flowing on the first verse was really nice. The vocals from Stephanie Gayle on the hook are smooth as hell. The second verse from Substantial was really good, and I love Stephanie Gayle's bridge. She sounds really great. I think there were some vocals from Mason on the outro. He sounded pretty good too. I don't really have any issues with this track. It didn't blow me away like the previous couple of songs did, but I still enjoyed it quite a bit. Once again, I'm really impressed by Substantial's production. This shit is dope.
4. The Sub Way (Remix) featuring 
Kenichiro Nishihara
This is a remix of another song from The Past Is Always Present in the Future. The original version is produced by Marcus D, so I guess it's a Bop Alloy song. It also featured a female vocalist named Precious Joubert. I guess she got replaced by this Kenichiro person. I really liked the original version of this song, but this remix is a lot better honestly. The production is amazing. It's far more layered. I love the piano & strings. Honestly, this might actually be my favorite track on the whole EP so far. It sounds like the hook still features vocals from Precious Joubert. I guess Kenichiro contributed to this song some other way. They probably helped with some of the instrumentation. The percussion on this track actually sounds like he sampled a subway train. I love the way Substantial rapped on this song too. His flow is really nice. This shit is amazing honestly. There's not a single aspect of this track that I don't love. I think this is a major improvement over the original version of the song. This shit is dope af.
5. In My Daughters' Eyes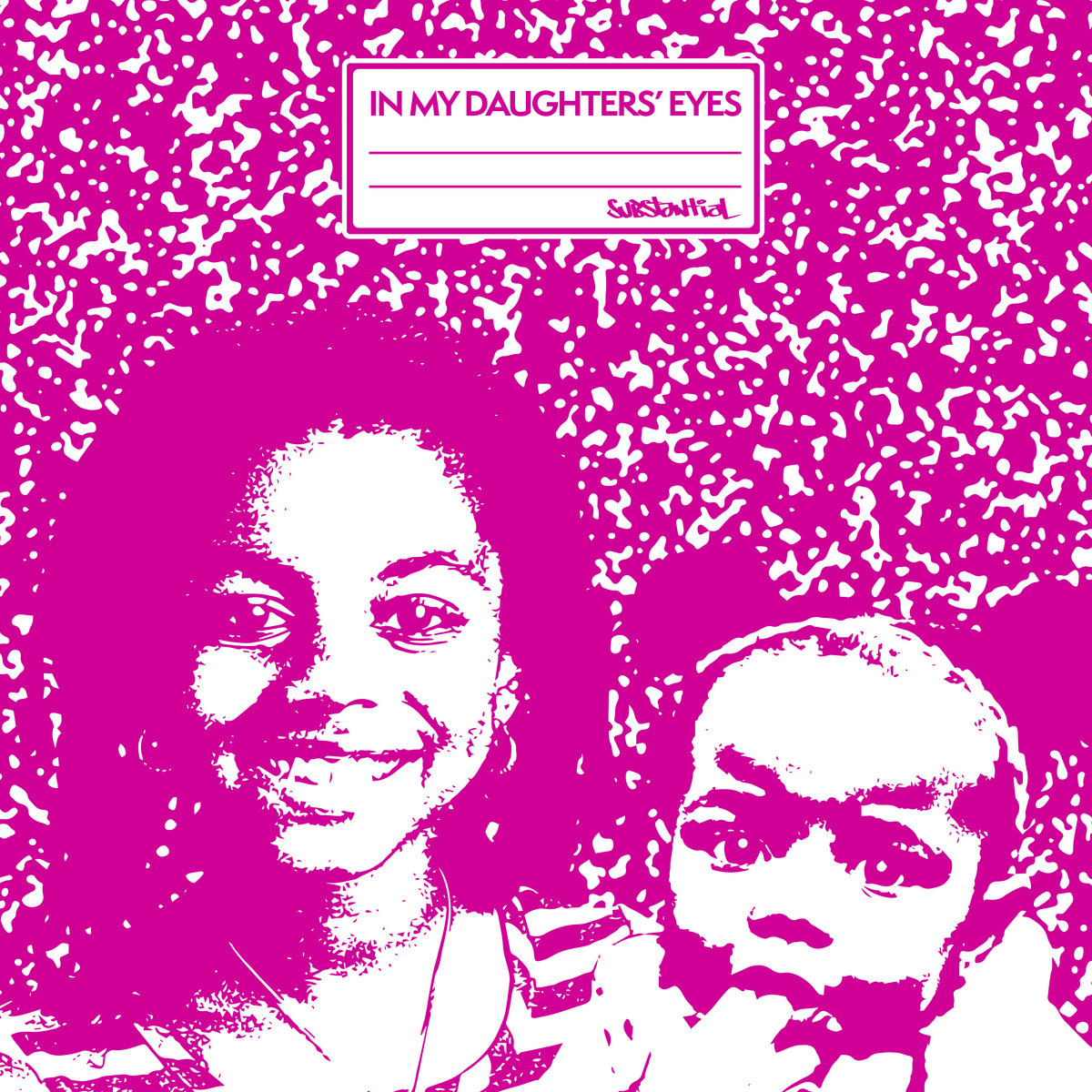 When I originally read the tracklist for this project, I thought that this was another remix. On The Past Is Always Present in the Future, there's a song called In My Daughter's Eyes. I didn't notice the different placement of the apostrophe on this song. Substantial has actually had another daughter since the aforementioned song was released, so this is pretty much a sequel to that track, which is one of my favorite songs Substantial has ever done. The instrumental on this track is really gorgeous. The sung hook sounds pretty good. The first verse is nice. The way Substantial's rapping about his children growing up & learning about the world is really heartfelt. As someone who hates kids, I have to admit that this is a really heartwarming song. The way the second verse transitions back into the hook is really dope.
She ain't understanding everything that she sees
But one thing that's apparent is this here life ain't easy
Here for both daughters 'til they no longer need me to teach 'em
When my time comes they gon' still hear me repeating…
Damn. This shit is really… Uh… I'm trying to think of another way to say "heartwarming" since I already said that. I can't stress that enough. If you have kids of your own you'll probably appreciate this even more. I think this is a really good song. I don't have any issues with it. It's dope.
6. In the Key of Green (Substantial Remix) featuring 
Greenspan & Carolyn Malachi
This is a remix of the opening song from Greenspan's sophomore album, Never Gon' Die. I'm not that familiar with Greenspan honestly. The only time I've ever heard from him was when he was featured on the song The 4our Fors, which appeared on The Past Is Always Present in the Future. In preparation for checking out this remix, I listened to the original version of the song, and it's actually pretty cool. I like the production a lot, and the vocals from Carolyn Malachi are pretty good. I love the beat on the remix though. I think it's better than that of the original. However, the melody that Carolyn Malachi sings doesn't really sound that good over it. It doesn't fit that well over this new beat in my opinion. It doesn't sound awful. Just a little awkward. I'm not crazy about Greenspan's rapping on this song. It's definitely not bad though. It just doesn't really stand out that much. This is the only song on this project that I don't really see myself coming back to. I hope Substantial releases an instrumental version because I really love this beat. However, overall the song is just okay to me.
---
This EP is great. I'm super impressed by Substantial's production. These are some of the best beats I've heard in a while. I don't really have any issues with this project overall. There was only one song I didn't like that much, and it had more to do with the features than Substantial himself. I'm really glad that the remixes on this song are even better than the original versions. The songs were good enough as they were, but now they've been upgraded with superior beats. I definitely need to check out that instrumental album that he dropped last year after hearing this because the dude is a super talented producer. I was more excited to hear him rap before listening to this project, but the beats here are what really blew me away. His rapping is just as good as it's always been though. On his 2012 Mello Music Group release, he has a song called Mr. Consistent, which is really the perfect nickname for him because every single project that I've heard from him has been of good quality. I thoroughly enjoyed this extended play, and I can't wait to see what he does next. This shit is dope.
Favorite Song: The Sub Way
Least Favorite Song: In the Key of Green
85