This album was released on April 19th this year. I honestly can't really say that I consider myself a fan of Erick Sermon these days. Obviously I like most of the work he did with EPMD—excluding their final two albums—but his solo albums aren't that good to me. I loved Double or Nothing, and Erick Onasis was cool too. I even liked Chilltown, New York. However, his other solo albums aren't very consistent to me. None of them are particularly bad. They're just not that good. I'll post my rating of the EPMD discography on Monday. I always thought Erick was a solid MC, but I definitely prefer him as a producer. I'd have trouble getting through a solo Erick Sermon album with no features. Thankfully, he's never released something like that. Speaking of features, I think that Def Squad album that came out in '98 is really underrated. I love that album. Anyway, I'm not really sure how I'm gonna feel about this album here. I think it was funded with a Kickstarter campaign. I'm not completely sure about that. Even if I don't end up liking the album that much, I'm sure there'll at least be a handful of songs I like a lot. I haven't really seen anyone else talking about this project, so I'm not sure what the reception has been like. Hopefully this is a strong comeback because the last Erick Sermon album I actually liked came out 15 years ago.
1. Intro:
RJ Payne
produced by 
DJ Kanzer
I'm not really familiar with this RJ Payne guy, but he's apparently signed to Benny the Butcher's Black Soprano Family label. If he got a co-sign from Benny then I'll probably dig him. Damn. Okay, I'm about halfway through this track right now. This dude is fucking awesome. I definitely see why Benny fucks with him.
I'm the vermin exterminator
Word to Erick Sermon, I'm the new version of Terminator
The God; prayer rug and a turban, a work of nature
I don't even write raps, my words merge with the paper
Erick Sermon is nowhere to be found on this track. It's just a really great intro from RJ Payne. The way he ended the verse is a nice way to segue into the main portion of the album.
Haters all on my balls gave me a hernia
I still hold up my sword, Prince of Eternia
Shit, you are now observing Disturbia
You are now tuned in to Erick Sermon: Vernia
I actually love this track. In fact, this intro is better than the majority of the shit on Erick's other solo albums. Hopefully the rest of the album is just as good as this. This shit is dope af.
2. Wake Up / No Fear produced by 
Erick Sermon
Hmm… Something about this instrumental sounds really weird. I don't know how to describe it. It sounds really tinny. It's like it's been really heavily compressed. It's not a bad beat though. I like it. Hmm… Is that Erick singing on the hook? Wow. It sounds surprisingly good. I would've expected him to sound a lot worse. I mean, he's not gonna blow anyone away with his singing. It's not really bad to me at all though. He pulled it off. It's entirely possible that it's someone else singing. I can't really tell. The beat actually grew on me a lot. It sounded kinda shitty to me at first, but I like it a lot now. There's really only one verse on this track, but it's pretty cool. Erick Sermon has never been a super impressive lyricist, but he did his thing on this track. It was cool of him to shit on deadbeat dads.
I thought black lives mattered, boy, didn't it?
You ain't think about a condom when you was hittin' it?
Deadbeat dad; useless
Ain't tryna clown nobody, it's what the truth is
I really can't tell if that's him singing the hook. I don't think it is. Anyway, this is another track that I actually really love. The previous song was better lyrically, but this one is more entertaining to me sonically. I don't know which one I prefer. I guess it would just depend what mood I was in. Anyway, I really fuck with this track. The production is great, and I really liked the hook too. This shit is dope af.
3. Da Wave featuring 
Yummy Bingham
produced by 
Rockwilder
The beat on this track is pretty good. The first verse from Erick was cool. He didn't really say anything that stood out to me, but he sounded good. That's pretty much how I usually feel about most of his verses. It was average for him. I enjoyed it. Yummy actually sounds pretty goddamn good singing the hook. I wasn't crazy about the second verse from Erick. It was fine though I guess. It certainly didn't ruin the song at all. Hmm… Who the hell is that singing on the outro? Is that Erick? Or Rockwilder? I have no idea honestly. Anyway, I think this is another good song. I don't love it as much as the previous two tracks, but it's still pretty good. I fuck with this track. It's dope.
4. Tha Game featuring 
AZ & Styles P
produced by 
Erick Sermon & Mic Chek
I'm not sure who that is singing on the intro of this song. It could just be a sample. This first verse from Erick is pretty good. There was one point when he started describing someone, saying "round, fat, brown skin, few tats, hair black," and I'm not really sure what the hell he was talking about there. It didn't really go anywhere. It seemed pretty random. I liked the verse overall though. I have no idea who's singing the hook. I'm just gonna assume it's Mic Chek even though he's only credited as the co-producer. It's pretty good. AZ's verse was great. Styles P killed it too. He had my favorite verse honestly. In terms of content, this is kind of an old nigga anthem. It's a little Hip Hop Is Dead-ish. Just look at these lyrics from the hook…
When you turn on the radio
When you lookin' at the video
It's just the same old same old
Where did the game go?
I like the song a lot though. The production didn't really stand out to me very much. The verses were all good though, especially from Styles P. This song is dope.
5. Go! featuring 
No Malice, Try Bishop & Kaelyn Kastle
produced by 
Erick Sermon
Damn. I wasn't expecting to see No Malice here. Speaking of him… What the hell has he been up to? Is he still making music? Hold up… Okay, I just googled him. Apparently his last album came out in 2017. Was that any good? I didn't see anyone talking about it. I didn't even know it existed until a couple seconds ago… Whatever. I'll probably check it out after I finish this album. I'm not familiar with Try Bishop or Kaelyn Kastle at all. It looks like Try Bishop does a lot of work with Curtis Williams. According to Kaelyn Kastle's Twitter account, she hates scorpio men, so I guess we wouldn't get along. Astrology is bullshit by the way. I only play along because every now and then a hot girl will assume "we're compatible." Anyway, I guess that's Try Bishop singing the hook. He sounds fine. The background vocals from Kaelyn sound good. The beat's pretty solid. Erick did his thing on the first verse. No Malice honestly killed that second verse. He sounded really good. His flow was great. The vocals from Kaelyn on the outro sounded pretty good. I definitely enjoyed this song, but it's probably my least favorite track so far. The woke subject matter just isn't really that interesting to me. Don't get me wrong; I appreciate when artists try to say something of substance. That's just not really what I want from Erick Sermon. He did a decent job with it though. I like the song. It's pretty good.
6. My Style featuring 
Raekwon & N.O.R.E.
produced by 
Boogeyman
This was the only single I'd heard from this album before starting this review. I actually think this track has the best beat on the whole album so far. Boogeyman put his ass into this song. Raekwon sounds really good over it too. The first verse from him is really dope. That line from Erick Sermon in the second verse where he said he wears timbs with his pajamas was actually pretty goddamn funny. I feel like I've heard him use that Run-DMC line before though. Maybe it wasn't the exact same line, but he's had a similar line in the past. N.O.R.E.'s verse was really great. This is definitely a standout track for me. I enjoyed all the verses, and I love the beat. This shit is dope af.
7. That Girl featuring 
Big K.R.I.T. & Ricco Barrino
produced by 
Erick Sermon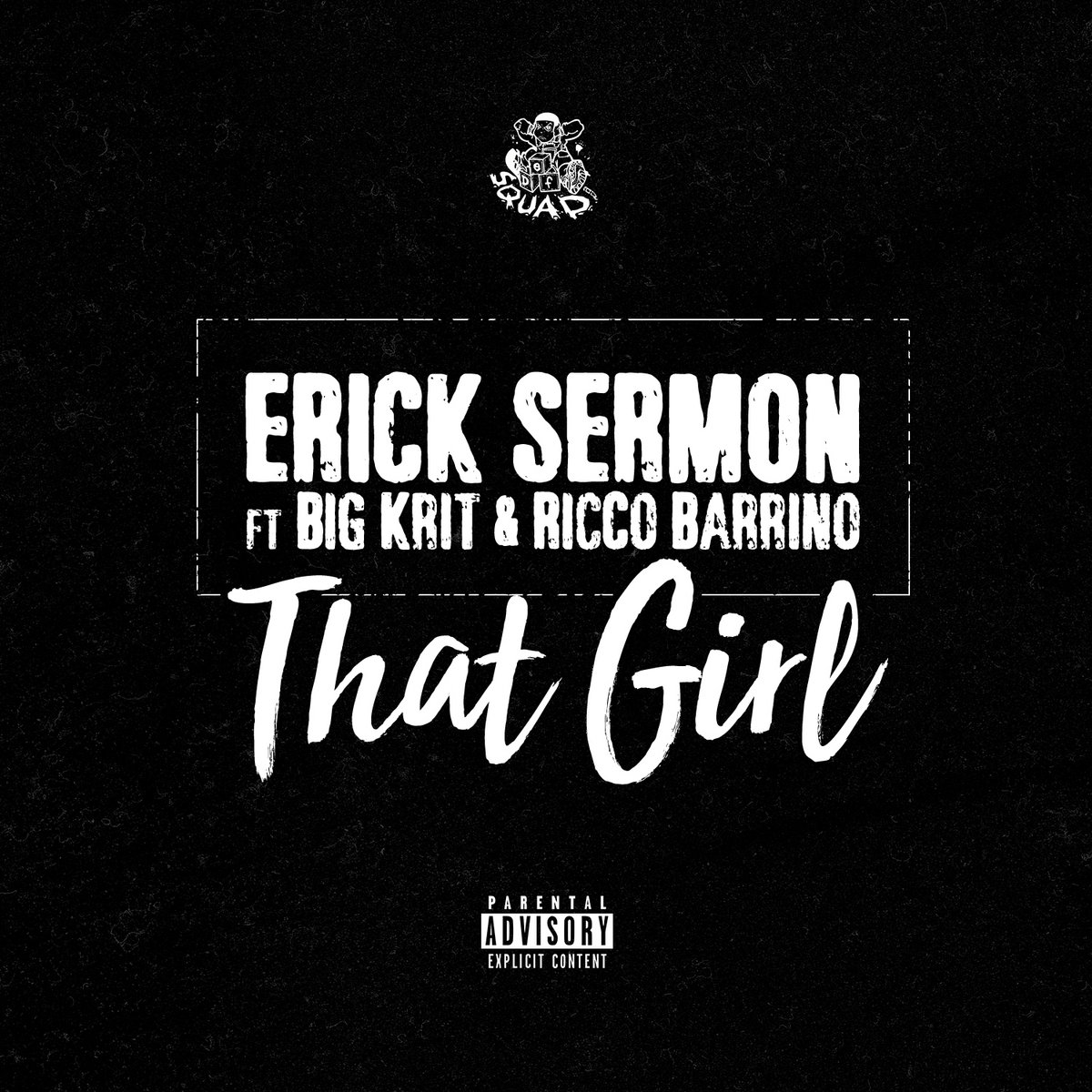 Hmm… This sounds kinda familiar… Maybe I heard this single earlier. I've definitely heard this hook before. I guess it's fine. However, it's also a little… Hmm… I don't know how to describe it. Corny? I don't know if that's the correct word to use. It's a specific kind of corny. It sounds really poppy. I think it's okay though. The first verse from Erick was decent I guess. I just don't really care for the content at all. Ehhhh… The more I listen to this hook the less I like it. I think I must not have liked this song when I heard it the first time. I'm not really sure where he was going with that second verse. He started rapping about a stripper, and towards the end of the verse he said something about how she'll have to explain to her future son that she used to be an exotic dancer. I don't really see why though. It doesn't seem like it'd be hard to keep that a secret from your children. I wouldn't know though because I've never met a stripper with kids. Or a stripper at all for that matter. Anyway, the verse was pretty random. I can't really say I got any enjoyment out of it. Not even Big K.R.I.T.'s verse could save this for me honestly. He surprisingly didn't really do much for me. Honestly, there's not a single aspect of this song I actually enjoy. The production did nothing for me. I didn't care for the content at all. The poppy hook was lame. This shit is wack to me.
8. Cabinet produced by 
Erick Sermon
The beat on this track is pretty cool. I don't know what it is about the way Erick is rapping on this album, but his flow just sounds really basic and kinda amateurish. It may have something to do with his voice and delivery. He doesn't sound like a rapper. He sounds like an old ass nigga to be honest. It's like if my granddad was a rapper. May he rest in peace. It just sounds kinda awkward. It's certainly not a huge issue for me though. It's not intolerable. It's definitely more noticeable on this song than it was on previous tracks. I wouldn't say his flow sounds "rough," but it's very… not smooth. The concept of this song is actually pretty cool though. He's pretty much making up a cabinet of Hip Hop artists.
In case something happens to me today
I elect my vice prez to be Dr. Dre
I chose this individual to handle my shit daily
Secretary of State is Jay-Z
He goes on to name 50 Cent, Ludacris, Chuck D, Puff Daddy, DMX, Master P, Will Smith, LL Cool J, Snoop Dogg, Eminem, Nas, and DJ Kool Herc. It's a pretty cool song. It's not amazing or anything, but I enjoyed it quite a bit. As I said, his flow and delivery aren't the best. I enjoyed it lyrically though, and the beat was cool. This is a good song.
9. Stay Real, Pt. 2 featuring 
Nature & Keith Murray
produced by 
Erick Sermon
This track is the sequel to a song that was on Erick Sermon's debut solo album, No Pressure. The album wasn't good, but I actually did like that particular track, so hopefully this is just as good, if not better. This beat is really dope. The first verse from Nature was really good too. The hook is very simplistic, but it gets the job done. Erick did his thing on the second verse. Again, he sounds slightly amateurish. It's better than it was on the previous track though. Keith Murray killed that last verse. He definitely had the best performance on this track in my opinion. He had the most energy. Nature & Erick sounded pretty laid back. Anyway, this is a dope track. I don't really have any major gripes with it. It's not the best song on the album, but I like it a lot. I think it's better than the first Stay Real track too. This is dope.
10. Zion featuring
Xzibit, David Banner & Shaq
produced by 
Sugarless
Woooah… What the fuck? I really was not expecting to see Shaq featured on this project. Or any project for that matter. Oh, what the fuck? Apparently Shaq was featured on a Nghtmre single earlier this year alongside Lil Jon. You know what that reminds me of? Will Smith being featured on Logic's latest album. I won't get into that now though. Not yet. Anyway, the beat on this track is dope as hell. Xzibit sounds fucking awesome on this first verse. Goddamn. Okay, this shit is fucking fire. X killed that first verse. Even Erick did his thing on the second verse. Man, I love David Banner. I feel like I haven't heard from him in forever. I never got a chance to check out that album he dropped a couple years ago. He fucking snapped on this track though. His verse was even better than that of Xzibit. I was honestly expecting Shaq to just do a hook or a bridge or something like that, but he actually spit a full verse at the end of the song. It was dope too. The way he ended it was a little corny, but for the most part I enjoyed it. This is easily the best track on the album so far. This was really exciting to listen to, mostly because of the super bizarre lineup. X & David Banner definitely had the best verses, but Erick & Shaq did a great job too. I love this shit. It's dope af.
11. May Sound Crazy featuring 
Too $hort & Devin the Dude
produced by 
DJ Battlecat
Okay, I gotta give credit to Erick for making the final quarter of this album so exciting. He's got some rare contributors on this shit. You don't hear from Xzibit, Shaq, David Banner, Devin the Dude & Battlecat often. I guess Nature is a relatively uncommon feature as well. Anyway, Battlecat's production on this track is pretty dope. I guess I shouldn't be surprised that this is basically a Pornocore song considering the featured artists. It's not really my cup of tea. I don't care to hear shit like this, even coming from Too $hort.
She like to toot it up, and spread them cakes
I'm not sure who that is singing on the hook. It's not great. It's fine though. It's just really average. I like Devin's flow and delivery on the second verse, but the lyrics are a huge turn off for me. Erick's verse at the end feels like an afterthought. It thankfully wasn't as vulgar as the first two verses lyrically. It was much tamer. I don't know man… The only thing I actually enjoyed about this track was the production from Battlecat, and it's not even like it's a super mind-blowing instrumental. The content is a huge turn off, and I didn't really care for the hook. I definitely wouldn't call this wack, but I didn't like it at all. It's mediocre to me.
12. 300 E featuring 
Kami Marsden
produced by 
Rockwilder
This song easily has one of the best beats on the whole album so far. This beat is amazing. I really like the vocals from Kami Marsden on the hook too. The first verse from Erick was pretty dope. Again, his flow isn't great. The verse was sufficient though. It sounds like he's rapping about the past. He mentioned hanging out with Rakim. He said something about Ice Cube & Mike Tyson as well. I'm not sure if it was a Cube concert or a Tyson fight. Big Daddy Kane was there. Okay, yeah. It's an Ice Cube show. He did a pretty good job of telling the story. I mean, the story itself is really uneventful, but it was still fun to follow along with. Honestly, this is one of my favorite songs so far. I love the instrumental, and Kami Marsden sounded really good to me. I even liked Erick's rapping a lot too. This shit is dope af to me.
13. Vernia produced by 
Apathy
This song, and the album itself, are named after and dedicated to Erick's grandmother. Damn. This is actually pretty goddamn sad. Honestly, hearing this kinda makes me wish more of the songs were this personal. He's rapping directly to his grandmother, and this shit is really heartfelt. Man… This song is amazing honestly. The beat from Apathy is fantastic. This might actually be my favorite song on the whole album. There's not a single aspect of it that I don't love. This shit is dope af.
---
This album is really good. Honestly, I think this is his second best solo album. It's not as great as Double or Nothing, but it's REALLY damn good. However, I have to admit that Erick Sermon himself was rarely what made each song so great. With the exception of the final track, the features and production were pretty much what made the album so entertaining for me. Like I said, it would've been cool if the majority of the songs were as emotional and personal as the title track. He never really makes music like that. I think if he went that route it would've been a much more poignant project, kinda like how Jay-Z shocked everyone with 4:44. I'm not saying he has to tear himself apart like Jay did, but if he gave us more of an idea of who he is that would've been great. But again, as I said, he doesn't really make music like that. The title track of this album is probably the most emotional, personal song he's ever made. Honestly, we're probably lucky that we even got that because he's really not the kind of artist to make you feel emotions. Damn, that sounds fucked up. If you're familiar with his work you know what I mean though. His music is usually just about having fun. If there's any prevalent emotion in his work, it's happiness. There's nothing wrong with that. However, I personally find music more impactful if it resonates with me emotionally, and unfortunately sadness is usually the emotion that does the trick. I did really enjoy this album though. It's a really good, borderline great comeback. Check this shit out. It's dope.
Favorite Song: Vernia
Least Favorite Song: That Girl
79