This mixtape was released on May 29th this year. I pretty much went into this project completely blind. I'd never heard a project from Jace before. In fact, I'd never heard a project from any of the members of Two-9. I'm really not that familiar with the group. The only members I've heard are Curtis Williams & Jace. I've heard production from CeeJ, but I've never actually heard him rap. I don't even know the names of the other people in the group. I'd mostly heard Jace & Curtis Williams on features, so I really didn't know what Jace's sound was. I had no idea what this project would be like. The fact that this project is a free mixtape along with the title leads me to believe that he dropped this as some form of protest. I'm assuming he's having issues with his label, but I'm not really sure what he's asking to be freed from. Or maybe when he says "free" he just means "non-premium." I guess that makes more sense.
1. Metro Intro produced by 
Metro Boomin'
When I first started this project, I was actually really shocked by how good this song was. I was not expecting to hear anything this good. This song is fucking fantastic. The production from Metro Boomin' is thankfully really great. I think when Metro is at his best his production is amazing, but he's been pretty inconsistent to me. He did a nice job with this track though. I was really surprised by how good of a rapper Jace is too. His flow on this song is super impressive. The way he was riding the instrumental before the percussion even came in was really dope. He was really floating over the beat effortlessly. He sounds fantastic here. The video game sound effects Metro incorporated during certain parts of the song were really cool too. He used sounds from Super Mario Bros. as well as Sonic the Hedgehog. There's no hook on this track. It's just Jace rapping the whole time. I really don't have any issues with this one. It's dope af.
2. Air to the Throne produced by 
KILL
This song has another really great Trap beat. The production is a lot darker, and the percussion sounds a bit grittier. It might actually be my favorite beat on the project to be honest. I think Jace's rapping was slightly more impressive on the previous track, but it's still really nice on this one. Once again, his flow is really good. Also, the way the previous track segues into this one is really seamless. I think this song is really great, but I do have some minor issues with it. First of all, I have to talk about the most obvious issue, which is the title of the song. Does he not know that "air" and "heir" are different words? What the fuck, man? Nobody thought it'd be a good idea to tell him he spelled that shit wrong? I mean, it's possible that there's a specific reason for him spelling it that way and that there's actually a meaning behind it, but the writer in me is very disappointed in Jace for that mistake. My actual issue with the song is just the hook though. It's not a trash, unlistenable hook that completely ruins the song; it's just a little too simplistic. It feels like a waste of time more than anything. It adds absolutely nothing to the song. The actual rapping on this song is really good though, and I love the beat. So yeah, overall I think this track is dope af.
3. ITYB produced by 
Kenny Beats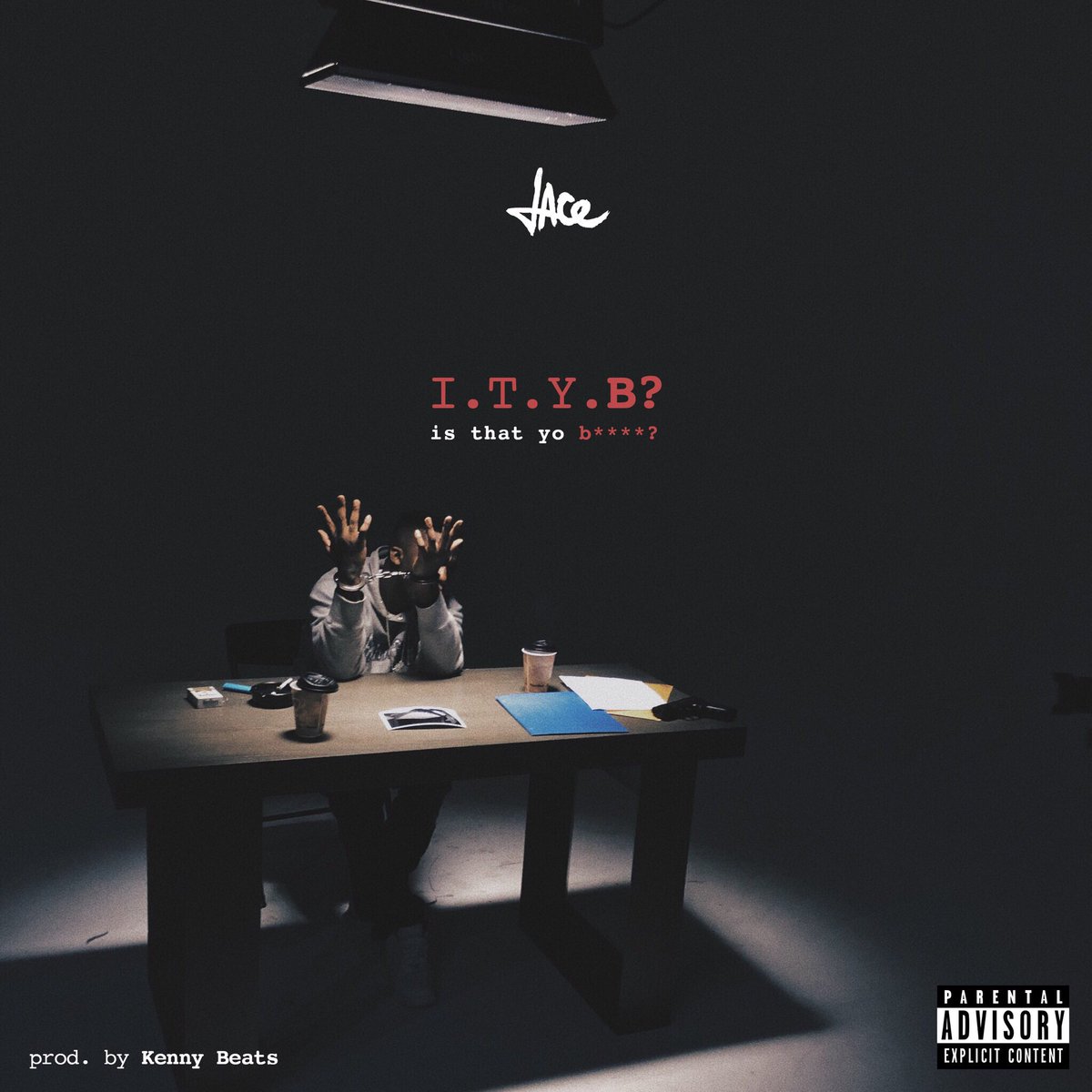 The production on this track is pretty solid I guess, but I was frankly very disappointed. I expect much more than this from Kenny Beats. The beat is pretty much just a lazy Trap version of the Jigga What, Jigga Who beat that Timbaland originally made for Jay-Z. Kenny didn't even chop it up in an interesting or creative way. It's virtually the same instrumental with some slightly altered percussion and a barely noticeable pitch-shift. The content of this track is actually pretty eye-roll inducing as well. The acronym that they used for the title stands for "Is That Your Bitch," so the song, as you can imagine, is pretty generic in terms of the subject matter. Once again, the hook is very simplistic. Overall, despite all the flaws, I did enjoy the song to some extent. The production, although lazy, still sounds pretty nice since the original beat has aged so well. Jace's flow is really nice on this track too. He sounded great. So sonically, I enjoyed the song a lot. Again, it's a very flawed track, but I do find it entertaining overall. I think it's pretty good.
4. Fire Power produced by 
Supah Mario
This is the point where the project really hit a wall for me and just stopped being enjoyable. I wouldn't really say this song is bad, but it's not something I'd ever wanna hear again. The production is fine I guess. It's just really average. I guess if you turn it up loud enough and you weren't sober it'd probably sound really good to you. It's really just another generic Trap beat though. It's not very memorable at all, but it's okay. My main issue with this song is just Jace's rapping. It's not like he's completely trash, but he just doesn't impress me on this song at all. His flow is repetitive and underwhelming. It just gets old really quickly. The song is just kinda stale. Nothing about it stands out in a good way at all. Again, it's not really a bad track. It's certainly listenable. I just don't see myself coming back to it in the future. It's decent though.
5. Still Alive produced by 
Kenny Beats
The next couple of tracks have pretty nice beats that are sadly marred by lackluster performances from Jace. I really like the production from Kenny on this track, and it's far more impressive than his previous contribution to this tape. Unfortunately, Jace fucks it up by spitting with a really generic autotuned delivery. It just sounds like another mundane auto-croonfest that I'd hear from any modern day create-a-character Atlanta rapper. His flow is very boring. Really the only saving grace of this song is the instrumental from Kenny. Just like with the previous track, I don't think this song is complete trash. It's just not good. It's another forgettable song that I'll never return to. It's mediocre to me.
6. Tuh produced by 
TrapMoneyBenny
You may recognize TrapMoneyBenny's name from his work on Drake's last album. He produced the inescapable hit, In My Feelings. I personally hated that song, but I enjoyed this beat in particular quite a bit. It sounded a little goofy to me at first, but I ended up really fucking with it. Unfortunately, Jace failed to do it justice. I guess the hook he performed is tolerable, albeit boring. The actual verses are really where this song loses steam for me though. Jace's flow is very lackluster and his delivery is painfully bland. This really just sounds like a Drake song to be honest. His underwhelming performance on this track just reminded me of Drake's lame ass feature on Sicko Mode. I think this song is very mediocre overall, but I really like the production a lot, so I wouldn't say it's completely wack.
7. G.L.L. featuring 
Key! & Slim Jxmmi
produced by 
DJ Fu
I actually do like this song, so it's good that the project ended relatively strong. It's definitely a flawed track, but I enjoyed it overall. The instrumental sounds very different from pretty much every other beat on the tape. I like it a lot. It kinda sounds like something Pusha T would rap over. I remember Key! being one of those dudes who I tried to listen to multiple times earlier on in the decade, but I could just never get into his music. I don't think he's a very good rapper. His hook on this track is fine though. He did an okay job. I mean, he didn't really do anything that Jace couldn't have done himself, but he definitely didn't ruin the song. The first verse from Jace is pretty cool. It's not amazing or anything, but I liked it. I'm really not sure what G.L.L. is supposed to stand for. The final verse from Slim Jxmmi was okay. Honestly, he was kind of an odd choice for a feature. He doesn't really fit on the song in my opinion. He wasn't too bad though. Obviously it wasn't nearly as good as Jace's verse, but it was tolerable. So yeah, this song is far from amazing, but, like I said, I did enjoy it to some extent. I think it's pretty good.
---
This project is okay. When it first started I thought it was gonna be far better than it ended up being. That first track set the bar pretty high, and unfortunately the rest of the tape just got progressively worse for the most part. I don't think any of the songs on this project are flat out wack, but there are certainly a lot of elements to some of these tracks that I'd say are pretty bad. If the entire time he was rapping like he did on that opening song this probably would've been one of the better projects that I heard from the month of May, but that unfortunately just wasn't the case. I'm definitely gonna keep my eye on Jace in the future because it's clear to me from this mixtape that he's a talented dude. I just think if he focuses on being a bit more unique and original he could do some great things. There were a lot of moments on this project that just felt generic or frankly uninteresting. There are a couple great moments on this tape, but overall it's just okay to me.
Favorite Song: Metro Intro
Least Favorite Song: Still Alive
68