This EP was released on June 28th this year. The only other project I've ever listened to from wifisfuneral was Leave Me the Fuck Alone, which wasn't very good. I wasn't planning on checking out another project from him after listening to that one, but I heard a few singles from this latest one, and I actually thought they were really good, so I figured I'd give him another chance. I couldn't really figure out if it was a mixtape or an EP. I saw a bunch of conflicting labels from different publications. It's both I guess. I don't know.
I ended up liking the majority of the songs on this project, but the overall product ended up being a little weak because there's one really fucking bad song here that completely ruins it. I'll talk about the songs that I do like first though. The project starts off with run?, which I think was the first single that I heard from it.
This is actually my favorite song on the project. I think it has a really fun, bouncy beat. The sung hook from wifi on this track is catchy as FUCK too. It sounds fucking awesome. I thought his melodic flow on the verse sounded fantastic as well. The lyrics really go in one ear and out the other, and I feel like I'd probably like the song less if I actually paid attention to them. The song is fire though. Honestly, I was shocked by how much I liked it. I was not expecting to hear anything this good from him. This shit is amazing to me though. It's so fucking catchy. I love it. It's seriously one of my favorite singles of the year. The following track, eggs, was another single that I heard prior to listening to the full project.
I thought the beat on this one was solid, and the hook was cool too. The main appeal of this track is definitely wifi's flow though. His flow on this track is fire. He sounds fantastic to me. Unfortunately the lyrics aren't really worth reading into. That shouldn't be a surprise if you're familiar with wifi's music though. I thought the opening line of the verse was kinda cool, but other than that nothing stands out.
Eeny meeny miny mo
Catch a lil thot right by her toe
Obviously it's not a mindblowing line or anything, but it sounded cool to me. I fuck with the song. It's dope. The next track, When it's all said & done, certainly wasn't a favorite track of mine, but I did enjoy it to some extent. I really liked the production on this one. wifi's actual verse was fine I guess. I thought the rhymes were cool, but in terms of the actual content, the lines were very surface-level generic sadboi Soundcloud drug addict bars. His flow was solid though. Again, it's not a standout track, but I did enjoy it enough to keep it in my library. The next track, NO TRUST, was another single that I'd heard before listening to the full project.
In fact, there are really only two tracks that I hadn't heard before listening to the full project, and one of them was When it's all said & done. Anyway, NO TRUST is actually another favorite track of mine. I don't love it quite as much as run?, but I still think it's dope af. The hard hitting beat has some really heavy bass; I guess overall the production is pretty simplistic, but I think that works to the song's benefit. I really liked wifi's flow on this track. The song honestly reminded me of pre-fame XXXTENTACION, back when his music was actually fun & listenable. I think a remix of this song with Ski Mask the Slump God would be fire. I love the hook on this shit too. The song is hard as fuck. I love it. The only other song I enjoyed on this project was the final track, 30for30.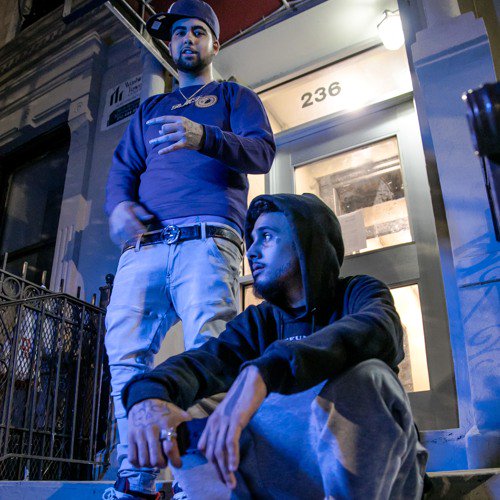 I think this was the first single from this project, but I may be wrong about that. Actually, yeah I'm definitely wrong. I think this technically came out after the EP was released. Whatever. I guess it doesn't matter. The beat is super simplistic, but I thought it was kinda hard. It's actually really similar to the beat from NO TRUST. Anyway, I liked the song, but it's definitely not a favorite of mine. I enjoyed the first verse from wifi, but his flow honestly seemed a little shaky to me. That Al Benji guy actually sounded better in my opinion. None of the bars on this song are really that impressive; it's just typical posturing that you can find in any Hip Hop song. I thought their flows were cool though. wifi sounds more on-beat during his second verse in my opinion. Actually, now that I think about it, it kinda just sounds like a DaBaby song. It sounds exactly like something he would do. I like it though. So yeah, those are all the songs that I actually liked. There are two more tracks on this EP that I haven't mentioned. First up, I'll talk about the penultimate track, I really hate pills. It's the second of two tracks that I hadn't heard before checking out the full project. I thought the production on this one was kinda cool, but nothing else about the track really stood out to me. wifi's rapping was fine, but the lyrics weren't very good, and his flow didn't impress me at all. The hook was nothing special either. It's a tolerable song I guess, but I would never have the desire to hear it again. It's really just mediocre to me. There's only one song that I thought was legitimately bad, but man… That shit is B A D.
Bro… This song is fucking unbearable. I never heard the first WYA song, but after hearing this one I don't think that's ever gonna change. It's a fucking terrible sadboi emo autotune ballad, and I seriously couldn't believe what I was hearing the first time I listened to it. It's really just absurd how fucking awful this track is. It's definitely one of the worst singles I've heard all year. The thing is, the actual verse isn't really that bad. It's certainly not good, but it's at least tolerable. The damage was done though. That hook is fucking unlistenable. His singing was completely off beat, and his vocals sound like shit. So yeah, that song really ruined this shit for me. 😦
---
Overall, I think this is an okay project. There are a lot of songs on here that I really fuck with, so I'm glad I checked it out. However, all my favorite tracks were released as singles before the full project came out, which is kind of disappointing. I probably would've liked this EP if it wasn't for that WYA sequel. That song singlehandedly brought this shit down from a B to a C. That track was a mistake. It should've never been released. Hopefully his eventual full length album is more focused. There are seven tracks here, but most of them are less than two minutes long. I don't think there's a single track here with more than one verse. WYA, Pt. 2 probably had more than one verse, which is pretty unfortunate. wifisfuneral himself still just seems like a Soundcloud rapper rather than a seasoned artist, which is kind of a problem considering where he is in his career. He's been signed to a major label for a couple years now if I'm not mistaken. His apparent inability to craft full length songs is probably why he hasn't had a full length debut album yet. I don't know though. I might be wrong. XXXTENTACION had the same problem, and he managed to put out albums, even as a corpse. I mean, the albums weren't actually good, but still. Anyway, I think this project in particular is just okay, but I'm gonna keep my eye on wifi in the future because he's definitely got some talent.
Favorite Song: run?
Least Favorite Song: WYA, Pt. 2
65