Was6p. Since the year has just begun and I'm trying to stay on top of new releases, I've decided that I'll try to cover my favorite singles that drop every week. I'm sure I'll miss certain songs, but I'll do my best to hear everything that I'm interested in. It'll also be a good way for me to cover loose singles and b-sides that don't make it onto full projects, as well as finally talk about some artists who I haven't been able to mention in the past. I've never done this before, so my formatting may be a little rough. Just bear with me until I smooth out the kinks and get a good routine going. If I happen to miss a single that I like in one week, I'll try to mention it briefly the following week.
Monday, December 30th
Old Boy by 
Reef the Lost Cauze
produced by 
Megademus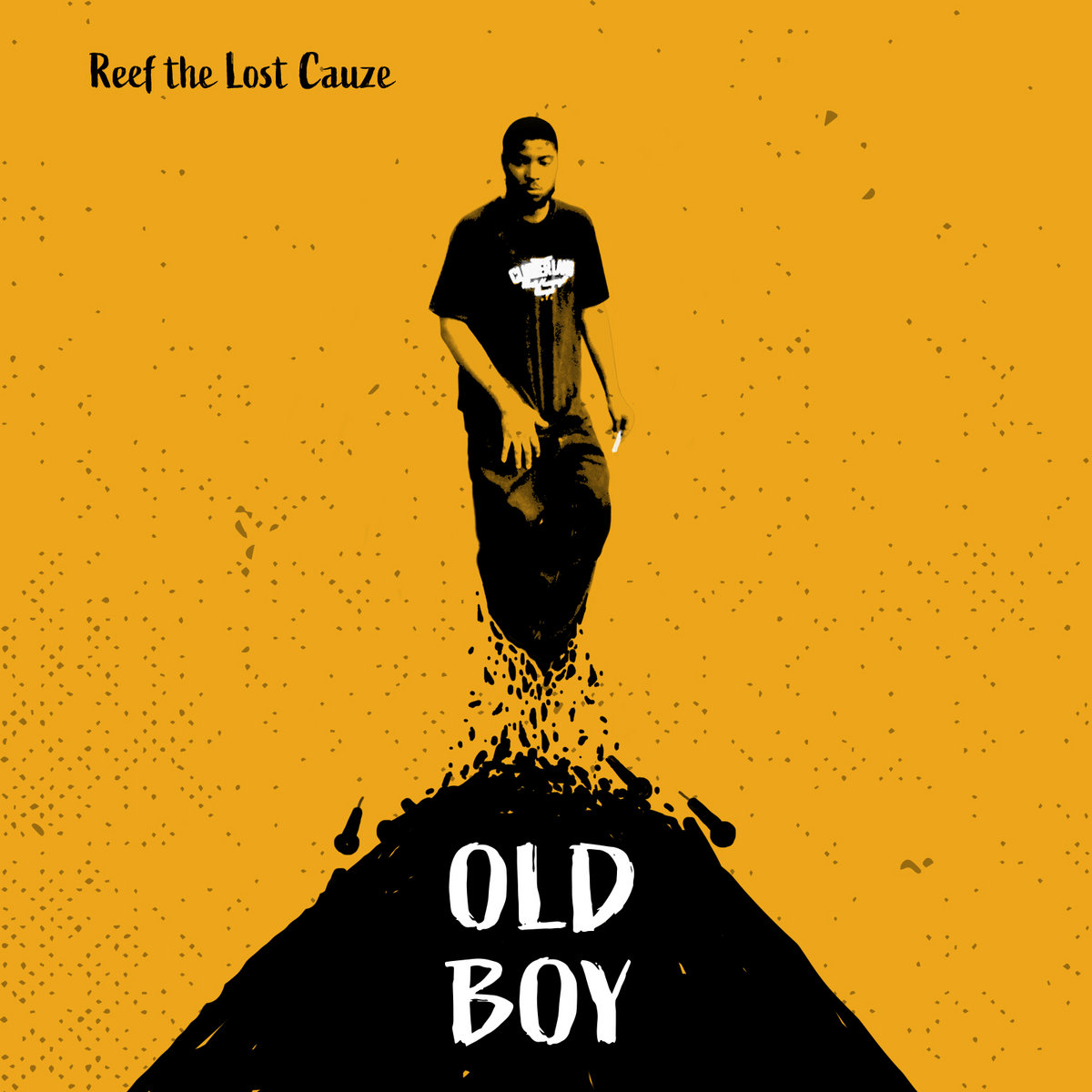 Reef the Lost Cauze is one of my favorite members of Army of the Pharaohs, and this track didn't disappoint me at all. It's gotta pretty simplistic structure. He just rapped his ass off for three and a half minutes. He fucking snapped though. It has me really excited for the album he hinted towards in the final quatrain.
Last album I showed my pain, last album I showed my scars
This album I'm naming names, this album I'm showin' off
And that's law; I break it down from A to Z
They could play how they want, but they know not to play with me
The low-key, dusty production from Megademus is the perfect backdrop for Reef, who starts off pretty relaxed, and slowly gets more and more aggressive as the track progresses. It's a really fantastic song. I love it. It's dope af.
Vaca by
wun two
This seems to be the first taste of an upcoming album from the German producer wun two. I personally haven't really heard that much of his work, but those who are in the know recognize him as a legend. I honestly can't remember how I discovered who he was. Maybe it was his Baker's Dozen project with Fat Beats. I don't know. It don't matter. Anyway, this beat is a very chill, laidback, slow-paced, melodic instrumental. As you may know, I'm not great at discussing beats, so I don't really have much to say. All I can tell you is that I like the beat a lot. It's dope. Check it out.
Tuesday, December 31st
Rap Up 2019 by
Uncle Murda
produced by 
Great John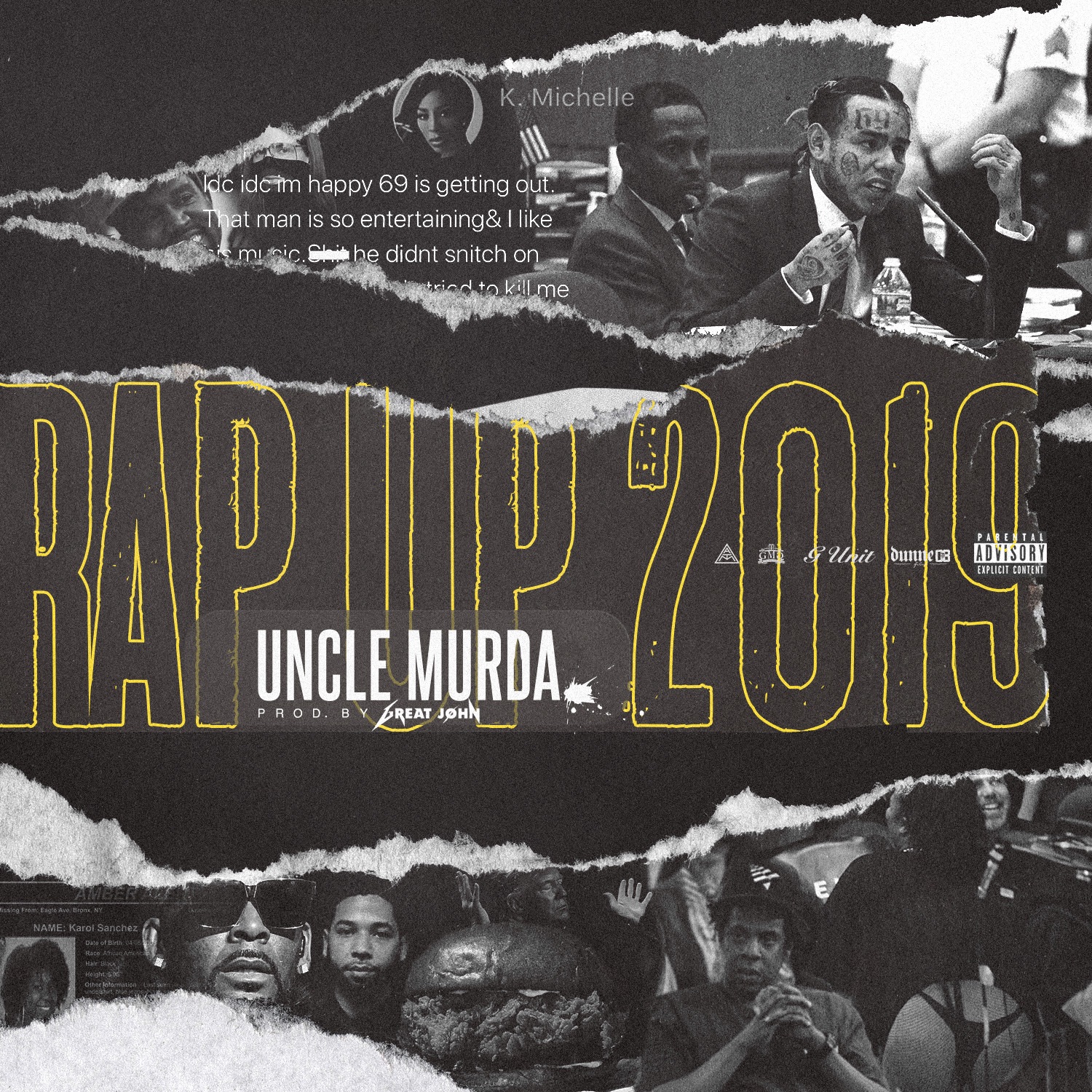 When I opened Twitter on Tuesday night, I saw that Uncle Murda was the number 1 trend, which was odd to me. Usually whenever I see a random artist trending on Twitter it means that they've suddenly passed away, so I was a bit concerned. When I clicked on his name, I saw that he dropped his annual Rap Up song. I forgot that he even did this shit. He's not an artist that I typically keep up with. I usually just hear him on features. This shit is fire though. I know he's been doing this for a few years—I'm not exactly sure how many—but I think this is the first time I've really paid it any attention. This is really fantastic stuff though. Damn near every line is a quotable bar. I knew this shit was about to be fire when he started off the song dissing K. Michelle.
K. Michelle can't keep a man 'cause her pussy stink
She pretty, she can sing and all that, but her pussy stink
"Why you back talkin' 'bout that girl pussy stinkin'?"
'Cause she put up a post cosignin' Tekashi snitchin'
She thought he was comin' home, he got another year
Even the judge wanna see that nigga get cut in there
Can you imagine if Uncle Murda released this 10 minute song without mentioning 6ix9ine? People would be so fucking bewildered. It only makes sense that this was the first thing he brought up.
He heard niggas sayin' they was gon' kill his mother
If she alive when he come home, they should still kill his mother
Like that's what you get for tellin', niggas need to be educated
When Bobby Shmurda come home he need to be celebrated
Wish Nipsey was alive and they killed 6ix9ine
Nip was like Malcolm X & 2Pac combined
He goes on to mention the death of Juice WRLD, Trey Songz singing on Power, and a bunch of other shit. The next part of the song that really caught my attention was when he dissed R. Kelly though.
R. Kelly cryin' like he innocent, like we don't know he wrong
I hope he with the homos gettin' raped and peed on
Usin' them underage girls for inspiration for all that
12 Play, Bump 'n Grind music he was makin'
I don't care how young he was when his sister raped him
I'm just sayin', she ain't piss on that nigga and tape him
I also really appreciated the Kanye West diss, of course.
Kanye promotin' God 'cause his new album comin' out
But really he in it for a bankroll
he ain't even write that Jesus Walks record, ask J. Cole
The one aspect of this song that I think was kind of unnecessary was the hook. I feel like this would be more fun to listen to if he just combined all three of the verses and rapped throughout the entire track. The hook isn't really bad, but it didn't add much to the song for me. In the second verse he went in on Jussie Smollett and that other 16 year old girl who faked her own kidnapping. That was cool, but the first part of the verse that really jumped out to me was the Oprah diss.
First Oprah came at Michael Jackson, now Russell Simmons
What about what Harvey Weinstein did to them women?
Why you ain't comin' after white people, Oprah?
It's like your new hustle fuckin' your own people over
You know exactly what you doin', don't act dumb, bitch
You out here movin' like you voted for Trump, bitch
That line about Melania looking like she doesn't like fucking Donald Trump was amazing too. The verse ends with what is quite possibly my favorite couplet in the entire song.
Lil Reese got shot in the neck, I'm happy he okay
He lost his voice, we ain't wanna hear his new shit anyway
Not only is it true, but it's also hilarious because of how mad it made Lil Reese.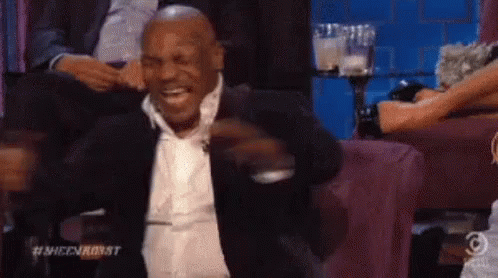 I unfortunately didn't really find the final verse to be that entertaining, which is kinda disappointing since it was the longest verse on the whole track. It wasn't bad at all. I just didn't care about any of the shit he brought up. I was gonna say that the biggest missed opportunity was him not bringing up the Drake & Pusha T beef, but then I remembered that The Story of Adidon came out in 2018. I don't know why I thought it was more recent than that. Anyway, the song isn't perfect, but I was thoroughly entertained. I think it's very dope.
Wednesday, January 1st
Feeling So Special by
Tall Black Guy
This is a an edit of a song by Alexander O'Neal & Cherrelle called Saturday Love. Tall Black Guy is a producer who I've been familiar with for a while, but I haven't actually listened to much of his work. His work on Phonte's latest solo album was really great. Check that shit out if you haven't yet. Anyway, I'm not really well-versed in old school Soul & R&B music, so I didn't know who Alexander O'Neal & Cherrelle were before I heard this. I went back and listened to the original track, and I think it was pretty good. I definitely prefer this updated version though. I think TBG did an amazing job of making it sound more modern. Alexander O'Neal's vocals are really fantastic. He kinda sounded like Charlie Wilson to me. The production from Tall Black Guy is great. It just sounds like a really fun celebration in the form of a song. It was a great way to bring in the new year. I think it's dope af.
i don't wanna see u again by 
Illingsworth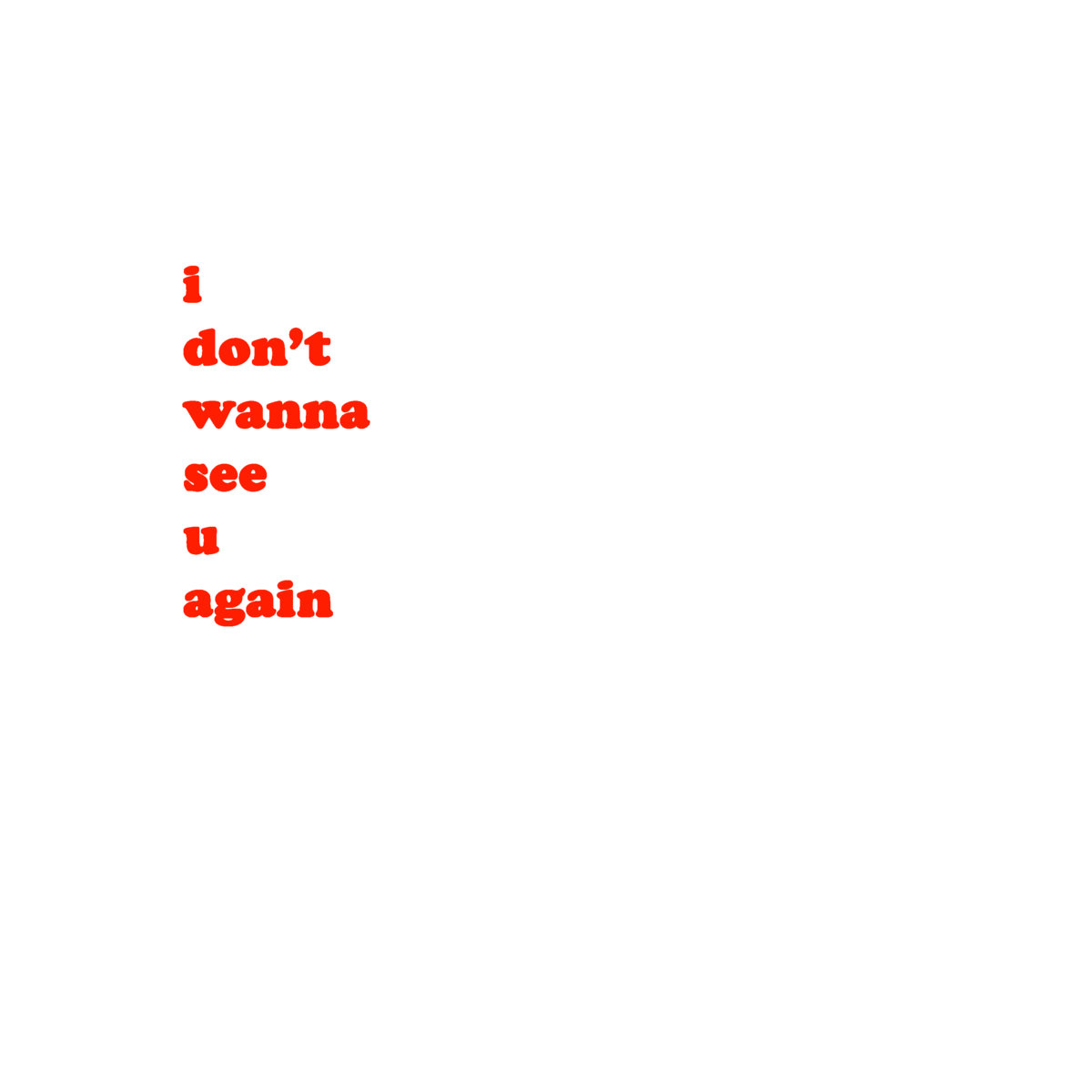 This is another really great instrumental. I'm slightly more familiar with Illingsworth than I am with Tall Black Guy. His 2018 album, You're No Fun, is a really great instrumental project with a few Rap songs peppered in. He released a couple extended plays last year that I unfortunately haven't gotten around to listening to yet, but I'm definitely a fan. He has a really distinctive, instantly recognizable production style. Another thing that I appreciate about him is that he always provides background information on what inspires his work as well as his creative process. This track in particular is about how 2019 was kinda trash, and Illingsworth isn't gonna miss it. I think in terms of my personal life, it was a decent year. I mean, it was still terrible, but it wasn't as unbearable as the preceding 8 years of my life, so in that respect it was relatively good. Considering everything else that happened in general, I can see why people hated it. It is the year that gave us Cats, after all. Anyway, the song was made primarily with sounds from Illingsworth's mouth. It kinda reminds me of some of the stuff that Reggie Watts does when he's performing because he incorporates a lot of random vocalizations in his music. I don't know if Illingsworth really considers himself a singer, but the way his vocals were manipulated throughout this song made them sound pretty good. Maybe he should do more of that in the future. If you're into Electronic music, definitely check this one out. It's very dope.
The Year in Gaming 2019 by
Bits & Rhymes
I'm not really into video games as much as I used to be, but I am really into Mega Ran. For whatever reason, even when he raps about stuff that I don't really have much interest in, he just does it so well that I'm still entertained. I didn't become a fan of him until last year, when I went through nearly every project he's ever released, so I'm not sure if this is something he does every year, but it's basically his own version of Rap Up 2019, with a focus on the video game industry. I guess that should go without saying if you read the title. This shit is fire though. First of all, the production from K-Murdock is fantastic, as always. It's the perfect beat for a rapper to go in on with a shit ton of bars. That's exactly what Ran did too. He killed this shit. Most of the song is about stuff that happened in the gaming world this past year, but he eventually transitions to a recap of his own year. I was already enjoying the song, but I have to admit that I was really entertained when he started dissing wack games and practices of different companies.
Nintendo Labo was a low-key disgrace
Turns out nobody wants to put a box on they face
And Mario Kart Tour was light on the action
'Cause all I remember were the micro-transactions
Crackdown 3 & Shenmue 3
Both took way too long and were kinda weak to me
Shame, but the weirdest game to ever leave the lab
You call it Death Stranding, I call it the Walking Dad
This game's been out for at least 2 months
And nobody can decide if it's great or if it sucks
Google Stadia was like the hugest bust
Their biggest failure since like Google Plus
The song is available to download for Mega Ran's patrons. I'm assuming that it'll probably show up on a future Patreon Tracks compilation later in the year. I don't know though. Maybe it won't. Anyway, the song is dope as hell, and I don't have any gripes with it. I love it.
Thursday, January 2nd
Plug & Play in Japan by 
Erykah Badu
This is a rough draft version of a song that Erykah Badu is working on and planning to release some time this year. I haven't gotten around to hearing Erykah's entire catalogue yet, but I really love her debut album, Baduizm. I don't know what it is about her, but I've always found her to be really intriguing and somewhat mesmerizing. It's probably partially because I think she's pretty as hell, but I also think she's really funny and has a really eccentric style. Anyway, the song itself already sounds beautiful to me. I think the intimate recording of her just playing on the piano while singing is really nice. I kinda hope the final version of the song maintains this kind of DIY aesthetic. It's just a really gorgeous and chill song. I love it. It's dope af.
Crab Cakes by 

Your Old Droog

featuring 
Prodigy
produced by 
The Alchemist
This song was posted on YouTube on Thursday, but was taken down and put on Spotify at 12 AM the following day. Anyway, when you see all the names involved in this track, you pretty much know what to expect. It's an amazing dark piano-driven instrumental from The Alchemist, and YOD & Prodigy both killed it. It seems like it was recorded while Prodigy was still alive, but I'm not completely sure. Your Old Droog of course did a great job, but I was really satisfied by Prodigy's contribution. He was cold as hell on this shit, man. His hook was great. I loved the line about putting rusty nails in people's chests. I don't really think his verse was amazing or anything, but it was just really nice to hear from him again. Your Old Droog killed his second verse, and I was surprised when Prodigy came back in to spit another verse after him. It's not the best song I've heard from Droog in the past year, but I definitely like it a lot. It's very dope.
GOAT Shit by 
Cassidy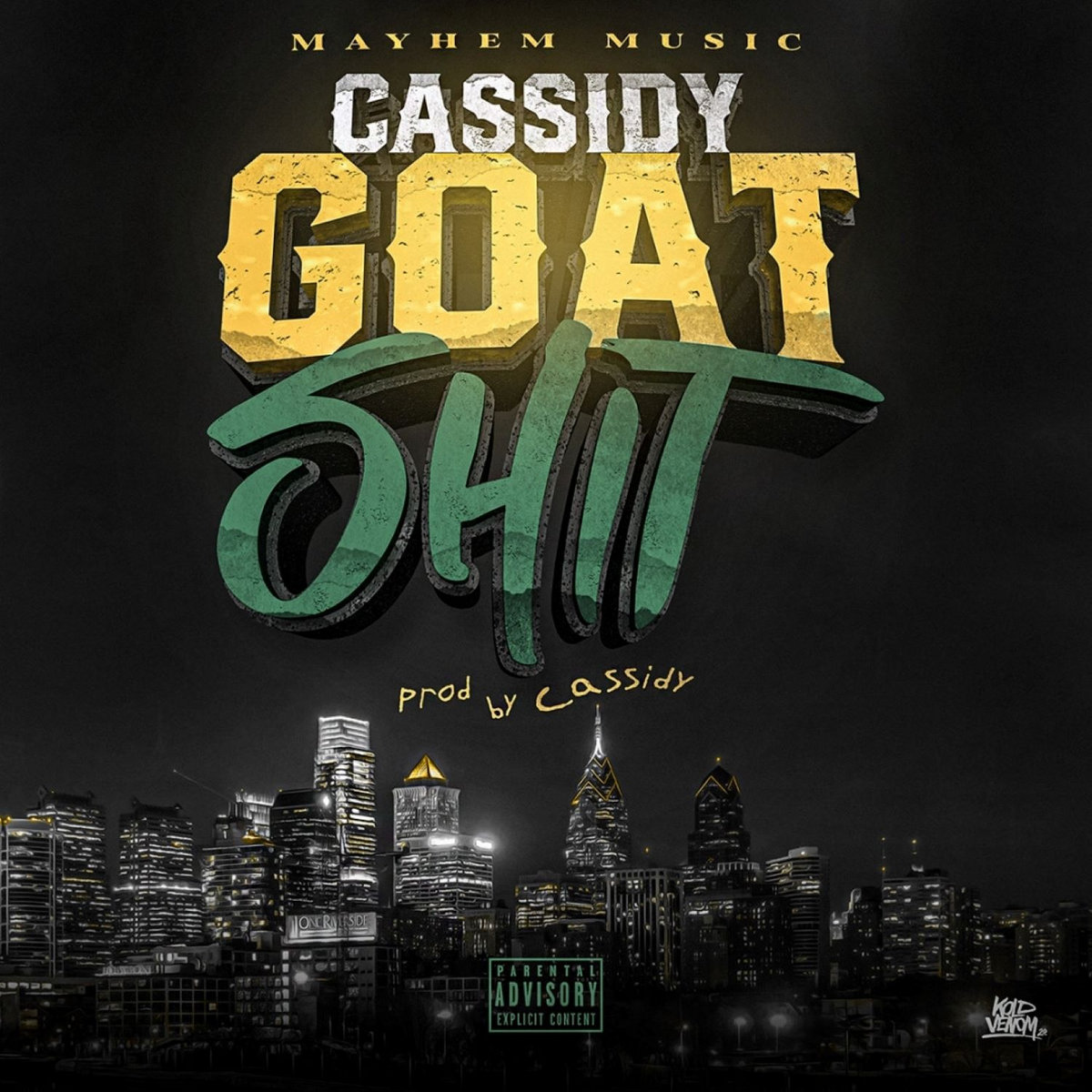 I considered listening to the album Cassidy dropped last year, but I decided not to for whatever reason. I just felt like I could've used my time to listen to more interesting artists. This song is pretty dope though. It's self produced, which is why the beat is so terrible. It's okay though because the actual rapping from Cassidy is phenomenal. He's always been a beast on the mic, so I guess that shouldn't come as a surprise. If you're familiar with his work then I guess you should probably know what to expect. It's just an onslaught of super dense rhymes. If you're not really into battle rap you probably won't appreciate this shit as much as I did. I personally could've done without the F bombs, but it didn't bother me too much because I was kind of expecting it. Honestly, this is probably the worst song I've written about here, but I do like it to some extent. I just wish the production wasn't so shitty. The song's cool though. I like it. If I'm being honest, I don't know if I'll listen to it again in the future, but it was entertaining on the first listen. That can be said about a lot of these songs though. I'm not gonna be listening to Rap Up 2019 again. I just think it's worth checking out.
Friday, January 3rd
Say It Again (Remix) by 
Pell
produced by 
9th Wonder
Pell uploaded this remix of Little Brother's classic song from The Minstrel Show to Soundcloud around midnight, and it's pretty good. I personally wouldn't take this over the original song, but that's obviously not to say that this is bad at all. I think he did a great job. It doesn't feel like a random freestyle. He actually put his own spin on it, and made it feel like a full song. He spit two full verses, which are both very good, and he even included a nice sung hook. It's a dope remix. Check it out.
Prey by
Che` Noir
featuring 
Ransom
produced by 
38 Spesh
This is the first single from Che` Noir's upcoming album, Juno. It's entirely produced by 38 Spesh, so I'm really looking forward to that. It was also cool to see Ransom featured on this track. I've always really loved that dude. He's underrated as hell. Anyway, the song itself is super dope. The production from 38 Spesh is really nice, and both of the verses on this track are awesome. Che` did a great job with the first verse.
Pressure buildin', I never stress
It's headshots, you ain't stoppin' shit if you wear a vest
Body leakin', call housekeepin' in here to mop up
I left so much blood on the floor, it could fill a hot tub
As much as I love her performance on this track, I actually think Ransom's verse was even better. He murdered this track.
Every bar I spit is a horror flick
Fuck this artist shit
I'm hard as bricks
Was man of the house before my father split
My heart is sick; faces of victims that haunt me
Demons that taunt me
What you do when the fiend is your auntie?
I got niggas in timberlands that be dreamin' to stomp me
Of course the 6ix9ine diss was appreciated. You really can't go wrong with a Kanye West or 6ix9ine diss, even though they're easy targets. Anyway, the song is dope as hell. I can't wait for the album.
Ride Thru the Jungle by 
Ty Farris
produced by 
Bozack Morris
This is a single from Ty Farris' upcoming album, No Cosigns Just Cocaine 3, which is set to be released on January 9th. He's an artist I've been aware of for a few years now, but I didn't actually ever hear him rap until I heard his feature on a Stik Figa album last year. I haven't heard any of his projects, so this upcoming album will pretty much be my introduction to his work. Things are looking good though because this track is very dope. I love the gritty production from Bozack Morris, and Ty murdered it.
Cops chasin', they racist, raised tasteless, raise tasers
Tryna tame us, my first thought middle fingers
I came from the mud; no love, just a deuce deuce
Got competition sweatin' like Bruce Bruce tryna shoot hoops
I can already tell that this project is gonna be fantastic. I wouldn't be surprised if it ended up being one of my favorite albums of the year. He bodied this shit. You know what would really be the icing on the cake? A verse from Pusha T would be perfect for this. The song is already fire as it is though. Both of the verses Ty spit on this joint are amazing. This shit is dope af.
Premium Drugs (Remix) by 
Ty Farris
featuring 
Rigz
produced by 
Sebb Bash
This track is a remix of a song that appeared on the second installment in the aforementioned No Cosigns Just Cocaine series. It's exclusive to supporters who pre-order the upcoming project. I think it's also a bonus track on the physical version of the album, so that's cool. As far as I can tell, the actual rap performances from Ty & Rigz are identical to that of the original song. The difference with this version is the beat. I can't remember who made the original beat, but it wasn't Sebb Bash. Anyway, the first verse is performed by Rigz, who actually did a pretty great job. I remember being kind of underwhelmed when I heard him rap on a DirtyDiggs album from last year, but I was satisfied with his verse here. The beat from Sebb Bash is amazing too. Ty of course killed his verse. The hook is cool too. Honestly, there's not a single aspect of the track that I don't like. This shit is fire. Check it out.
Carefree by 
Mick Jenkins
produced by 
Black Milk
On Thursday, Mick Jenkins announced that he was going to be dropping this single at midnight, and it eventually came with the announcement of his upcoming EP, The Circus, which is scheduled to drop on January 10th, so that's pretty exciting. The song itself is really great. First of all, the production from Black Milk is smooooth as FUCK, and the melodic hook from Mick is really nice as well. His flow on the first verse was fantastic too. He sounds great on this shit. The second verse was cool too. I don't really have any gripes with the song. I don't think it's an amazing track or anything, but I'm definitely very satisfied. This shit is dope.
Flick It Up (Remix) by 
Reason

 featuring 

Junii

,

Jah the Great

&

Bas

 produced by 

Tae Beast
Reason released the lead single to his upcoming album late last year, and I thought the song was awesome. I was underwhelmed by his first album, There You Have It, but all the singles he's released in the past year have been great. He was apparently doing a challenge on social media, and the winners were featured on this remix of the single. I think Reason and Bas had some cool verses, but I was genuinely more impressed by the two winners of the challenge, Junii & Jah the Great. Both of them had stellar flows. They killed this shit. Bas was cool, but he probably had my least favorite performance on the song. He did his thing though. So, Junni & Jah are tied in first place, Reason is in second, and Bas is third, but they all did a good job. I think this is great, and it's cool of Reason to give some shine to lesser known artists. Personally, I still prefer the original version of the song, but I obviously still really like this version as well. This shit is dope.
Smile by 
Thurz
featuring 
Fat Ron
produced by 
JohnnyStormbeats
Thurz was on a hiatus for a long ass time, but he came back last year and released about five singles, all of which were dope. This latest track continues the trend of quality music. The production is super smooth, and the vocals from Fat Ron are very nice as well. Honestly, the song has a similarly heartwarming atmosphere to that of Jay-Z's Smile. It's just a really comforting, soulful track. The content from Thurz is kinda sad though.
Grandma got dementia
Her favorite scripture, she don't remember
So we sit back, and play her favorite singer
Nat King Cole, Unforgettable
'Cause I just wanna see the smile on your face
It's a really great song. Unfortunately, I think Thurz said that he would be taking it down after 24 hours, so it might not even be available by the time you read this.
Hopefully puts it on streaming platforms at some point in the near future. It's dope af.
Let Go by 
Ryan Hathaway

(

Kno

)
This isn't the kinda thing I'd typically listen to, but I wanted to give it a shoutout because I think Kno is a super talented and under-appreciated artist. I'm familiar with him through his work with the CunninLynguists. I think I remember hearing about how he's also a talented singer in the past, but I don't really recall. I know this is my first time ever hearing him sing. I guess when he's performing R&B and Soul music he uses this "Ryan Hathaway" alias. Anyway, the song is pretty somber. I think Kno's a good singer, and the piano-driven production is cool. I think the actual writing is my favorite aspect of the song.
I don't consider myself pretentious
But I've been foolish with my pride
And I'm so tired of burning bridges
See my father in the fire
It's really moving stuff. Definitely check this track out if you're a fan of Kno.
Panini (Remix) by
Control
produced by 
WXSTERR
Control pretty much drops a remix to a popular song at least a couple times per month. It might be more frequent than that. I think this is one of the best ones that he's done though. The first time I listened to him, I really could not take the Australian accent seriously because it's just so jarring, especially when you're not expecting it. I think I'm starting to get used to it though. I used to have the same reaction towards UK rappers, and now I like artists like Little Simz and uh… Well, I don't really like any other UK rappers. Well, hold up… There's that guy Chip, who was signed to T.I. at one point. I liked that song he had called Holy Water. That shit was dope. Anyway, this is pretty much just one verse over Lil Nas X's Panini instrumental, so it's not really a substantial song that people will listen to more than once. It's a dope verse though. I definitely enjoyed it. The last line in particular was very wholesome to me. Check it out.
Saturday, January 4th
DOLOMEALS by 
Medhane
produced by 
Nicholas Craven
I haven't gotten around to listening to the album that Medhane dropped last year, but I'll hopefully hear it by the end of January. I might not though. It's on my "priority" list though. I think I'm planning on writing a review for it, but we'll see what happens. Anyway, I'm pretty sure this is just a loose single. I don't know. Maybe he's working on another project, but this probably won't be on it. I think it's a cool track, but far from the best shit I've heard this week. I don't think it stands out that much, but it's cool. I mean, I probably won't ever listen to it again, but I enjoyed it on the first listen. It just doesn't have any replay value for me. It's just a cool verse over a solid beat. I think he was rhyming well, but none of the actual lines really stand out that much. It's not a very memorable song, but I think it's worth checking out. I'm not a head-over-heels fanatic for this wave of lo-fi underground rappers that are affiliated with artists like [sLUms]. and Standing on the Corner like a lot of people on music Twitter seem to be, but I enjoy a good amount of the material that's come from that crowd. I'm hoping that Medhane's album from last year is a bit more interesting than this. This is good though. I like the beat from Nick Craven even though it's a bit repetitive. The verse is cool too. Again, it's a solid track. It's just kinda forgettable. I won't be returning to it, but it's worth checking out.
---
I don't necessarily love all of these tracks, but I did enjoy all of them to some extent, even if I won't be returning to them in the future. If there's a song that came out this week that I didn't talk about here, it's because I either didn't listen to it, or didn't like it. So yeah. Lemme know what you think of these tracks. Also, for those confused about the featured image that I used for this post, I really didn't know what to use as a thumbnail, so I just decided that I'll post an image that relates to whatever the biggest news story of the week is. In this case, it's Donald Trump's horrific leadership and the death of Qasem Soleimani. Ciao.