This week my headphones broke, so that kinda hindered my progress here. I'm hoping that I didn't sleep on any notable releases, but I was disheartened by this great loss. This coming week might be relatively slow, but I'll have at least three reviews up by Friday, so it won't be completely barren. If you're interested in sending me 150 dollars to buy new headphones, DM me on Twitter. I'm serious. This is me begging you for money. That's where I'm at in life right now.
Sunday, February 9th
Upside Down by 
Royce da 5'9″

 featuring 

Ashley Sorrell

&

Benny the Butcher
Once again, I'm cheating. This track technically came out last Friday, but since I was distracted by the Iowa caucus I didn't hear it until Sunday. With that said, this is easily my favorite single that Royce has dropped from The Allegory. For whatever reason I was under the impression that the album was released on February 9th, which is part of why I didn't rush to listen to this single when it dropped. Anyway, I really wasn't expecting that interpolation of Tom's Diner from Ashley Sorrell on the intro. It was cool though. I typically don't really care for interpolations of old songs like that—Ariana Grande's wack "7 Rings" track comes to mind—but it worked here. The super low-key, yet haunting piano-driven production from Royce is really nice on this track as well, and he of course murdered his verse. Here's my favorite quatrain in the whole song…
Bill Maher use the term "nigga" so loosely
'Cause truthfully, he know that he be usin' it on the DL
Louis C.K. know he can use it in front of Pookie
But know damn well that he wouldn't use it in front of DL
I fuckin' lost it when I heard that shit. That's amazing. Those aren't the only quotable lines from Royce, but they're my favorite. I wasn't sure how Benny would sound on this track, but he fit in perfectly. His verse was loaded with quotable lines. Here's one of my favorites…
What's the difference from a nigga who lived it and storytellers?
Of course we felons, sold a brick whiter than Tori Spelling
Roll with killers, nobody on my block was poorer than us
I put a fork in the pot and got a euphoric feeling
He killed this shit. That line about how Griselda are The Firm without Foxy Brown was hard as bricks too. The song ended super abruptly, but I'm guessing it probably transitions into the following track on the album really well. So yeah. The song's dope af. Don't sleep on it like I kinda did.
Block Cheese & Bocce by 
Sabac Red
produced by 
J57
This is another single that came out late last week that I slept on. Sabac Red is of course one of the members from the legendary Non Phixion group; I personally haven't really kept up with much of his work honestly, which is something I'll have to change soon. Anyway, I was kinda just expecting this to be some typical aggressive underground battle-oriented shit, but this is actually a more personal, somewhat autobiographical song. J57's production here is great; it sounds like what I imagine I'd hear in my head if I was walking through an old village in which I grew up, and all the old ass people were like "HEEEY, IT'S GOOD TO SEE YOU AGAIN!" Honestly, the song kinda reminds me of Atmosphere a lot. I feel like it's got a similar… atmosphere.
Nah, but seriously Sabac Red killed this shit. The verses are really well written.
Here's to the end of a century
My friends and my enemies
The women raisin' boys to be men independently
We still pretend to be things that we're not
Like tryna be the freshest, the bestest on the block
Before I listened to it, I read that his 9 year old son, DJ Lufu, was featured on the hook, which made me nervous. Usually that kinda thing ends up really tarnishing a song for me, but I actually didn't mind it at all here. It turned out pretty well. Sabac can still rhyme just as well as he ever could. I gotta get my shit together and check out the other stuff he's been releasing over the years. I'll definitely try to cover his next project too. Don't sleep on this shit.
Monday, February 10th
Shallow Dimes by 
Childish Major
I think this might be the best Childish Major song I've ever heard. I still really love Childish & Catfishin', but this shit is fire. His singing ability has really improved a lot. He sounds fantastic here, and the production is really great as well. He handled the rap verse himself, and it's pretty good despite its brevity. It's mainly his singing on the hook that makes me love this song so much though. He was sangin' his ass off. This shit is smooth as hell. Don't sleep on it.
Sign Language by 
Conway the Machine
produced by 
Daringer
This song—along with the following track—was uploaded to Soundcloud on February 7th, but it wasn't made public until 12 AM on Monday. As most of you hopefully know by  now, Conway the Machine is my favorite Griselda member, so I was pretty excited when I saw this. The repetitive loop from Daringer is a bit disappointing, but Conway's performance here is great. He talks shit better than most.
I just pulled that new Mercedes out
And that's just off the money from features, that ain't from Shady clout
Look how I bounced back after niggas tried to take me out
I leveled up, shit, I thought of that shit over at KD's house
As far as money, nigga, we don't make the same amount
It's funny 'cause since Griselda, them other niggas faded out
I have some shooters kick your door, AK your mouth
Blood stain the couch, paint the walls, rearrange the house
Your brain hangin' out, never cared about the famous route
I just came so I could change the game, get my change, I'm out
As a song, it kinda leaves something to be desired overall, but Conway's rapping here is just as good as ever. He killed this shit. Check it out.
#Yikes (Freestyle) by 
Conway the Machine
produced by 
Pooh Beatz
Last week Nicki Minaj dropped a terrible song called Yikes after embarrassing herself in some Twitter beef with Meek Mill. I guess Conway liked the beat a lot, so that's why he dropped this remix. I'll admit that I was a bit skeptical when it started because it was just kinda odd to hear him over this type of production, but by the time the song was over I was thoroughly impressed. This shit is fucking fire. There are even more quotables in this track than there were in Sign Language. That line about having a bitch make "the Nicki Minaj noise" literally made me laugh out loud, especially since he played that weird ass sound that Nicki made in the background.
I am the GOAT, and I am the dopest
I was just in Miami floatin' in that Ferrari
I had my hammer close and I will blam it
And let this cannon open and bust your cantaloupe
And I quoted some shit so sick, it ain't not antidote
That line about how he shot the last person who tried to diss him in a song out of spite was awesome too. Do not sleep on this shit. Conway murdered it.
I Am the Chaos by 
Vinnie Paz
produced by 
Vic Grimez
Vinnie Paz announced that his upcoming album "as above so below" would be releasing on Valentine's Day either at the beginning of this year or late last year, so that's been one of my most anticipated records of 2020 for a while now. As you hopefully know by now, I'm a huge fan of him. By the time this post goes up, the album will be available, so make sure you check that shit out. Anyway, this song is incredible. I wish y'all could've seen my reaction the first time I listened to this shit. The way Vinnie was flowing on both of these verses literally made my jaw drop. My mouth stayed agape. In fact, my jaw was on the floor so long that I literally drooled on my computer. I'm not even joking right now. That's a real thing that happened. The last time I reacted like that to something was when I heard Kendrick's final verse on DNA for the first time. I was fucking astonished. His flow and breath control are unreal on this joint. It's wild how Vinnie manages to exceed my expectations with every single project. I think his first four solo albums are amazing, but I know at some point he's gonna make something that's just great. They can't all be amazing. This is a stellar first impression though. I think I'm gonna love the album, and it's gonna make the most depressing holiday far less unpleasant for me. Check this shit out.
DAN FREEMAN by 
Medhane

 produced by 

AFB 

&

iblss

I've written about two other singles from Medhane so far this year, and based on what I've heard he isn't really that interesting of an artist, but I still enjoy his music to some extent. I don't really find the content of his lyrics to be particularly compelling, but he's got a pretty solid flow and he can rhyme very well.
Stay expending energy, won't let that anger get the best of me
Steady speed, let me be, let me dream, know what pressure bring
Gettin' free, framing memories, let the tension ease, breathe deeply
Prolly missin' when you need me, throwin' shade, it never reach me, game easy
For the most part it's just a gauntlet of non-sequiturs, but he's clearly got a strong baseline of skill here. I don't think I've ever heard of this AFB guy before, but I actually really love the instrumental on this song. Oh wait… Oh, okay. AFB is Medhane's production pseudonym I guess. That's cool. I didn't know he was also a producer, although these days I feel like it's probably safe to assume that most rappers dabble in that field. Shoutout to iblss too. The beat is dope. However, my favorite aspect of the entire song is easily the music video. That video is fucking awesome. Definitely make sure you check that shit out, even if you aren't the biggest fan of Medhane.
Daydreamin' by 
Stik Figa

 featuring 

Solomon

&

Nowdaze

 produced by 

iLLBrown
The last time I wrote about Stik Figa was when I reviewed All God's Dangers. He went on to release a couple more projects later in 2019 if I'm not mistaken, but I unfortunately haven't gotten around to listening to them yet. I definitely will at some point though. Anyway, I'm not sure if this song is gonna appear on an upcoming project or if it's just a loosie, but it's dope. iLLBrown's production is really nice, and the first verse from Stik Figa is great.
Turned in a dirty UA now I'm sitting on the couch
In the house, killin' stress while I'm hittin' this loud
Out the way of the suckas on they missions for clout
But I'm high as Lakitu, so let me sit on a cloud
The Stevie Wonder and Bambi lines were really nice too. The hook is performed by Nowdaze, who used to perform under the pseudonym of Irv da Phenom. That name may look familiar if you've listened to a lot of Tech N9ne's work in the past. Anyway, the hook is pretty good, and Solomon killed that second verse. I'd never heard of him in the past, but he did a really good job here. Don't sleep on this track. It's dope.
Tuesday, February 11th
Airwalk by 
Elaquent
featuring 
Chester Watson
This is probably the last single we're gonna get from Elaquent's upcoming album, which is set to release on February 21st. I'd never heard of this Chester Watson dude before hearing this, but I honestly think this is the best single from the album so far. The jazzy production is fantastic, and this dude can rap his ass off. His super lowkey, monotone delivery fits over this beat perfectly. It's almost weird how monotone he sounds though. I can't tell if he's really tired or stoned, or if he just really sounds like that all the time. It's dope though. If the beat wasn't so good it'd probably make the song boring, but I think it complements his verse really well. This shit is fire. Check it out.
Pray by 
Grafh
featuring 
Conway the Machine
produced by 
DJ Analyze
I was really excited when I saw this track in my subscription box. As I said last week, Grafh is one of those really dope rappers who I'd been sleeping on for a long time, but I'm becoming a big fan. Y'all already know how I feel about Conway too. Grafh murdered the first verse.
Your man got jumped, you were just watchin'
I left your body in the trunk rottin'
House niggas never plucked cotton
I'm just boxed in, jabbin', I'm just boxin'
Jumped up, dodgin'
I'm from where Santa Clause never come stuff stockings
You hustle or play ball, those are fucked up options
I just fucked memory lane up drunk drivin'
Conway definitely didn't disappoint on this track either though. His verse was really great.
You got shooters layin' all in your bushes & grass
Waitin' for you so they can be took to the cash
Got you openin' your safe and got you pullin' out cash
And you know what happen next when he pull up his mask, nigga
The muzzle flash and the bullet'll pass
Through your melon, your whole shit gettin' put on the glass
Robbery gone bad, news bulletin flash
I laugh 'cause I'm the nigga that put up the bag
I really don't know who I'd say has the better verse. I'm kinda leaning towards Grafh just because I feel like it was more consistent, but they're both really good. Grafh's hook was actually really nice here too, and the beat from DJ Analyze was good as well. The song's dope. Check it out.
Wednesday, February 12th
Put Ya Lyfe on It by 
Nems
featuring 
OT the Real
produced by 
A-List Fame
I was so excited when I saw this shit. Nems released one of the best albums of 2019, so I'm eager to listen to anything he's dropping now, and this didn't disappoint at all. The production is hard as fuck, and I love how mean and angry Nems sounds on this shit.
We don't like talkin' to strangers
Doors off, I'll rip you out that bum ass wrangler
I wasn't familiar with OT the Real before hearing this shit, but I ended up being really satisfied with his performance here. His sung hook was surprisingly good, and his verse was dope too.
See my dogs five deep, strapped in that minivan
When you sell a lotta meth, you got a lotta skinny friends
I think Nems was teasing a collaborative project with Ill Bill on Instagram earlier in the year, so I hope to see more about that in the near future. He's also gonna be dropping an EP called Bamboo on the 28th, so be on the lookout for that. I'll have to look into this OT the Real guy's work as well. This shit is dope.
promenade by 
wun two
This is the second entry in wun two's monthly Facce series. This beat is pretty good. It's admittedly not that grandiose or layered, but it's under 90 seconds long, so I don't mind that it's just a repetitive loop. It's maybe not the best starting point for new listeners, but I don't think anyone could possibly listen to this and think it's trash. It's just a quick, nice, mellow loop. Check it out.
Cult of Ye by 
Psalm One
produced by
Optiks
This is one of those songs that I enjoy on the first listen, but probably wouldn't ever return to. I think the production is solid, and the verses are well written.
They don't give a flyin' fuck who got fucked while flyin'
Five star lyin', look at all the good girls tryin'
But we get rewarded for the bad shit
I don't give a fuck if you a bad bitch
It just feels like the song is missing something. Maybe I'd like it more if the hook was better. Psalm One's rapping isn't amazing here, but I enjoyed it to some extent, and I think it's worth checking out at least once.
Quick Heat 3 by 
Caleb Giles
produced by 
AFB
This is the only Quick Heat song I've ever listened to, but I'm assuming that this is just a series of loose verses that Caleb likes to drop every now and then. Anyway, AFB's production here is actually pretty awesome. Again, I didn't know Medhane could make beats this well, so that's pretty cool. The song really lives up to its title because it's barely over a minute long. It's just one verse, but it's dope. I feel like it's far more accessible than most of what appeared on Caleb's latest album. Not that Under the Shade was super experimental, weird, off-putting shit, but this has kind of a trendier style. His flow sounds like something I'd hear from a Trap artist. A good Trap artist though; not one of these generic rappers making the same three songs over and over again. I guess the beat itself is technically a Trap instrumental, but it's still kinda cloudy. It's not super over the top like a DJ Paul beat. Caleb's writing here isn't super memorable or hard hitting; it's mainly his flow and delivery that make this entertaining. The lyrics certainly aren't bad though. They just aren't particularly unique. I definitely fuck with the song though. Check it out.
Keanu Reeves (Remix) by 
Control
produced by 
Jacko
This is a remix of Logic's wack ass Keanu Reeves singles from his latest atrocity, Confessions of a Dangerous Mind. I remember Control telling me that he really liked this beat, but I kinda forgot how it sounded before listening to this remix. The beat actually is dope though. I think Logic's shitty rapping really distracted me from the instrumental when I listened to the original song, but it's a lot better than I remembered. Anyway, Control's verse over it is pretty great, and the hook is cool too. I think my favorite line was the one about rappers' fake ice being nothing but water weight. That was dope. The Australian accent is still kinda weird to listen to, but I'm definitely getting more used to it. It doesn't bother me anywhere near as much as it used to. It's certainly easier to listen to than Irish rapping. Look it up. It sounds awkward as hell. Anyway, make sure you check this shit out. It's dope.
Thursday, February 13th
BLQLYTE by 
zeroh
This is the first single, title track, and opening song from zeroh's upcoming debut album on Leaving Records. It's set to release on April 24th if I'm not mistaken. Anyway, this shit is amazing. Everything about it is fucking awesome. There's not a single aspect of it that I don't love. The best thing about it is just how black it sounds. This shit sounds like the longest dreadlocks wrapped around a black fist. If I had to compare it to something, I'd say it reminds me mostly of Shabazz Palaces. I fucking love it. zeroh can rhyme his ass off, and the song sounds like a journey. The production, singing, rapping… It's all perfect. This might actually be my favorite song of the whole week. Do not sleep on it. This shit is incredible. I cannot wait for the full album.
Tibetan Sky Burials by 
Iceberg Theory
featuring 
Jalal Salaam
produced by 
August Fanon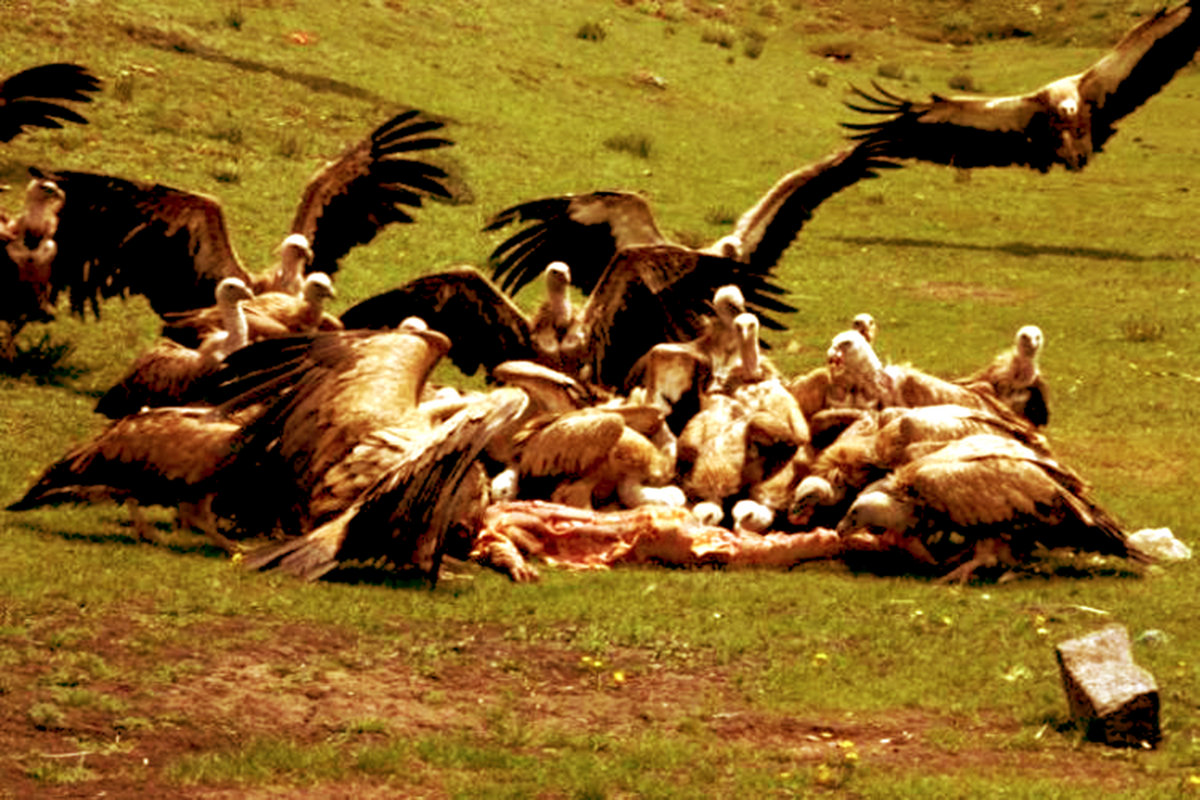 Iceberg Theory & August Fanon released this single along with a b-side, which I'll talk about next. This shit is hard as fuck though. This was my introduction to Iceberg Theory & Jalal Salaam. I'd only ever heard of August Fanon in the past. The beat is super dark and fucked up. It reminds me of something that Earl might've rapped over for Doris. I feel like this is even darker though. It sounds like hell in the form of music. The first verse from Iceberg Theory was really dope too; I liked that line about rocking a wolf's pelt and separating skin from bone. That was hard. The song just sounds evil as hell. I liked Jalal Salaam's flow a lot too. I think this is the very first single from an upcoming album called Rinpoche, so I'll have to look out for that. This shit is dope
Diamond Vehicle by 
Iceberg Theory
featuring 
Scorcese Shells
produced by 
August Fanon
This song isn't dark like the preceding track, but it still has kind of a gritty, lofi aesthetic. It's much jazzier though. The first verse from Iceberg Theory is dope as hell.
Paid in full, paid in karma
The shooter and the farmer
Apple drop and we raisin' the prices like big pharma
Finger pointin' at the moon, don't mistake it for the Dharma
As you can see from his name, these lyrics, and the titles of his work, Iceberg Theory seems to be really interested in eastern religion and culture, which is cool. Nobody really raps about that kinda stuff. The closest we've come to that is like Wu-Tang and weeb rappers. This is dope though. That Scorcese Shells guy killed the second verse too. I honestly think I like this track even more than the preceding one. I don't know. They're both dope. Check 'em out.
New Car by 
Thurz
produced by 
PHONIX
At this point, I don't know what to say about Thurz that I haven't already said. This song is fire though. I feel like I say this every time he drops something new, but this is probably my favorite single that he's released this year. The jazzy production from PHONIX is glorious, and Thurz's flow on this joint is stellar as well. There's really nothing that I dislike about this track. I think it's dope af. It's definitely another one of the better tracks of the week, so don't sleep on it.
NOW NIGGAS WANT TO TAP IN SINCE IM ON PITCHFORK NAH MY GUY by 
Lord Jah-Monte Ogbon
produced by 
Simon SMTHNG
I wasn't familiar with Simon SMTHNG before hearing this song, but I really love this beat. It kinda reminds me of Animal Crossing or the Wii Shop Channel for some reason. It just sounds very light and friendly. I feel like Rav would sound perfect over it. Honestly, I don't think Jah-Monte's rapping on this track is that impressive. His flow was very repetitive, and none of the lyrics really stood out that much to me. I wouldn't say that his performance here was bad though. It just kinda went in one ear and out the other. I mainly like this for the production, but I think it's worth checking out.
Friday, February 14th
Chip$ by 
Clear Soul Forces
produced by 
Ilajide
This is the very first single from the upcoming Clear Soul Forces album, Forces with You. It's fire. They really gave me everything I could've hoped for as a fan with this song. Ilajide's production here is smooth as hell, and they all did a fantastic job with their verses. L.A.Z. went in first, and then Emile came in right behind him. The hook is really good too. The song is closed out by Noveliss & Ilajide respectively. If I had to choose a favorite verse, I'd probably go with L.A.Z. to be honest, but they all did a great job. This shit is smooth as hell, and I can't wait to hear more. The album's set to release on March 13th, so be on the lookout for that.
One Day Baby by 
Ruste Juxx
produced by 
TooBusy
I don't think I've ever written about Ruste Juxx before, but he's a really good rapper signed to Duck Down Records. He's been present in that crew ever since the late 90s if I'm not mistaken. He's released a gang of different projects in the past 12 months, none of which I've heard yet, but that's gonna change soon. I probably won't review the album he dropped last month, but I'll definitely check it out. Anyway, I think this song is a good introduction if you've never heard any of his stuff in the past. He kinda sounds like Raekwon to me. His voice reminded me of Raekwon's verse on C.R.E.A.M., and I saw somebody else make the comparison in the YouTube comments. Anyway, I'm guessing that this is a single for yet another upcoming project, so hopefully I'll be able to review whatever it lands on. Check this shit out. It's dope.
Holy Water by 
Jarren Benton
produced by 
Ace Taylor
I guess Jarren Benton is working on another album. I'm just hoping that it's a step up from Yuck Fou. I didn't think Yuck Fou was bad at all, but it just felt very unremarkable. It felt more like a mixtape than anything. This new single is awesome though. He was able to do that melodic, accessible hook really well without compromising on the quality of his actual rapping. This shit is fire. There's really nothing I dislike about this song. The Trap beat isn't super amazing or anything, but it works really well with the catchy hook. Jarren killed this shit too.
Put my ashes in the motherland, they was whippin' crack inside the government
Distributed in black neighborhoods, niggas get a fix and then they lovin' it
The devil workin', that's sadistic; sick shit six six six
This stick splits biscuits, big chains on Slick Rick
His flow is perfect, especially on the second verse. His delivery is flawless as well. It's definitely one of the better songs of the week in my opinion. I'm just ready to hear more now.
por mi Valentine by 
LEROY
produced by 
Slauson Malone
I have no idea who LEROY is; I just checked this out because it was uploaded to Slauson Malone's Soundcloud page. It's a pretty straightforward R&B track. It's short, and the structure is simplistic enough. The lyrics are cool, but not really that notable. The song is just really pleasant aesthetically. The production is very pretty, and LEROY's singing is really good too. The song's dope. Check it out.
---
Goddamn. That was actually a lot of fucking music. I'm so fucking tired right now. I've been writing all day. This is what happens when I wait 'til the last minute to catch up on all the singles of the week. I probably missed a few too. Jesus. I'm fucking exhausted. Holy shit. Okay, sorry. Anyway, I wasn't really writing that much over the course of the past week since my headphones are broken, and I was also busy all day on Friday. If I didn't write about a song here it's because I either didn't hear it, or I just didn't like it. I'll try to stay on top of things this coming week even though I don't have a good pair of headphones. Just bear with me for now. I'll let you know when everything's back to normal.