I know things were super slow on this blog for the past week, so I apologize for that. Truthfully, I don't have a legitimate excuse. I've just been super unmotivated to do anything aside from sleeping and listening to my depression playlist. My psychiatrist prescribed a new medication on Thursday, so hopefully that'll start kicking in soon, and everything will be back to normal. I can't make any promises though.
Sunday, March 15th
Rojo by 
Dos Monos
I'm kinda cheating here because this song technically came out during Week 11. I didn't hear it until Sunday though, and I wanted to make sure I mentioned it to you guys. Dos Monos released one of the better albums of 2019 in my opinion, so it was cool to see that they had a new song out. This shit is crazy too. The production from 荘子it is fucking insane. Nobody else is making beats like this, man. I wish other producers could make beats as weird and unique as this, but they just don't. Obviously I can't understand anything their saying in the song aside from the handful of English words and phrases peppered in, but their flows and deliveries are entertaining enough to keep me interested. In fact, I actually think their flows on this song are much smoother than they were on any of the songs from Dos City. This has me really intrigued for whatever they have coming in the future. Don't sleep on this song like I almost did. It's dope as hell.
The Cure by 
Daylyt
If you've heard any of the songs that Daylyt has ever uploaded to YouTube, you probably know what to expect from this track. He's just spazzing the entire time. It's awesome. I feel like people assume the number one selling point for his music is the lyricism, and I guess that's true, but his flow here is also really fucking awesome to me. I feel like I'm always mesmerized by the way he floats over instrumentals. It seems really different from the way other MCs rap, but I don't know how to explain it. Maybe it also has something to do with his vocal delivery. I don't know. But yeah, this shit is fire. There are a shit ton of quotable lines. That one about how a Hindu God couldn't boo this is just like 0.1% of what this track has to offer. Check this shit out and let me know what you think.
Monday, March 16th
Rod Strickland by 
Maffew Ragazino
produced by 
5ickness
Maffew Ragazino released this two pack at the beginning of the week, which consists of No Mercy & Tim Duncan. Apparently No Mercy was recorded a couple years ago when Maffew officially came out of "retirement." I was wondering why I stopped seeing his name on the internet as much as I used to; I didn't know he was temporarily retired. Anyway, this song has a relatively intense beat from 5ickness. It's a pretty energetic track, and the horns that eventually come in make it sound really grandiose. The first verse from Maffew is nice too. That line about him being a mix between Aristotle & AZ was hard. The hook is pretty simplistic, but it serves its purpose well. The way he started the second verse was really fucking dope. His flow was awesome. Overall, it's a dope track. I think I prefer it over the following track, but neither of them are bad. The beat on Tim Duncan kinda sounds like something Meek Mill would rhyme over. It's an interesting beat because the primary loop sounds like something I'd hear in a generic Trap song, but the percussion kinda sounds like some dusty boom bap stuff. I fuck with it. Maffew's performance here isn't really that entertaining to me personally, but nothing about it is particularly bad. It's just not my kinda song. Again, it reminded me of Meek Mill, not only due to the sonic atmosphere, but because of the lyrical content as well. It's a solid track though, and definitely worth checking out.
8 Corners by 
Noveliss
This is basically just a quick verse, rather than a full, fleshed out song. It's dope as hell though. Following the current election season has made me very frustrated with establishment politics and the country in general, so hearing an MC rap about the stupidity of capitalism and politics was nice. Basically, the verse is about the 8 corners of life, which are capitalism, religion, race, technology, nutrition, education, politics, and entertainment. The entire track is only one minute long, but the content that he somehow packed into the song in such a short amount of time is really goddamn dope. The lines about politics were my favorite, but the whole thing is really good. Check it out.
Living Happy by 
Quelle Chris

 featuring 

Joseph Chilliams

&

Cavalier

 produced by 

Chris Keys

Earlier in 2020, Quelle Chris & Chris Keys dropped one of the best singles of the year with Sudden Death. I was happy to see them release this follow up along with the announcement of a sequel to their 2015 album, Innocent Country. Innocent Country 2 is slated for release on April 24th, and it has some super intriguing features, so that's definitely one of my most anticipated records of the year at the moment. Anyway, the feature from Joseph Chilliams on this song was pretty unexpected for me. I would've never guessed that him and Quelle Chris would work together, but I don't really know why. Now that I think about it, their music definitely has some crossover appeal. I just don't really associate Joseph Chilliams with the more underground, abstract scene that I think of when Quelle Chris is mentioned. Anyway, Chris Keys' piano-driven production on this song is absolutely glorious as always, and Quelle Chris' somewhat melodic delivery on the first verse is fantastic as well. I'm not crazy about the hook, but it's fine. Joseph Chilliams sounded great over this beat too. He did a really nice job on that second verse. The final verse from Cavalier was also really great. Honestly, I don't have any major gripes with the song. Again, I'm not in love with the hook, but that's just a nitpick. I think the song is dope as hell overall. I can't wait for the full album.
Belushi & Aykroyd by 
Jamo Gang
produced by 
J57
Jamo Gang is a supergroup comprised of Ras Kass, El Gant, and J57. El Gant is the only member of the group with whom I had zero experience before listening to this song. He killed this shit though. Everybody involved killed this shit. On paper, the idea of Jamo Gang seemed pretty exciting, but I was admittedly apprehensive because a lot of times when big names get together the final product ends up being underwhelming. That's not the case here though. This is about as good as I could have hoped for. The hard-hitting production from J57 is great, and the way Ras Kass & El Gant were going back and forth all over this track was awesome. Ras Kass really slaughtered this shit. I believe this is for an album called Walking with Lions, which is scheduled for release on May 8th. In the meantime, check this song out. It's fire.
STAT by 
King Magnetic
produced by 
Custom Made
I think I wrote about King Magnetic last week if I'm not mistaken. That song was better than this one, but I still fuck with this track. The production and hook kinda left something to be desired, but the main selling point of King Mag's music has always been his actual rapping, and that's exactly what makes this song worth checking out. The verses are well written, and his flow is tight. There's not much to say about it other than that. It's not a must-listen song or anything, but I fuck with it quite a bit. I'm still not sure if he's working on that album or if he's just gonna be releasing loose singles for the remainder of the year. We'll see I guess.
Tuesday, March 17th
Fair Chance by 
Thundercat

featuring 

Ty$

&

Lil B

Out of all the singles that have been released for It Is What It Is, this is easily my favorite. I genuinely think this is one of the best songs Thundercat has ever made. Almost everything about it is perfect. The production is fucking incredible, and the vocals from Thundercat & Ty$ are glorious. I could've done without the Lil B feature, but he didn't ruin the song, which is more than I was expecting to be able to say. It's a million times better than I thought it'd be. He definitely didn't really add anything to the song for me, and I would've preferred him to be absent, but I can tolerate his presence here. This shit is fucking amazing. Do not sleep on this one. It's dope af.
TEAR DRINKER FREESTYLE by
CRIMEAPPLE
produced by 
Brown13
This is one of the coolest songs of the week in my opinion. If I listened to this instrumental without hearing anyone rap over it, I'd probably think it wasn't very good. The way CRIMEAPPLE bodied this shit is fucking crazy though. His flow was madness. The way he raps has always been kinda mesmerizing, but when it's paired with this weird ass beat it's on a whole other level. I'd love to hear more weird shit like this. I wanna hear him rap over some weird ass cinematic shit that rappers shouldn't be able to flow over. There wasn't really any information about this song in particular, but I think he's working on a project called Jaguar, so that should be interesting. I can't wait to hear more because this is awesome. Check it out.
Wednesday, March 18th
Get Right Down to It by 
A-F-R-O
produced by 
Ayatollah
I think I wrote about A-F-R-O once when he was featured on a song before, but this is my first time covering any of his solo work. I've only heard some of his shit in the past, and I was really impressed by his technical ability at first, but it kinda seemed like one of those situations where an MC can rhyme really well and spit really fast, but the songwriting leaves a lot to be desired. This is actually a very good song though. The production from Ayatollah is really great, and each verse from A-F-R-O is really well written. He's not just doing that masturbatory double time shit with zero substance either. It kinda sounds like some underground shit from the early to mid 2000s, but not in a bad way. This shit is really dope. Check it out.
No Mames by 
Moodie Black
This is the second single from the upcoming Moodie Black album, FUZZ, if I'm not mistaken. I actually think I like this one more than the first single. This shit is loud as hell though. I mean, that's kinda to be expected. It has an additional guitar contribution from someone named Bryan Ostrow, who's a member of a band called Night of the Living Shred. My favorite part of the track is when Kdeath's delivery gets more aggressive about halfway through the song. As always, this shit is weird as hell, so it's not gonna be for everyone. I think I said the same thing about the previous single, but this is most likely gonna be the most polarizing track that I've written about this week. It's probably the most interesting track here just because of how different it is though. Give it a listen and let me know what you think.
Victory Loves Company by 
AmirSaysNothing

 featuring 

Slug

 produced by 

Big Jerm

,

Hai-C

&

Law Chadlin

AmirSaysNothing is an artist I'd never heard of in my life until Wednesday. I was just scrolling through my subscriptions on YouTube and saw that Slug was featured on this song, so I clicked because of that alone. This dude is actually really dope. First and foremost, I was impressed by how detailed and layered the production from Big Jerm was. The additional instrumentation from Hai-C & Law Chadlin certainly helped a lot. After hearing this song, I went to AmirSaysNothing's YouTube page and saw that he's done work with DAISY, so I guess he associates with a lot of artists that I really love. I feel bad for not hearing of him until now. I'll have to keep my eye on him. His opening verse here is really nice, and I like his sung hook a lot too. The second verse was even better, and the way Slug comes in right behind him is really dope. Shoutout to Amir for not getting smoked on his own song though. This shit is great. Check it out.
Thursday, March 19th
Love Ya Self by 
Thurz

 produced by 

Jeron Ward

 &

JohnnyStormbeats

If you haven't checked out any of the shit Thurz has released this year, then I don't even know why the fuck I have this blog. He's dropped a new song almost every week of the year, and all of them have been good. I've been writing about him every single week, so if you haven't heard any of it by now, everything I do is pointless. What else can I say at this point? I actually think this is one of the better songs he's released this year, and it's definitely my favorite song that came out on Thursday. His flow here is buttery smooth, and his voice fits over this beat perfectly. It's kind of an airy, yet soulful instrumental. If Drake's music was less boring, I imagine this is the kind of beat he would spit over. I thought the first verse was great, but he really snapped on that second verse. This shit is fire. STOP FUCKING SLEEPING ON THURZ. Damn. I don't even know if y'all are sleeping, but I hope you aren't because I've been praising him all year. Listen to this shit. It's good.
One 4 Remy by 
Mutant Academy
produced by 
GRAYMATTER
This entire track is pretty much just 160 seconds of each MC in Mutant Academy rapping. There's no hook or bridge or anything. fly anakin did his thing on the first verse, but he honestly had my least favorite performance. Henny L.O. really stood out on the second verse, but I genuinely think Big Kahuna OG had the best performance here. Each verse on the song is better than the one it follows. GRAYMATTER's production was honestly relatively unremarkable, but it's still way better than what most other producers are doing these days. It's just far from his best work in my opinion. This isn't an amazing song to me by any means, but I definitely enjoyed it, and I think it's worth checking out if you're a fan of the crew. Give it a listen and let me know what you think.
SET by 
J.K. the Reaper
produced by 
Brenden Powers
J.K. the Reaper is an artist from North Carolina who I have very little experience with. I first became familiar with him through his work on Denzel Curry's breakout project, Nostalgic 64. I thought he was cool there, but I didn't really start to pay more attention to him until I found out he was from my home state. This track right here is basically the kinda music I wish Denzel Curry was making today. J.K. somehow manages to channel the same aggression that Denzel is known for without screaming or going too over the top with his delivery. The repetitive hook is catchy, and the production kinda gives me the same feeling that Duke Deuce's Crunk Ain't Dead song gives me. His flow here is really infectious, and the lyrics are actually well written even if they aren't super thought provoking. That reference to I Have No Mouth, and I Must Scream was unexpected, but much appreciated. It's a very short track, and an additional verse probably could've taken it to the next level, but I really fuck with this track. Check it out.
Wife You by 
Childish Major
I was actually kinda torn on this song at first. Basically, I really like this track sonically, but the content is super unappealing. If I just drown out what he's saying, I love this shit. His singing sounds great, and the production is really good too. The lyrics about how this woman somehow doesn't respect herself just because a lot of guys have seen her naked… It's just not… I don't know. Even if I agreed with that logic, it's not exactly the kinda thing I'd wanna hear in a song and think about. The lyrics are just super condescending to me. This shit sounds great though, so I kinda fuck with it.
Covered in Money by 
JPEGMAFIA
This is the kinda shit I was hoping for on Peggy's latest album. I feel like this is one of the weirder instrumentals that he's rapped over in a while, and the rapping is actually pretty good here too. Again, he's not an amazing lyricist or anything, but there are definitely lines that stood out. He really caught my attention when he referred to himself as the modern day Cannibal Ox. That was hard. The one about beating his dick to himself in the mirror was crazy too. I wasn't crazy about the switch up towards the end where he started rapping with autotune, but it was fine. That line about having a big strap like Portia de Rossi was fire too. So yeah, the song is dope. I think he could've done more to make it a more cohesive product overall, but aspects of it are really fantastic. It's worth checking out. I'm sure music Twitter was probably creaming their pants over this song when it dropped.
Friday, March 20th
Wily's Revenge by 
Mega Ran
produced by
CFO$
This shit is fire. Honestly, it's impressive that Mega Ran's been making music about Mega Man for over a decade at this point, and he's still making new songs that are just as enjoyable as ever. This beat from CFO$ flips the main theme song of the series and turns it into a hard hitting, dramatic, almost Trap sounding beat. Random's flow on this joint is fire too. Lyrically, it's pretty much a biography of the series' main antagonist, Dr. Wily. I was never really into Mega Man personally, but Mega Ran's music is so goddamn good that I can't help but be entertained. This shit is phenomenal. I've always only had a list of my top 10 favorite rappers, but I think if I made a top 15 list Mega Ran would definitely be in there. People need to start giving him more credit because he's miles ahead of almost everyone else in the game.
Pandemic Freestyle by 
T.R.3

produced by 

Scorpio Prodz

&

Johnny Minds

The title of this track kinda gives you an idea of how it's structured. T.R.3's just rapping the entire time. It's fire though. The energy he maintains throughout the entire song is really impressive. The unexpected beat switch was really nice too. The first beat is a pretty hard hitting instrumental, which sounds like something that would've appeared on his ANGELES EP from January. His flow here is really goddamn nice. The second beat is much jazzier. It's not quite despondent enough to have appeared on that GRIEF EP from last month though. The sample kinda reminds me of Chance the Rapper's Windows. I can't really tell if it's the exact same sample though. Either way, it sounds really nice. Check this track out and lemme know what you think.
Secret by 
They Hate Change
featuring
没
They Hate Change released three different extended plays last year, and I only got around to listening to one of them. It was dope though, and I'm definitely gonna listen to the other stuff they released sooner rather than later. I was pleasantly surprised to see this new song with Dos Monos' very own 没, and it didn't disappoint. I love the weird, almost Ambient sounding instrumental, and every MC did a great job over it. The beat kinda reminds me of the save rooms from Resident Evil 4. I still haven't learned the voices of the two MCs from They Hate Change, so I don't know who performed each verse. I liked the very first verse the most though. The final verse from 没 was really cool too. I was excited to hear him just because it's cool to hear the combination of English & Japanese speaking artists. All three of the verses were enjoyable though. Check this shit out.
IF I GOT IT YOU GOT IT by 
Y*O*U*N*G*M*A*N
produced by 
Celestaphone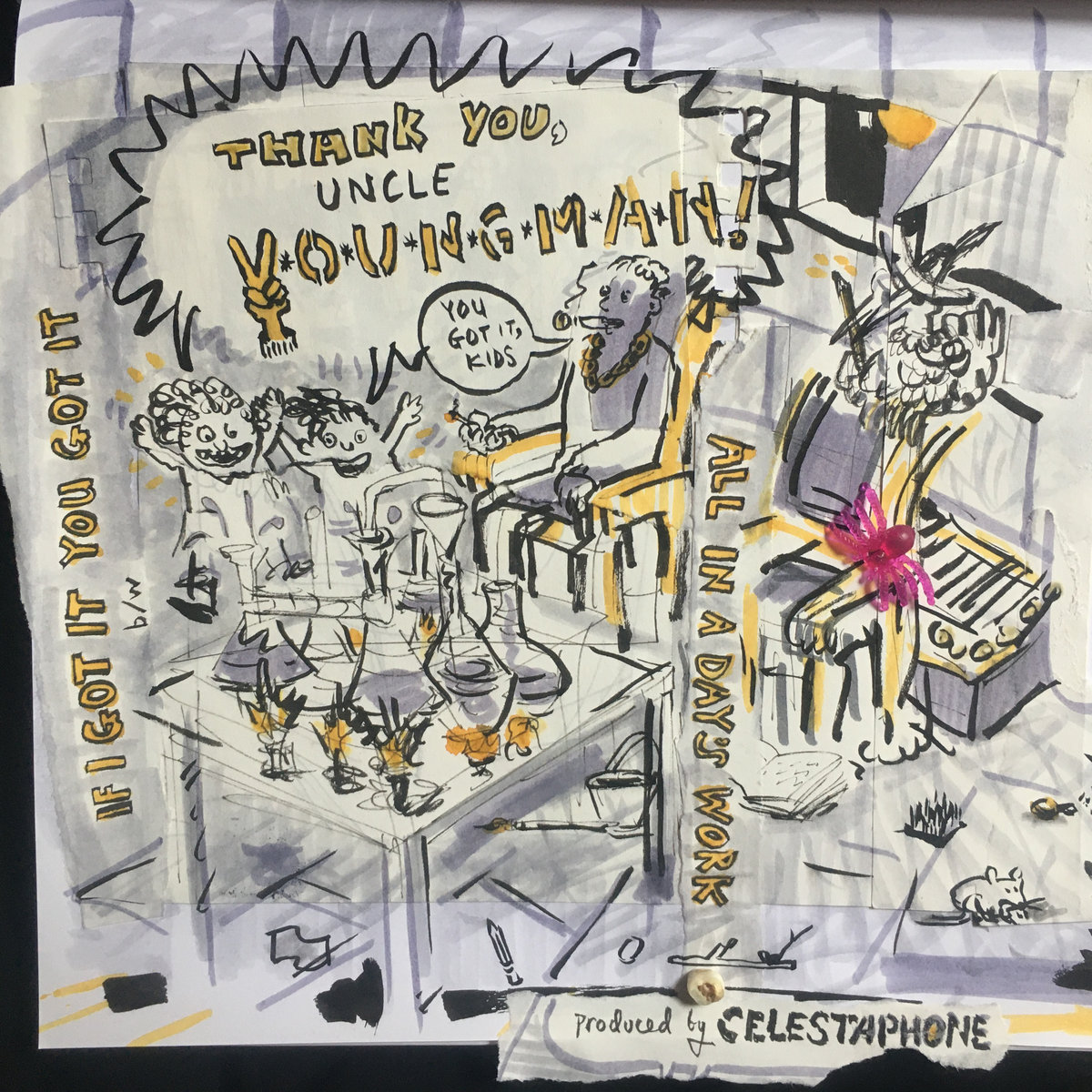 MC Paul Barman released one of my favorite albums of 2018, so I was pretty excited when I saw that he was releasing music this week. When I was still going through my psychotic episode in 2018, I had the chance to interview him. Obviously due to my illness, the interview ended up being terrible. My biggest regret about that interview—aside from the fact that it happened—is that I didn't even consider asking him about his Y*O*U*N*G*M*A*N persona. I don't know why that didn't cross my mind at the time. I really dropped the ball in that interview lol. Anyway, Celestaphone's production here is really fucking cool. It kinda sounds like something I'd hear in an old videogame, except more detailed. Of course the verses on this song are loaded with super dense and clever rhymes.
Put up a pyramid on Pitkin, up under the projects
Painting proper proportions, Phi progression of objects
51 degrees, 52 feet if you're so inclined
Refined my designs with shines & in-lines
Please bear in mind, this style has been mines
Passed on from predecessors in golden olden times
If I was an MC, listening to artists like this would make me want to quit. Saying that he's far above average when it comes to rhyming seems like an understatement.
Y'all muhtruckas didn't heed my warnings
E'ry 3, 4 mornings you need more chlorine
'Cause of the gems I drop on brainstems
But there's too much toxicity to listen to them
I love this shit. It's dope af. Don't sleep on it.
ALL IN A DAY*S WORK by 
Y*O*U*N*G*M*A*N
produced by 
Celestaphone
If the previous track somehow didn't impress you, this one definitely will. Once again, the production sounds like something from an old Nintento game, but in a good way. Y*O*U*N*G*M*A*N's flow here is crazy too. I can barely get through a regular sentence in real life without stuttering and stumbling through my words like Joe Biden, so to hear him speed through these rhymes like this is truly awe-inspiring.
Speedbag sound like paradiddles
Bury your middle in a babbling brook full of carrion
Ask Maid Marian to play a pair of Arab fiddles
Gotta start somewhere
From Zuccotti Park to Tiananmen Square
You gotta be a preeminent nothing
To ignore it's the end of an er-a
As the pendulum swings
Even my friends are scared of
The better world they can't imagine
The song is divided into three different segments: morning, evening, and night. It's amazing. The way the beat switched up for evening was awesome.
The grass is always greener on the other side of my massive wiener
Where you'll find a classic piece of ass, meaner than Catherine Keener
Y*O*U*N*G*M*A*N fucking slaughtered this shit. I love it. It's even better than the preceding track. I have no gripes with it at all.
Sun Will Rise by 
Marcus D

&

Chinsaku
I think I've written about Marcus D one other time on this blog, but he's a really good producer. He mainly specializes in that lo-fi style that's always associated with weeb shit for whatever reason. I know him because of his work with Substantial as Bop Alloy. Chinsaku is an artist with whom I'm not as familiar, but I know he's been working with Marcus D a lot lately. I've never listened to a solo Marcus D project in the past, but I'm looking forward to checking out his catalogue in the future. Hopefully sooner rather than later. Anyway, this beat is pretty much exactly what I was expecting, but it's very good, smooth stuff. Check it out if you're into lo-fi music.
Saturday, March 21st
Crazy by 
Lance SkiiiWalker
produced by 
Amaire Johnson
I'm one of the few people who actually loved the critically panned debut album from Lance SkiiiWalker back in 2016, so I was pretty excited when I saw that he'd released this new track. It's definitely a very flawed song, but I like it to some extent. It's basically a cover of Crazy by Gnarls Barkley, which was one of my favorite songs as a child. It's nowhere near as brilliant as the original song, but it's worth checking out. I think the biggest issue here is just the actual recording and vocal mixing. Lance's singing here sounds really sloppy and frankly a bit amateurish. Truth be told, the best aspect of this song is the gorgeous music video. I think certain passages of the song sound really great though. I'm really torn on it. I'd rather just listen to the original song, but I'm excited to see more music from Lance. Hopefully he drops more stuff sooner rather than later.
---
Holy fucking shit, man. That was so much fucking music. You know what the sad part is? I probably missed a lot of shit that dropped this week. I really gotta stop waiting 'til the last minute to write these posts. I know I say that every week, but seriously. It takes such a long time. This week felt a lot more congested in terms of music releases. I guess artists were tryna capitalize on this pandemic since everyone's at home with nothing to do. They've also taken a hit since live shows are being cancelled, and that's the primary source of income for most musicians if I'm not mistaken. Anyway, be sure to listen to these tracks and let me know what you all think. As always, if I didn't write about a song that was released this week, I either didn't like it, or I just didn't hear it. Sometimes I'll hear a song and think it's pretty solid, but just not notable enough to write about, so don't get too salty if you feel like something got snubbed. Peace.