This extended play was released on April 20th this year. Dope KNife released one of my favorite albums of 2019, so I was pretty excited when I found out about this project. This seems to be somewhat of a short compilation of tracks that felt out of place for other projects. I guess he didn't think they fit in on any of his other albums, but he wanted a way to release them, so they found a home here. I'm not exactly sure when all these tracks were recorded, but I'd already heard one of them before checking out the full project. Anyway, I'm not expecting this to be on the same level as Things Got Worse, but I'm almost positive that I'm gonna enjoy this quite a bit. Hopefully I'm not let down…
---
1. A Million produced by 
Blue Collar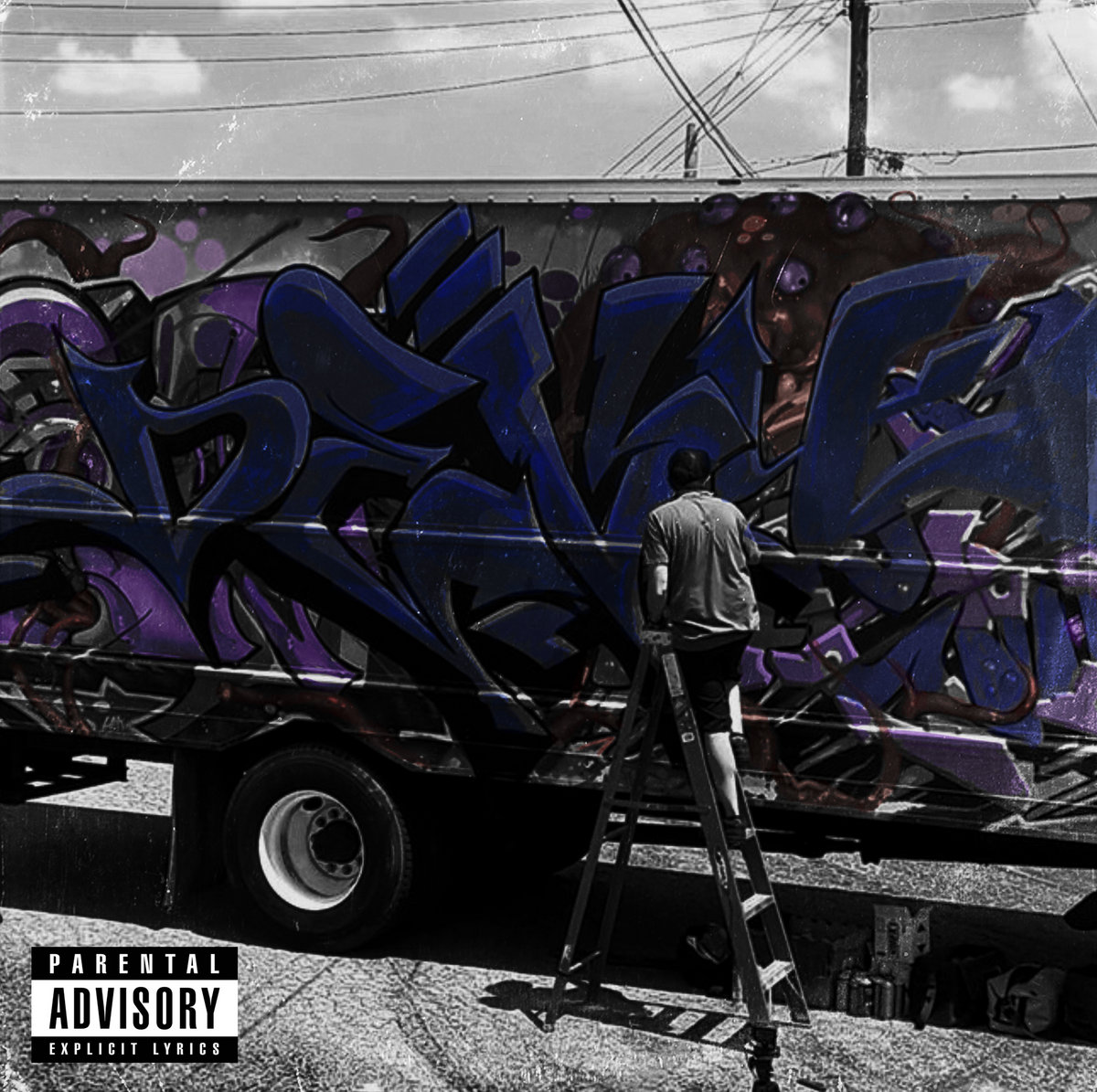 The beat on this track has kind of a throwback aesthetic in my opinion. It's mainly because of the bass loop. The bass sounds like something from the Low End Theory. As soon as Dope KNife started spitting, I had a big dumb smile on my face. This is my type of shit; it feels like it was made tailor-made for people with my taste. I love his voice, and he was flowin' his ass off. I loved that line about how he freestyles better than your whole discography. As much as I enjoyed the first verse, he fucking snapped on that second one. Everything about it was perfect. His flow was smooth as hell, and I love how aggressive and outrageous the lyrics were.
I'm the dope one
Don't need no gun to leave you smoked, son
Poke fun, get a rope strung around your scrotum
Don't run, nigga, I see yo ass
Fuck Jason; bitch, I'm Neo fast
Can't pay me off when I don't need no cash
"You rich?" Nah, I'm a fuckin' sociopath
He fuckin' killed this shit. The hook isn't anything special, and it's a little strange how it's panned to the left, but it didn't really bother me. I think the song is dope as hell overall.
2. Art of the Blind featuring
stic.man
produced by
Aphillion
I'm more used to hearing Dope KNife rap over his own production, so it was interesting to hear him rap over other people's beats on this project. This instrumental in particular is more melodic than what he usually raps over. Honestly, I kinda wish y'all could've seen my reaction when I heard this beat drop. I think it's amazing. The instruments—particularly the piano—just sound really heavy and… I don't know… Dense? I don't know how to describe them, but they sound good as fuck. Anyway, stic performed the first verse on this song, and he fucking killed it.
The Last Poets' last poem, blast from the past
The spit stains ingrained in Coltrane's sax
James Brown afro before it got relaxed
The voice of the voiceless before it got on wax
I love how poetic his writing here is. The cuts from DJ D-Frost between the verses are really nice too, and Dope KNife also killed this track.
I'm the feet scatter when the po's round
I'm the hand grabbin' the pen after it put the dope down
Most sounds, I'm the bass hummin' when the band's pacing
A stadium, a slave runnin' through the plantation
All the screamin' from the demons when you can't face 'em
The satisfaction that it gives you when you stand patient
This song apparently came out in 2018 originally, and I'm kinda mad that I didn't hear it until now because I fucking love this shit. I think the dark, yet jazzy production is amazing, and both of the verses are phenomenal. I can't decide who I think had the better performance because both of them have a ton of quotable lines. This shit is dope af.
3. Face Fuck produced by
Dope KNife
My reaction to the instrumental on this song was very similar to that of the preceding one. I love how sinister and grizzly it sounds. It reminds me of one of those super dark Alchemist beats. Honestly, I think this song is fucking incredible. On my first listen, I paused the track in the middle of the verse and just said "Yo…" out loud. Do with that what you will. Anyway, his flow and breath control here is really impressive, and I love the storytelling. I was nervous when I saw the title because I was afraid that the song might just be about getting deepthroated, but that wasn't the case lol. The song kinda reminds me of that Vigilante Genesis EP by Blueprint. He's telling a story about a disreputable character named Otis.
Once upon a moon there was a loser I believe named Otis
He was smokin' reekin' dope and it was hard to keep him focused
Family tree and all relationships he likely schemed and broke 'em
Guarantee he only did some shit in hopes of bein' noticed
I don't wanna say what happens in the story and spoil it, but I'll just say that it doesn't have a happy ending. The dark story matches the ominous production really well. This is definitely a major highlight on the project for me; I still haven't chosen a favorite track yet, and I don't know how I'm going to do that. This shit is dope af though; I love it.
4. Squadron Supreme featuring
Eze Jackson
produced by
Dope KNife
The beat on this track is a bit more like that of the opening song; it sounds like jazzy Boom Bap stuff. It's a really dope instrumental. I don't think I'd ever heard any of Eze Jackson's music before listening to this song, but his name looked familiar to me for some reason. Maybe I'd seen it floating around the internet before. Anyway, he performed the opening verse, and his voice kinda reminded me of Chris Rivers. He killed this shit.
I be wantin' to smack rappers and throat-chop managers
Run over A&Rs and hang promoters from bannisters
That's probably my favorite couplet from his verse. I really like his aggressive delivery, and his flow was great. The hook is pretty simplistic and straightforward, but I like it a lot. As much as I enjoyed Eze Jackson's performance, Dope KNife really stood out here.
Pump your brakes, I don't toss a spear, but I can chuck grenades
Fuckin' A, sober on the mic, but I been drunk for days
Y'all don't even hit shit, y'all just bustin' strays
And your whole album soundin' like the sunken place
I love how angry he sounds. I think my favorite style he has is with this aggressive, battle-oriented type content. The grenade line was so fucking dope to me. I really love this song. I think it's dope as hell.
5. Make It Dope produced by
Dope KNife
This is the only song I'd heard before learning about this project. It's actually one of the first songs I ever heard by Dope KNife. Once again, the production is super dark and gritty. It has one of my favorite beats on the project. This is exactly what I was describing just now when talking about that aggressive battle type shit.
Stab you with scissors, now you stuck in the mud
A cypher ain't right unless I leave it covered in blood
At your girl's yoga class gettin' nothing but hugs
Even though I got a face only a mother could love
The comment section startin' to give me crap
'Cause I say the word "nigga" in all of my indie raps
If there's a real Hip Hop, then let's bring it back
And I don't fuck with nobody's shit if I think it's wack
This shit is so cold, man. I love how threatening he sounds here. I also think this song has one of the best hooks on the whole project. The entire track is stuffed with quotable lines. Even the line about him squirting nut out was done in a funny way. It was just so over the top and unexpected that I wasn't even disgusted by it; it just made me laugh. I think this song is fucking awesome. It's dope af.
6. Life in Bottles produced by
Paul Abdul
This song has the lightest, most chill instrumental on the project. The other beats were jazzy just like this one, but they still had a very dark atmosphere to them. This one's got a less dire aesthetic. As the title of this song kinda foreshadows, it samples Kendrick Lamar's Swimming Pools. The entire song is pretty much just one verse, and he killed it.
Sorry for my grammar, but this chick she was bad as fuck
Gave the KNife an edible, it tasted like banana nut
Then she hiked her skirt and asked a nigga, "am I man enough"
I am a punk, but still I got to fuck her while we standin' up
I like the direction in which this little anecdote went; it was pretty funny. This song isn't quite as exciting to me as the preceding material just because there isn't much going on; the instrumental is pretty simplistic, and the whole song is just one verse. It's a very good verse though. I like the song a lot. It's dope.
7. The Message featuring
Dana Coppafeel
produced by
Charley Cooks
This song has a really great beat. It almost sounds kinda Trap influenced, mainly due to the percussion. Dope KNife doesn't usually rap over this type of production, so it was interesting to hear this. I love the piano loop. That shit is dope. I feel like Dope KNife's voice and flow fit over it perfectly too. The first verse is really great, and you can't go wrong with a hook like that where you're interpolating Grandmaster Flash's Message. The slapping sound effects were hilarious by the way; I really liked that. I wasn't familiar with Dana Coppafeel before hearing this, but I enjoyed his performance. His smooth voice sounded pretty good over this beat. I definitely preferred Dope KNife's verse, but he did his thing too. There's not really anything about this song that I take issue with to be honest. I really like the beat, and I think both of the MC's here flowed over it really well. I think the song's dope as hell.
---
This project is amazing to me. Honestly, I'd say I enjoyed this as a whole more than Things Got Worse. I wouldn't say that this is necessarily a better project, but it's more to the point and less ambitious. It's kinda like the difference between Atrocity Exhibition & uknowhatimsayin¿ by Danny Brown. Atrocity Exhibition is obviously the more grandiose and memorable release, but I personally think the latter is more consistent. That's how I feel about the two latest releases from Dope KNife. Damn near every song here blew me away. It's all killer and no filler. It did leave me wanting more though, so I'm very excited for whatever Dope KNife has coming in the future. Don't sleep on this one. It's not only one of the best extended plays I've heard all year, but one of the year's best projects period. It's dope af.
Favorite Song: Face Fuck
Least Favorite Song: Life in Bottles
92