I'm gonna be honest, I have no fucking clue what happened in the news this week, so I just chose a random picture that I had for the "featured image" of this article. I know things have been kinda slow lately, and I can't really say why to be honest. Maybe I've been too busy communicating with other human beings. I don't know. ¯\_(ツ)_/¯
Sunday, April 26th
INSIDE by 
Dumbfoundead
featuring 
Satica
produced by 
Big Banana
Last week Dumbfoundead dropped a song called OUTSIDE, so I guess this is maybe the b-side to that song. I feel like the term "b-side" comes with a negative connotation, as if it's a lesser song, or a throwaway track, but that's not the case at all. Maybe OUTSIDE was Side A, and this is Side 1. Or maybe they're just two separate songs that were made about the quarantine. Both of them are good. I honestly think I might like this one more though. Once again, it maintains the same aesthetic from his CAFE BLEU extended play from 2018. The lush production sounds very nice, and the vocals from Satica on the hook were good too. Dumbfoundead's flow on this track is also really great. It sounds very reminiscent of Nas' flow on his song Heaven, which was on God's Son. I kinda wish Dumbfoundead spit one more verse because Satica had a bigger presence here, but she did a good job. The song is very dope. Check it out.
Monday, April 27th
Uncut by 
A-Minus
featuring 
Nolan the Ninja
produced by 
Nolan the Ninja
A-Minus has been teasing his 360s album for over a year at this point, and every single that he's released for it has been fire, so I'm hoping it releases sooner rather than later. Anyway, this song has a very straightforward structure, but it's pretty awesome. The first verse is performed by Nolan the Ninja, who did a pretty nice job. A-Minus really killed this shit though. He stole the show in my opinion. Well, it is his own song, so maybe I should just say that he didn't have the show stolen from himself. Shoutout to Nolan for making this beat too. I love the lo-fi production here. I still gotta catch up and listen to that second ILLPHORIA album that he dropped late last year. Anyway, I believe this is the fourth single A-Minus has dropped for 360s. This, along with It's Unbelievable, Nothin' 4 Free, and Black Moon have made it one of my most anticipated upcoming releases. I'm not sure if all of these tracks will make it onto the final project, but they're all really goddamn good, so check 'em out if you haven't yet.
The Curriculum by 
Apathy
produced by 
Stu Bangas
I believe Apathy & Stu Bangas are working on an album together, so I'm really looking forward to that. Apathy is a super under-appreciated MC in my opinion, and one of my favorite members of the Army of the Pharaohs. This song right here seems to be more like a teaser or appetizer for the full album that these two are working on with each other. I don't think this will be making the full project, just because it seems like it's a direct response to the current pandemic. Speaking of which, somebody needs to kick Michael Rapaport's ass. Fuck that dude. Anyway, Apathy killed this track, and the beat from Stu Bangas is great. I loved that closing line about how those who don't stay 6 feet apart will end up 6 feet deep. That was dope as hell. Shoutout to Tone Spliff for killing it with the cuts too. The song is really awesome. Don't sleep on it.
Tuesday, April 28th
In the World by 
Lance SkiiiWalker

featuring 

Nick Hakim

 produced by 

FRGN-SPCMN, C.S. Armstrong, Amaire Johnson

&

Henry Solomon

For those of you who don't know, I'm actually a really big fan of Lance SkiiiWalker. I'm one of the few listeners who actually loved his first album with Top Dawg Entertainment, which received a lot of hate upon its release. He's a really weird artist, so I guess it shouldn't have been too surprising that it didn't resonate with a lot of TDE's fans, since they're generally more accustomed to mainstream, accessible music. This shit right here though? It's fire. I love this song. It's one of my favorite tracks of the week, and I really hope we get more stuff from Lance soon. The production is absolutely glorious, and the featured vocals from Nick Hakim were a very nice touch too. This is exactly what I wanted after hearing Introverted Intuition. This is more of what I want. The cover of Gnarls Barkley's Crazy was cool, but there's nobody on Earth who can make a better version than the original, so it's not something that I'd return to. This shit right here is fire though. Check it out.
Sleeve by 
TreaZon
TreaZon released one of the better albums that I heard in 2019 with Troublesome, so when I learned about his upcoming project, I Shouldn't Be Alive, which seems like a sequel to the aforementioned project, I was pretty excited. It's scheduled for release on June 3rd, and it's definitely not something that you wanna sleep on. Anyway, this is technically the second single from the album. The first single, Reason, came out last year if I'm not mistaken, but you should check that out too because it's fire. I personally prefer this song though. I think this shit is awesome. The hook is catchy as hell, and I really love the detailed production here. However, as always, the main appeal of any song from TreaZon for me is his aggressive rapping, and he fucking killed this shit. I feel like this is what I've been missing from Denzel Curry lately. He used to have a great balance of energy, and flow. He was never a super talented lyricist in my opinion, but he wasn't bad either. Now it seems like all his focus is just on maintaining energy. TreaZon is able to match—and sometimes even surpass—the energy of whatever instrumental he's rhyming over, all while flowing his ass off and writing well structured rhymes and similes. Both of the verses on this track are great, especially the second one.
Masked up, Comic-Con; give it up, Ramadan
I want my enemies to see it, nigga, eye to eye
I'm Optimus up in his prime, and I'm optimized
Ain't no option to decide, either ride or die
And you know I'm ridin' out for mine, I ain't gotta lie
See I'm the greatest that's alive, and it's finalized
So whoever that you got in mind, there is not a compromise
You could pay the homage or it's homicide
I fuckin' love it. Check the song out and lemme know what you think, and give Troublesome a listen if you haven't yet. Again, the follow-up drops on June 3rd, so keep your eyes peeled for that.
ALLEGEDLY by 
Medhane
produced by 
Chuck Strangers
If you've read any of my previous thoughts about Medhane, you probably know what I'm gonna say about this track. The verse is really good from a technical perspective, but as a song this just feels super unseasoned. I've started to realize recently that Medhane sounds kinda like Stro or Joey Bada$$ to me, and I guess the Chuck Strangers production only makes the similarity more uncanny. I'm a big fan of Chuck's production in general, but this beat was actually really disappointing to me. I think it sucks ass to be honest. It sounds like it was made in 10 minutes. I still enjoyed the song though. It doesn't have a lot of replay value for me personally, but I thought it was worth highlighting. Check it out.
Wednesday, April 29th
Quarantine by 
Locksmith
produced by 
Decap
I guess this week in particular had a lot of Quarantine themed songs. This is one of my favorites for sure. Locksmith is an elite level MC, so anytime he drops something I'm all over it, and this track didn't disappoint at all. The production from Decap made me think of Classical music just because of the melody of the piano. It's very good. As soon as Locksmith starts going in he immediately says the most relatable shit ever.
I been behaving like I'm in a haven, like I'm isolating myself as a choice
I kept my distance away from you niggas before this new virus 'cause I was annoyed
There are a shit ton of quotable lines stuffed into this verse, and it's not like it's a super long track. He really wastes no time at all. It's all killer and no filler. This line in particular is one of my favorites.
Every metaphor I record is a chord on the court that I run like an athlete
His flow is of course a pleasure to listen to as always. This is the second single that Locksmith has released in the past few weeks, so hopefully that means he's preparing to release a full project in the near future. We'll see. In the meantime, make sure you don't sleep on this track. It's dope as hell.
Squad Goals by 
Prof
produced by 
Jordy Bangs
Prof is an MC with whom I've been familiar ever since he dropped his first album with Rhymesayers in 2015. I always thought he was a very talented artist, but for whatever reason he seemed like the type of rapper that would have a niche fanbase. This is coming from someone who has only heard singles though. I haven't listened to his albums yet, although I always planned to. Anyway… This song right here is fire. It's the second single from his upcoming album, Powderhorn Suites, which is scheduled for release on June 26th. The one word that comes to mind when I listen to this track is "charisma." This shit is overflowing with personality. It sounds like Prof had a shit ton of fun making this song. His flow and delivery on this track would make Slim Shady LP era Eminem sound flavorless. The way his flow and delivery switched up for the second half of the second verse reminded me a lot of Pharoah Monche too. The lyrics aren't really amazing or anything. It's mainly just his flow and delivery that makes the song so entertaining. The hook seems to be influenced by that "I got greens, beans, tomatoes, etc." Thanksgiving meme that went viral a few years ago. I never thought that shit was funny personally, but it sounds dope here. Prof has a really good control over his voice too. The beat is also very fun. Check the song out, and be sure to watch the music video too because it's really dope.
Pay No Attention to the Man Behind the Curtains by 
Punch

 featuring 

Nick Grant

&

Lyric Michelle

 produced by 

Hari

Punch is an artist who I've always wanted an album from personally, but it's not really clear whether or not he ever plans on releasing a full length project. In fairness to him, over the past decade he's probably dropped enough material to make a solid solo compilation, so it's kinda like a pre-2020 Jay Electronica situation. I believe this is his second single of 2020. Interestingly enough, both of them have had features from Nick Grant. Maybe it's just a coincidence. I don't know. Anyway, the whole premise of this song is based on a god level brag. Snoop Dogg once called TDE a "better version of Death Row Records," so the idea behind this song is that Punch was the man behind the curtains helping TDE be as great as they were. Anyway, I really love the production on this track, and Punch killed that first verse.
The birth of my son birthed a gargantuan urge
To get it by any means, even if it means a permanent purge
Rid you of your soul or your belongings, whichever is preferred
Whatever must occur, I concur
Muster the courage to deter from the bigger picture, everything's a blur
As I stated before, the song has one of the hardest brags I've heard in a while, specifically in the hook.
Never mind that man behind the curtain
He helped usher in the resurgence of the West Coast
We a better version of Death Row
So said Snoop Dogg, let the record show
Lyric Michelle's vocals on this track are really soulful, and Nick Grant killed that last verse. The Robin Thicke line was dope as hell. I will say this though… I found it really odd that Nick Grant was even on this song. The whole thing is about how Top Dawg Entertainment revived the West Coast. Nick Grant is not signed to TDE, nor is he from the West Coast. He's a South Carolinian MC signed to Epic Records. It's just odd to me that he was here instead of someone like Ab-Soul, who would've sounded perfect over this beat. Hell, even Reason would've made more sense. I mean, Reason is nowhere near as talented as Nick, but I wouldn't have questioned his presence as much. It's fine though. The song's still very enjoyable. Check it out.
Thursday, April 30th
Huntin' Season (Freestyle) by 
Lloyd Banks

 produced by 

Buda & Grandz, Khardier da God, S. Dot

&

Shroom

I was really surprised and excited when I saw this track in my subscription box. New material from Lloyd Banks is pretty rare these days, but I've always really liked him. I wouldn't say that I'm a very big fan of G-Unit even though I love The Game, and I think Young Buck is pretty cool too, but Lloyd Banks is dope as hell to me as well. I feel like he fits perfectly over this beat too. For those who don't know, the original version of this song was easily the best track from Jadakiss' latest dud of an album. After hearing this, I feel like it would've made a lot of sense for him to be on the original song. I'm sitting here wondering why there wasn't an official remix with him. He fucking killed this shit. I guess the biggest complaint I would have is… Well, it's not really an issue with the verse itself, but… What the fuck happened to dude's voice? It's like he went through reverse puberty. I always thought it was weird how his voice sounded deeper on his first album, but these days it's almost like it cracks with every other syllable. It's weird as hell. I feel like nobody else ever talks about it, and I don't know why. It's not a huge issue, but I'd be remiss for not mentioning it. This shit is still great though. Check it out.
Solutions by 
Thurz

 featuring 

Nana

 produced by 

ML3

&

Anthem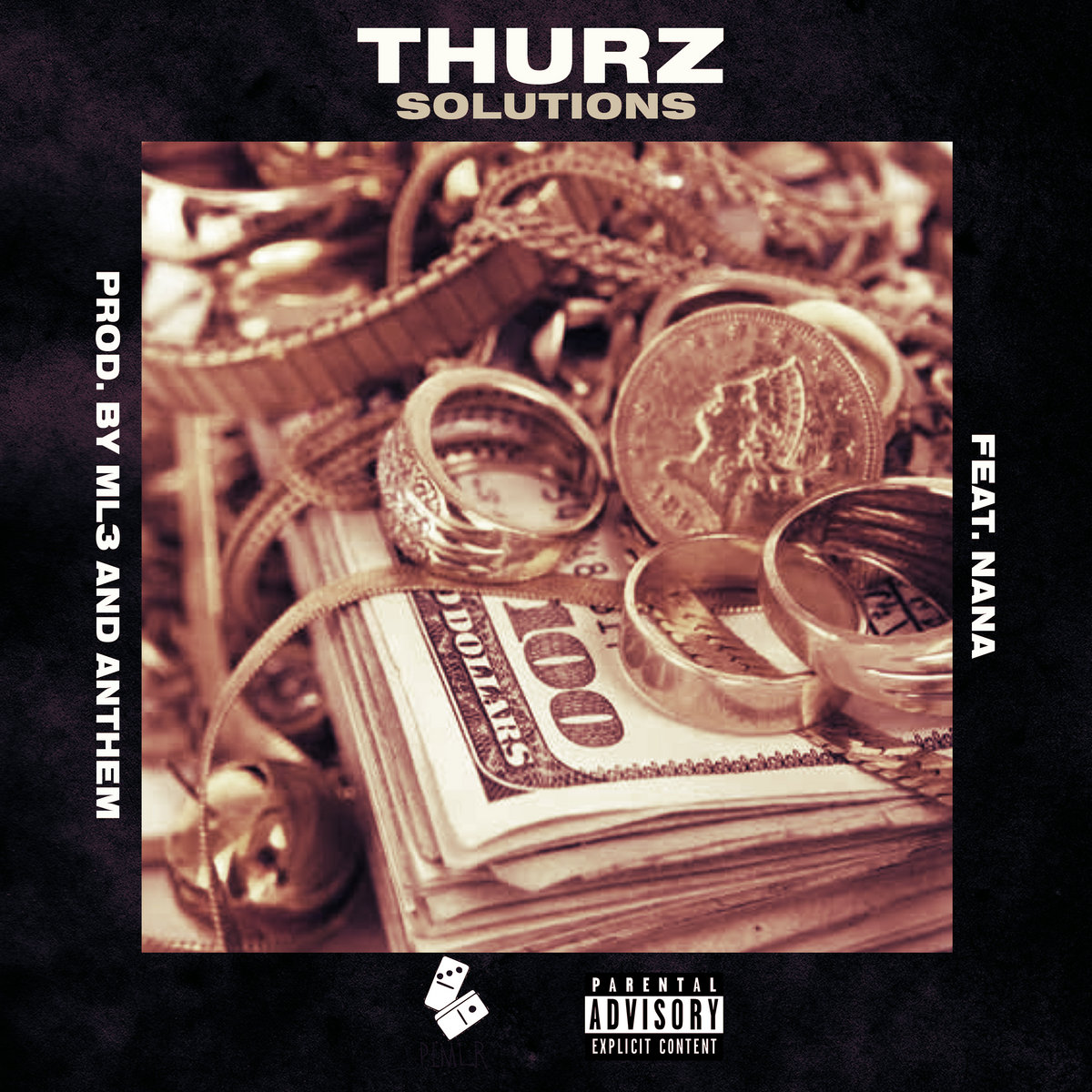 About a week or two ago, Thurz went on IG Live with this dude Nana, who I'd never heard of at the time. They both previewed some new material, and I was really impressed by what I heard, so I'm gonna have to keep on eye on that dude. I can't remember if this song in particular was previewed, but I remember Nana asking if he could hop onto one of the tracks that Thurz played. I'm glad they did this shit too because Nana killed it. He immediately caught my attention with the opening couplet.
I walk a thin line from where the coin is tossed
She gon' give me head or tail; damn, the boy a dog
This beat is really fucking awesome too by the way. I love it. Thurz of course had another great verse here. I really loved those opening lines about standardized tests. I don't have any issues here; this is easily the best song from Thursday. 2020 has been a rough year for everyone, but I can at least rest assured that I'll have a great new track to listen to nearly every Thursday. Check this one out. It's fire.
Friday, May 1st
Cries of the Planet by
Bits & Rhymes
featuring 
Amanda Lepre
In 2011, Mega Ran released an album called Black Materia, which told the story of Final Fantasy VII through Hip Hop music. Many of you are probably aware of the Final Fantasy VII remake that recently came out. To commemorate this special time for video game fans, Mega Ran is remaking Black Materia, and this is the very first single. It's awesome. I personally haven't ever played a Final Fantasy game, so I don't really have any interest in the story, but Ran was able to kinda modernize and sculpt the subject matter of this track so that it relates more to current events in America.
Sometimes I feel I died in 2016
And this is all a simulation, maybe that's just extreme
But as I'm sitting midstream, hoping kids don't dox me or swat me
Just 'cause I'm stating what's obvi, with every statement that's faulty
Using despair as the jet fuel to drive racist practices
This ain't checks and balances, it's just creating damages
You hear tax cuts, witch hunts, strong borders
I hear fear mongering, dividing and conquering
As always, the way K-Murdock was able to forge a beat around the FF7 soundtrack is awesome. The vocals from Amanda Lepre on the hook are very nice too. If I had no idea what Final Fantasy was, I'd still be able to enjoy this song because none of the lyrics really reference the game directly. I'd just assume it was a great song about climate change if I didn't know any better. The second verse in particular is really great. Don't sleep on this track. It's dope.
I Look Good by 
O.T. Genasis
produced by 
Bankroll Got It
Over the years I've earned a reputation as someone who doesn't like Trap, and I guess that's a pretty fair assumption. I wouldn't say that I hate the subgenre, but the overwhelming majority of it is just really boring and lifeless to me. Most of the artists are painfully uninteresting, but O.T. Genasis is an exception. I love this dude, and it's mainly because he doesn't seem to take himself seriously at all. Almost everything I've heard from him is silly as hell. Even when he isn't employing a super unique flow, he still manages to keep me entertained with a good delivery and/or funny line. This song in particular is perfect material for my newly established Happiness playlist. As someone with low self esteem, I think listening to something like this will be genuinely good for my mental health. The song is incredibly simplistic, but it's fun. I really like this one. However… I couldn't help but notice that this sounds like it was specifically made for Tik Toks. I guess that's not necessarily a bad thing in and of itself. I just need to make sure I don't actually see any of the Tik Toks that are inevitably made with this track because I'm sure they'll mostly be cringy as hell, and that might ruin the song for me. I like it for now though.
Valid! by 
Jean Deaux

 produced by 

1Mind

&

Grant Strumwasser

I feel like I'm most likely gonna love the next project from Jean Deaux. I loved the recent single she had with Saba, and this shit is great too. Empathy was a huge improvement from her debut project, and it's looking like whatever she drops next will have yet another leap in quality because these recent singles are fire. This shit is catchy as hell. The production here is really detailed, and Jean Deaux's Charmin soft vocals lay over it beautifully. That's pretty much all I've got to say. I just think it sounds really goddamn good. Check it out.
INSPIRED by 
Y*O*U*N*G*M*A*N
produced by 
Celestaphone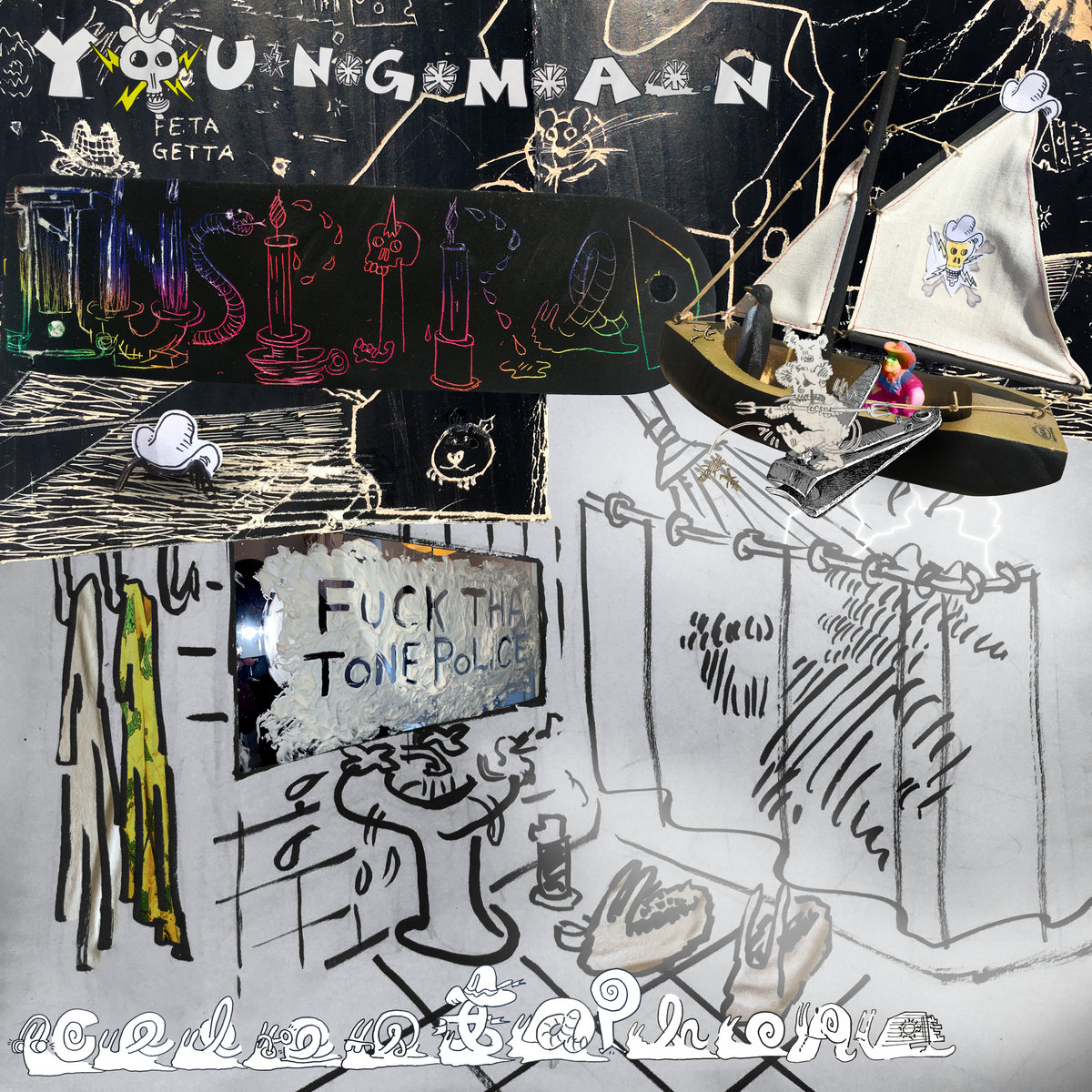 Breh, CELESTAPHONE IS A FUCKING BEAST WITH THESE BEATS. I fucking love how weird and glitchy the production here is. Everything about this song is phenomenal to me. This is Hip Hop on steroids. Everything about it is perfect. Even the fucking single art is gorgeous. Paul Barman is an elite level MC, so you already know every verse from him is gonna be a showstopper.
Check, check, mic check, projects still practice
Regardless polish excellence or guest access
Big breasted lips do backflips and
Beats are the best, kid, since villain hit Madlib's
First dibs on dabs that make Rastas go batshit
But brags bad for karma or oneness committed to
Let's choose positivity, love kid in you
One of my good friends once stated that he raps like a mad scientist, and I totally see it. He sounds like some manic perfectionist who obsesses over poetry and rhymes all day and only ever focuses on language. I love it. This song is fire.
F.T.T.P. by 
Y*O*U*N*G*M*A*N
produced by 
Celestaphone
This track is even better than INSPIRED in my opinion. I love everything about it. The production, rhyming, flows… It's all amazing. That's it. That's all I have to say. Listen to this shit. These dudes have the kind of talent that should scare other artists.
We're talkative listeners and could cause cognitive dissonance
And if we don't interrupt we're probably not interested
I'ma forever talk loud and wear bright colors
And eat psychedelic night-crawlers, aight dalits?
I LIVE FOR THIS SHIT. This might actually be my favorite song of the week. In fact… Yup. It definitely is. I love it. This is the kinda shit I need injected directly into my veins. It's absolutely dope af.
Saturday, May 2nd
.cruel dreams. by 
Adán Bean
produced by 
DJ Opdiggy
I became familiar with Adán Bean through his affiliation with Dead End Hip Hop. I'm not super knowledgeable about him or his music, but what I have heard has been really impressive, and this track is no different. Every year he shares a new song for his birthday, so that's where this one came from. It was inspired by a project called Outer Limits by an artist named India Shawn, and produced by James Fauntleroy. All I'm gonna say is that this dude can write his ass off. These opening lines from the very first verse are fantastic.
She's the dream, no Terius Nash
She's my curious half, but she drives me delirious as
Eddie in red leather, definite trendsetter
Pay my fair share like Lilly Ledbetter
There are two full verses, which I guess on paper doesn't sound super amazing or anything, but for whatever reason I was really impressed that he was able to maintain that level of quality for 32 whole bars. The most interesting thing about this song is that he had to record his verse in a "Zoom studio session." I was worried when I read about that, but it actually ended up sounding really cool. It sounds more like an intentional artistic decision than a restraint due to lack of proper resources. Check the song out and lemme know what you think.
---
This was a very good week for music in my opinion. On average I highlight about 14 songs each week, and this time I mentioned 17 if I'm not mistaken. I guess that's not really that much more than usual, but it feels like a lot since I kinda waited 'til the last minute to write this shit again. These posts take a long ass time to write, so I hope you guys are finding some dope stuff from it. As always, if I didn't mention a song that came out this week, I either didn't listen to it or just didn't enjoy it enough to mention it here. Anyway, let me know what you thought of all these songs, and tell me what your favorite track of the week was even if it isn't listed here. Peace.