Once again, I wasn't really paying that much attention to what happened in the news this week, but I just wanna quickly say rest in peace to Little Richard. I'm personally not really into Rock music these days, but Lucille is and always has been fire to me. His quick performance of Dock of the Bay when inducting Otis Redding to the Rock & Roll Hall of Fame was awesome too. I wish I could sing like him. I'm not gonna act like I'm super sad that he's gone because he was 87 years old, so it's not like his life was tragically cut short. 87 years is a long time. The sad thing is that Elvis' mediocre ass got way more credit than he deserves, and he completely colonized the genre of Rock & Roll. Elvis is like the Drake to Little Richard's Phonte. So yeah, rest in peace to Little Richard. That man could sing his ass off. ˢʰᵒᵘᵗᵒᵘᵗ ᵗᵒ ᵏᵉᵃʷᶦ.
Sunday, May 3rd
rip your ❤ out by 
Chloe Hotline

 produced by 

Lex Luger

&

Chloe Hotline

This is one of those songs that I feel like I should hate, but for some reason it's just really catchy to me. If somebody told me they thought this song was pure dogshit, I probably wouldn't argue with them. The Lex Luger production sounds very dated and kinda trashy, and the autotuned vocals are kind of disgusting. It just works though. I know Chloe is a fan of Drain Gang, who make some of the worst music I've ever heard, so they might've had some influence on this song. I don't know. I'm not really experienced with this kinda music personally, so it's possible that I'm way off with that comparison. The tags on this song are hilarious by the way. This track obviously isn't meant to be taken too seriously. It's just a fun, silly song. It sounds like a meme in the form of music. If I still made dumb youtube videos of my friends and I getting stoned I would use this as BGM. Again, the way the vocals are drenched in autotune is kinda gross, but at the same time I thought they were catchy. It's like really sugary candy. You know sometimes when you eat something super sweet and you feel like "this is not gross," but you continue eating it anyway? That's what listening to this was like for me. Jeez, that sounds really disrespectful. I should stress that I do in fact like the song. I just can't really explain why because every other song I've heard in this style is awful to me. I guess Chloe just caught lightning in a bottle somehow because this is not my style at all. It kinda sounds like something Lil Wayne would do. I've always thought Chloe was a good writer; this song in particular doesn't have any super standout lines, but I wasn't really focused on them that much to be honest. The main aspect of it that I enjoyed is just her actual vocal performance. Again, this isn't the kinda shit I typically listen to or write about, so I don't know if y'all will appreciate it, but I enjoyed it, so I thought I should highlight it here. Also check out Chloe's album, CYNTHIA. I believe it came out in March. I'm looking forward to following her evolution as an artist because she has a shit ton of potential, especially for someone so young. Check her out.
Monday, May 4th
North Bridge by
Preservation
featuring 
Navy Blue
I'm mainly familiar with Preservation due to his work with billy woods. I know he's made a lot of moves in the underground over the years. I've never heard a project from him personally, but it's looking like that's about to change. This is the first single from his upcoming album, Eastern Medicine, Western Illness, which reportedly boasts features from a cornucopia of top notch lyricists, including Ka, Your Old Droog, Quelle Chris, Tree, and more. Speaking of Ka, that's exactly who this song reminds me of. The beat sounds like a less detailed version of something he would make, and Navy's flow sounds exactly like him to me. I don't think this is some of Preservation's best production—it sounds a little bland in all honesty—but I did enjoy it to some extent, and I actually loved Navy Blue's verse.
Waves crashing, pain lashing out my shadow on the floor
When I hid in my remorse, tears channel in the force
Face fall in my hands, clouds pass with the storm
Black boy, it's okay to mourn
It's not my favorite track of the week, but I definitely enjoyed it quite a bit, so I had to highlight it. It's dope. Check it out.
Diamonds by 
Caleb Giles
produced by
Mumbar
Caleb Giles released one of the better albums that I heard last year, so it was good to see him drop another dope song here. The first verse is really great, and the production from Mumbar is really nice too. I enjoyed the second verse even more than the first one personally.
I pulled the knife out my heart, and I cut the loss
Can't help you up and then help you tear me apart
Paint with the jargon, whispering serpents up in the garden
I see the harvest, but I also see Breguets, and the point flawless
He killed this shit. The primary selling point of this track is clearly his rapping, since there isn't really a hook or featured guest or anything. The verses are good enough to make the song worth returning to though. He killed this song. Check it out.
Tuesday, May 5th
Devious by 
Lord Goat
produced by 
Stu Bangas
"Lord Goat" may look like an unfamiliar name, but the artist himself has been active in the underground for almost two decades now. He used to perform under the name Goretex, and he's a founding member of the legendary Hip Hop group, Non Phixion. I personally haven't ever listened to any of his solo work, but I've always loved his work with the aforementioned group as well as The Circle of Tyrants. He's usually pretty great on features as well. He's apparently working on an album with Stu Bangas entitled Final Expenses. There's no official release date yet, but we'll hopefully get more information about that soon. Stu Bangas has really been keeping busy lately though. He's already confirmed that album with Mr. Lif as Vangarde, as well as an album with Apathy. Everything seems to be shaping up really well too because this is yet another dope song. I really like the production, and Goat's rapping is pretty dope. His flow is really nice here. The hook is really nothing special, but I enjoyed the verses. I'm looking forward to the full project. This shit is good. Check it out.
Use a Mic by 
Emceein' Eye

 featuring 

PT Burnem

,

ialive

&

Height Keech

 produced by 

DJ I'll Tell You What

I'm trying to get into more stuff from the Cold Rhymes Records label since I enjoyed the recent album from ialive so much. Emceein' Eye is an MC from Winston-Salem, North Carolina, and one half of a group called Speak n' Eye, along with his brother, Unspeakable. This was my first time ever hearing any of his music unless I'm forgetting something, and I ended up enjoying it quite a bit. It's taken from his upcoming album, Never Comply, which is slated for release on May 18th, so be on the lookout for that. Anyway, the production here has a pretty nice saxophone loop along with some nice Boom Bap style percussion. I like the way Eye set this one off with the first verse.
Back it up, mic check, yo, give me some room
I gotta whole new thing I wanna show you goons
Best to step light, if you don't wanna get wrecked
Ceein' Eye breaking sweat, on the set, better bet
The second verse from PT Burnem was interesting to me just because of the unconventional flow he employed. The odd manner in which he took little breaks after certain bars was interesting. I wasn't sure how I felt about it at first, but by the time he was done I was pretty satisfied with his performance.
Unconventional expression if the mood's right
Leave them hurtin' for clues out in the moonlight
We go to work out in the hills and keep it elevated
Authoritarian regimes do not get celebrated
We do not need your agents coming to the show tonight
ialive of course had my favorite verse. I just think he has a really awesome voice for rapping, and his flow was tight as hell too.
Peace patch on a military jacket
Please pass the auxiliary jack, kids
'Cause ain't nobody like your picks
& I got four bald tires on an icy bridge
I love the way he closed his verse too.
Eating petit fours, dizzy from attack drones
And when the world end we'll still get busy over saxophones
He killed this shit. Him and Height Keech were the only artists with whom I had any experience before checking out this song. I think there's a really nice contrast between their deliveries on this song. ialive has that signature laidback, monotone style, while Height Keech is much more energetic and aggressive. His verse was very dope.
Ricky Creme calls this one Chivas Regal
And now I came back to enact the sequel
The future's vast, but the past is past
Don't use a mic, that should be illegal
This was a pretty dope song, and I'm really enjoying the process of familiarizing myself with the Cold Rhymes crew, so I'm looking forward to the full album. Check this shit out and lemme know what you think.
Greice G*Day Freestyle (Cinco de Mayo Flow) by 
Big Kahuna OG
produced by 
Mr. Stee
As I've stated before, I'm pretty late to the Mutant Academy party, but I've really enjoyed pretty much everything I've heard from them up to this point. I still haven't quite figured out who my favorite MC in the crew is, but they're all really dope. I really like Big Kahuna OG's voice. As I've said before, it reminds me a lot of Dave East, but I feel like Big Kahuna is more expressive. His flow here is phenomenal by the way. He was really floating over this beat well. The lyrics aren't amazing or anything, but I enjoyed this song quite a bit just because he rode the beat so well. Shoutout to Mr. Stee too because this beat is really nice. Check it out.
BALD! REMIX by 
JPEGMAFIA
featuring 
Denzel Curry
The original version of BALD! dropped during week 8, and I liked it a lot at the time. This version blows it outta the water though. I feel like Denzel Curry hasn't rapped this well in… Well, I guess since 2018. He killed this shit. It sounds like he actually took time to write out a dope verse rather than just freestyling whatever random bullshit popped into his head. I mean, the lyricism still isn't really amazing or anything, but it's far more interesting than anything in his past couple projects. There's actually a line in this track where he says something about writing lyrics, so hopefully that's a sign that his next few songs or projects will have better writing. I guess we'll see.
Wednesday, May 6th
'Bout These Pipedreams by 
(Liv).e
produced by 
(Liv).e
(Liv).e was supposed to drop an album entitled Couldn't Wait to Tell You in April, but I think the ongoing pandemic probably interfered with her plans, so I'm pretty sure she delayed it. Or maybe I'm wrong, and it's been out for weeks. I don't think that's the case though. Anyway, this shit is fucking awesome. I really love everything I've heard from (Liv).e, so I'm really looking forward to the full project. I feel like I've been transported to the mid-70s every time I listen to anything from her. Even the music videos have that amazing throwback aesthetic. It's awesome.
Lessons from My Mistakes… but I Lost Your Number by 
(Liv).e

 produced by 

Mejiwahn

&

Daoud

I think this song is even better than the previous one. It's mainly just because there's a lot more going on here. There are more layers to it. I personally don't really think (Liv).e's rapping here is that great, but it's not really bad either. It's kinda cool. The main appeal is just her actual singing for me. I think she sounds great. My favorite part of the song is when the beat switches up. That part just sounds really pretty to me. As always, it sounds like there's a ton of old school influence. I wouldn't necessarily say that this one sounds like something from the 70s though. This sounds more like the 90s to me. I love it. Check it out and lemme know what you think.
SHE GOT HER SECOND BABY DADDY NAME TATTOOED ON HER NECK BUT IM STILL IN LOVE by 
Lord Jah-Monte Ogbon
produced by 
Swankleana
I honestly think this might be my favorite song that I've ever heard from Jah-Monte. He's not really doing anything super different from what he usually does. I just really love the verse. He killed this shit. The production here is really nice too. Jah-Monte was rhyming his ass off here though.
Pull up on the dolo, yolo
Mari was selling dope when I would watch the Romeo show
When I was fucked up and low they wouldn't loan me no dough
No money in his commissary just a bogie to blow
I don't have much to say about the song as a whole since the structure is very straightforward. If you listen to a lot of current underground artists you probably know what to expect. It's just one dope verse over a nice soulful sample. Check this shit out. Also check out that Infinite Wisdom album that he dropped in February; that shit was pretty good.
Thursday, May 7th
BLESSED by 
Allan Kingdom
produced by 
Tiz Himself
This is the opening song from an upcoming extended play from Allan Kingdom entitled I Don't Do This for Money, which is scheduled for release on May 14th. I became familiar with Allan Kingdom when he was featured on Kanye West's decent single, All Day, back in 2015. Or maybe it was 2016. I can't remember. Anyway, I've been following him loosely ever since then, although I still haven't listened to a full project from him yet. I mainly started paying more attention last year since he dropped an assload of singles. I wasn't crazy about all of them, but I really enjoyed some of them—namely Early, among others. One thing that's clear to me is that his music is weird as fuck, but not in a super abstract or experimental way. His approach to Pop Rap is just really strange to me. I guess it's because of the influences he takes from genres that are popular outside of the States. He seems to pay a lot of homage to his African roots, so that makes his music pretty different from what I typically listen to. I keep wanting to compare him to Theophilus London, but I feel like I'm just making that connection since they were featured on the same song by Kanye. I don't know. Anyway, I think this is one of the best songs I've ever heard from Allan personally. The melodic hook is really catchy; it sounds kinda like something Pell would do, except Allan's vocal stylings are weirder. I think the verse on this song is really good too. Obviously he's not going for some hyper-technical, Locksmith type rapping. It's just really well done Pop Rap, and I think the lyricism about being ostracized is pretty cool.
They said I wasn't gang
Looked at me strange
I remember when I stepped in, had so many apprehensions
They would rather see me dead then 'cause my mind my greatest weapon
There's only one verse, but I like his flow a lot, and the melodic hook is very catchy. The song is dope as hell to me honestly. Check it out.
H.A.R.D. by 
Joell Ortiz

&

Crooked I

 featuring 

MRK SX

 produced by 

Da Heatmakerz

I was personally a huge fan of Slaughterhouse, so I'm really disappointed that they never knocked it outta the park with an album on Shady Records. This is probably the best thing I could've hoped for at the moment. I mean, obviously a full Slaughterhouse reunion would be ideal, but that shit ain't happening. Anyway, this is the first single and title track from a collaborative album from Joell Ortiz & Crooked I, which is scheduled for release on May 29th. The best part is that it's dropping under my favorite label, Mello Music Group, so shoutout to them for that. Crook starts things off right away, killing the very first verse.
All independent though, but you can't tell by the way I'm spendin' dough
Out here talkin' slick as the kitchen floor
Y'all rock aluminum cans, your jewelry's Michelob
Mine got 'em green with envy, these niggas Piccolo
His flow is fire as always, and the sung hook from MRK SX was really nice too. I don't think I'd ever heard that dude's vocals before, but he did a good job. I gotta be honest though… Joell Ortiz stole the show here. He fucking spazzed on this joint. It definitely seemed like his verse was way longer than that of Crook, so I'm sure that was planned, but still. That shit was fire.
Joell is just a fresh poem teller from the 'jects with dope sellers
Wore a vest and chrome metal would eject to whole melons
Was a mess in front of the building, I'm minding my business
Bumpin' that Audio Two, sippin' my Yoo Hoo milk, I was chillin'
Buffalo hat, Top Billin', man, give me credit
I survived in an era where a starter would get you ended
It was cool to get love but still move with your snub
'Cause that 8 ball will have you playin' pool full of blood
Fast forward, just bought a billiard room, and a club
Chalk it up to how I still be in these booths with the drugs
The song was already great, but I didn't think he'd go in like that. That shit was fire. If a verse like that can't get me to check out an album, I don't know what the fuck can. I'll definitely be listening to the full project when it drops. In the meantime check this joint out and lemme know what you think.
The Pernell Pack by 
Thurz

&

Sham1016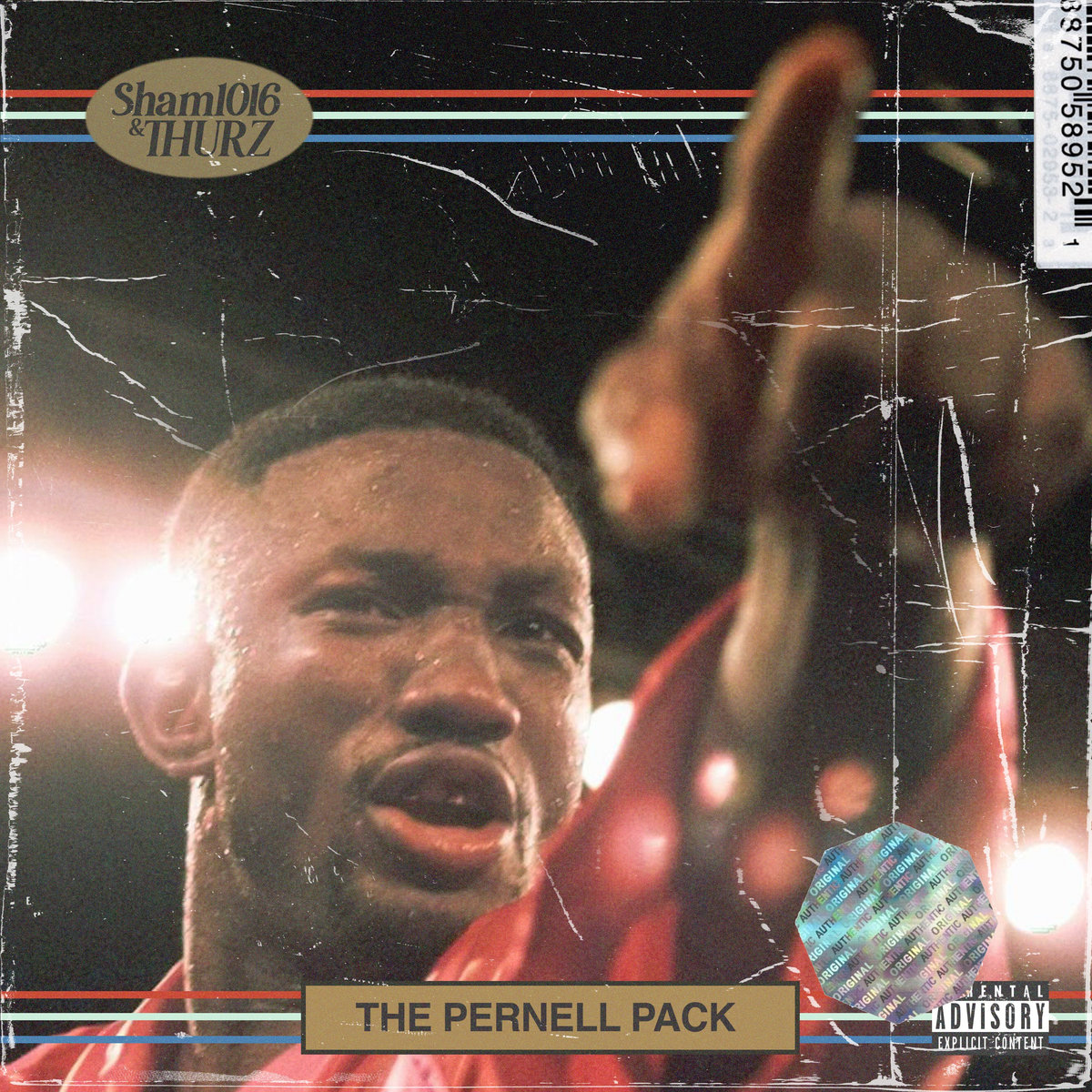 This was a special week because we actually got two songs from Thurz this time instead of one.
In Control featuring 
Zyah Belle
produced by 
Core G
I personally wasn't familiar with Sham1016 before hearing these tracks, but he turned out to be a really dope MC.
Fuck your fear tactics
I survived South Central madness
Young genius from the lower classes
I see how they control the masses
Them crackers love to see a nigga panic
It's always pressure, but it's how you manage
The vocals from Zyah Belle, whom I was also unfamiliar with, were pretty nice on the hook as well. Thurz killed this shit though.
Know that fear run the world, and confidence is threatening
Hard to go to sleep, they tryna strip me of my essences
Pussy over Tylenol, the thing that calm this restlessness
You peepin' through my window, 'bout to have me on some reckless shit
Zyah Belle actually came through after him and started rapping herself. She reminded me a lot of Ashley Sorrell's appearance on the recent album from Royce da 5'9″, so that was pretty cool. Shoutout to Core G too because this beat is pretty dope.
Rude produced by 
Emani
This track is even better than the preceding one in my opinion. I really love the piano sample in this beat, and Sham1016 killed that first verse.
Fuck your "real Hip Hop," I'm from where adolescent bodies drop
From other adolescents, they adversaries, it never stop
Gangbang how they maintain
I seen too much for us to ever think the same thing
I really like the hook a lot too. This song just feels catchier than the preceding track to me. The way he was flowing was awesome. Honestly, Sham kinda sounds like Thurz with a voice synthesizer. I don't think the way they rap is identical though; it's just their voices that sound similar to me. It's not like I can't tell who's who though. Thurz killed that second verse. His flow was fucking awesome. The reference to Toosie Slide was really dope too. I think it's cool that he gave more room for Sham1016 to shine here. It felt like Thurz had a bigger presence on the first track, so it's nice that Sham contributed more to this one. Overall, I think this one's even better. Check both of these tracks out and lemme know what you think about them.
Jamo Gang LP Drops Tmrrw by 
J57
If you couldn't tell just from the title of this track, J57 released it to commemorate the release of the very first Jamo Gang album, Walking with Lions, on Friday, May 8th. Jamo Gang is a group containing J57 himself on production along with Ras Kass & El Gant. This track right here is a pretty quick, straightforward instrumental, so I don't have too much to say about it. I enjoyed it enough to feel the need to highlight it here though.
Friday, May 8th
Time by 
Styles P
produced by 
Vinny Idol
As I've stated before, Styles P is my favorite member of The LOX, so I was pretty happy when I saw that he dropped a new single, and it ended up being just as good as I was expecting. The soulful production from Vinny Idol is really nice, and Styles P does what he does best.
I illuminate like the moon glow
Doomsday is my day one, I ain't DOOM though
Short nigga, but make room though
I don't give a fuck if you came with a thousand goons, bro
There's not really a hook on this song, but the record scratches during the break between the two verses were a nice touch. The second verse is really dope too.
I'll take a quarter like the meter does
I'm doing everything that a leader does
I'm doing everything that a soldier does
You ain't play the jungle, you ain't know what a cobra was
Take a look at me, you ain't know what a noble was
Niggas wanna kill me, give a fuck, give a shoulder shrug
Shoulder holster got the older snub
Waist got the newer nine, thought these niggas new the time
Styles P is really aging like fine wine as a rapper. A good debate would be whether him or Ghostface Killah aged better as rappers. He's apparently working on another album called STYLES DAVID GHOST YOUR ENTHUSIASM. I don't know if it's actually gonna be in all caps. It's kinda hard to tell because he's clearly not really worried about proper grammar and punctuation when tweeting, and the YouTube description is no different. It doesn't matter though. I don't think there's any word on a release date quite yet, but I'm looking forward to it. Check this song out and lemme know what you think of it.
Cold Summer (Freestyle) by 
Lloyd Banks

 produced by 

AraabMUZIK

&

Motif Alumni

I never listened to Fabolous' latest album, but this beat is apparently taken from the opening track. This is a really fantastic instrumental though. I feel like it somehow matches the idea of a "cold summer." I don't know how to explain it. I personally would say that Lloyd Banks' freestyle from the preceding week was a bit more interesting from a lyrical perspective just because it was more aggressive, but this shit is fire too.
Won't give the mainstream a chase as long as the ghetto listen
Sprinkle my dope on this track, now the instrumental's twitchin'
You get the upper hand in life, that's when the devil kicks in
Being targeted, jogging while black, it's terrorism
It's a really dope verse, and it seems like he's gearing up to release more material soon. It's not really clear whether it's gonna be more freestyles or a full length project, but I'm here for whatever he does. Check this shit out.
STACKING STATS by 
DJ J-Scrilla
featuring 
K-Beta
I guess this song was released in commemoration of "THE HALVENING, where every four years the amount of Bitcoin mined is cut in half." I don't know dick about bitcoin, so that doesn't really mean anything to me. I was just listening to hear a dope performance from K-Beta, and that's what I got. The production from DJ J-Scrilla is really dope too though. He's rapping about bitcoin, so I don't really get everything he's saying, but the shit sounds good, so fuck it. His flow is dope.
I lock blocks hourly, I tough it out and love it
I do it because I believe in the value of it
Not only monetarily, but also socially
It shows in the growth, both in me and those close to me
The weird ass music video is pretty cool. Check the song out and lemme know what you think.
Pennies to the Penthouse by
T. Lucas
produced by 
Substantial
This single comes from the upcoming collaborative extended play by T. Lucas & Substantial, which is scheduled for release on May 22nd. T. Lucas really blew me away with his feature on the recent K-Beta EP, so I was pretty excited for this track. The lighthearted, celebratory-sounding production is really nice. The first verse from T. Lucas is dope too.
Danger danger, from Des Moines down to Decatur
This is major player, she pop and lock it, stop and drop it like a hot potato
The lights is gleaming, bells is whistling like slots in Vegas
Hop up in this 'copter, we can chop it later
I like the melodic hook too. I didn't realize that it was actually Substantial; I thought T. Lucas was just doing it himself. The second verse is also dope. I really don't have any gripes with it. The content is very fun and inoffensive, so it's a pretty straightforward track. I think T. Lucas' voice sounds really great over this beat. This shit is dope.
What a Night by 
DJ Muggs

 featuring 

Evidence

&

Eto

I personally think that DJ Muggs is one of the most under-appreciated producers of all time, so seeing this collab with Evidence was pretty exciting. I haven't been crazy about Eto up to this point, but I don't think he's bad or anything. He's just not a very interesting or particularly impressive artist to me. Anyway, the beat on this song is fucking awesome, and the first verse from Evidence is great too.
Lights at the end of the tunnel, I'm runnin' towards the bright
Usin' my illusion, played the humble, but prepared to fight
Cabin pressure how I air it tight
High as fucking on flights like I ain't scared of heights
Also, despite what I said, I actually enjoyed the second verse from Eto quite a bit. He did his thing here. That line about how he guides the mrs. while avoiding misguidance was fire. The hook on this track is pretty cool too. Check this song out. It's super dope.
Trainin' by 
Eto
produced by 
Vokab
Since I enjoyed his performance on the previous track, I decided to give Eto's new single a shot, and I ended up liking it quite a bit. The dramatic and intense production from Vokab is dope, and Eto's performance here is cool too. It's not an amazing verse or anything, but I definitely enjoyed it to some extent. I thought that line where he said he wouldn't go to his funeral if they didn't play this song was funny. His flow here was tight. The song's pretty much just one verse, but it's pretty cool. Again, it's not the best song ever or anything, and I don't think this'll blow anyone away, but I did enjoy it. Eto doesn't really stand out much from the other underground street rappers like Flee Lord, ElCamino, Rasheed Chappell, etc., but he's by no means a bad rapper. This is a dope track.
Saturday, May 9th
GOOBA (Freestyle) by 
T.R.3

 produced by 

Payday

&

Jahnei Clarke

When it comes to Hip Hop this week, there's an elephant in the room. I'm not gonna address the pedophilic, clout-chasing clown of an elephant because I'd rather not give it any unnecessary attention. It dropped a terrible song this week. T.R.3 somehow made it dope. I guess the issue wasn't the production or the flow. It was just the insufferably obnoxious personality and sex offender aura emanating from the sound waves. T.R.3. made this shit hard as fuck though. He pretty much just vented about a bunch of fucked up shit happening in recent weeks.
We gon' take this shit back, nigga, where you wanna start?
I got Freddie, Michael, Alton, Walter living in my heart
My real name TreVon, that shit hard to live with
When everybody out here making jokes like I been dead n' shit
That was the hardest part of the whole song to me. The music video on IGTV is pretty cool too. This shit is hard. Check it out.
Dinnerlude by 
Emceein' Eye
produced by
Height Keech
I am a strong proponent of "just because you can rap about something doesn't mean you should." However, this guy really pulled off an entire song about getting a late night snack. I don't know how it could've been done any better than this to be honest.
Sometimes you gotta treat yourself, just can't sleep
Rollin', tossin', turnin', tangled up the sweaty sheets
I'ma creep outside to get a smoke and take a leak
It was so froze, got piss to freeze before it hit the street
The song is only a minute long since it's just an interlude, but the verse is really tight. Shoutout to Height Keech on the production too. This shit is dope.
---
Gotdamn that was a lot of music. There was so much shit released this week. Holy fuck, that took such a long time. As always, if a song came out this week and I didn't write about it here, I either didn't like it, or just didn't hear it. Let me know what you think of these tracks, and what your favorite singles of the week were. Anyway, I'm gonna be live streaming all these songs

HERE

at 5 PM EST today, so I hope to see you there. Peace.