This album was released on June 3rd this year. Last year, TreaZon released one of the better albums of 2019 with Troublesome, so I was pretty excited to hear this follow up project. I'd heard one of the singles that came out last year before I even knew this album was happening, and I liked it a lot, and I don't think I've ever heard a bad song from TreaZon now that I think about it, so I was positive that I'd end up enjoying this album at least to some extent. I don't have the production credits as of May 23rd, but I may update this review if I ever find them.
---
1. Bail
TreaZon's flow is aggressive as hell as soon as he starts rapping the first verse. He killed this shit. The infectious energy that I've always loved in his music hasn't gone anywhere. The energetic, Trap inspired production is pretty hard too. I definitely wouldn't be surprised if a lot of people were turned off by the melodic hook on this track, but I actually didn't mind it at all personally. Sure, the singing isn't particularly great, but it's not like he was really trying to sang like Donny Hathaway. I think it works well here. With that said, it's probably my least favorite hook on the project. That says more about the top notch quality of the other hooks on this album than anything though. The second verse is great.
Fuck that, I won't turn the other cheek
My daughter lookin' at me, she ain't learnin' that from me
I'ma tell her fight 'cause the urgency is key
No mercy 'cause there never was no mercy there for me
The song is really good. It's definitely not my favorite on the album, but I think it's a very good intro. It was cool of him to start things off on such an energetic note. This shit is dope.
2. Victim
I really love the production on this track. The instrumental kinda reminds me of the beat from Fountain of Youth by Stalley, Rick Ross & Nipsey Hussle, especially when TreaZon starts singing the hook. The singing here still isn't super impressive or anything, but I think it sounds 10x better than it did on the preceding track. It's probably just because the melody itself is way more enjoyable. I think it's dope. I even feel like the rapping on this song is a step up from the opening track. Everything about the first verse is just super polished. His writing, flow, delivery… It all sounds fantastic.
I had to become a god of war
Kratos surviving through every firestorm
Hellishness that I've endured
It got me where I don't confide no more
I'm not even prayin' 'cause ain't no God or Lord
To hear me when I'm cryin' for him
He has such a good voice for rapping, man. The emphasis he put on the word "confide" sounded so fucking awesome. It almost sounded a little Vinnie Paz-ish, so that was cool. The second verse is even better than the first one though. He fuckin' slaughtered this shit.
Fire got me engulfed
Preppin' these shots that I'm 'bout to send off
Bodies are gettin' embalmed
I could give a FUCK about your stupid remarks
'Cause we are truly apart
You throwin' shade, motherfucker, I been used to the dark
The beat switches up after the second recital of the hook too. I was already loving the song, but that shit was the cherry on top. It really pushed this track to the next level for me. The melodic vocals with a modest dose of autotune sound really fantastic. The final verse is superb as well. This song is fucking awesome to be honest. Everything about it is really well done. I love it. This shit is dope af.
3. Reruns
This track has a more nocturnal sounding Trap beat. It's really great, and the way TreaZon flows over it is the perfect recipe for the coveted involuntary head nod. The first verse is great, and, once again, this track has a really nice sung hook. I don't really remember him singing this much on Troublesome, and I was kinda surprised by how much I ended up liking it. The kind of quiet, yet tense vocal performance here is really cool to me. He's somehow able to convey a lot of aggression with his voice without actually yelling, which is interesting. He fucking slaughtered that second verse too. You know when you hear something really fucking good in a song for the first time, and you kinda throw a little celebration because of how awesome you think it is? I lost my shit when I heard this part…
I done seen this movie, I know where it's endin' up
Had to tell myself that I don't really give a fuck
Defense mechanism, I'm copin' the way I want
Friends turn they back, I'm noticin' everyone
That's the reason I be promotin' this Zero Love
That's the reason that I be loadin' up every gun
That's the reason I ain't devoted to anyone
That's the reason that my persona is "nigga, what?
NIGGA NIGGA WHAT?"
I fuckin' love it, man. This is another one of my favorite songs on the album. It's dope af.
TreaZon released one of the better albums that I heard in 2019 with Troublesome, so when I learned about his upcoming project, I Shouldn't Be Alive, which seems like a sequel to the aforementioned project, I was pretty excited. It's scheduled for release on June 3rd, and it's definitely not something that you wanna sleep on. Anyway, this is technically the second single from the album. The first single, Reason, came out last year if I'm not mistaken, but you should check that out too because it's fire. I personally prefer this song though. I think this shit is awesome. The hook is catchy as hell, and I really love the detailed production here. However, as always, the main appeal of any song from TreaZon for me is his aggressive rapping, and he fucking killed this shit. I feel like this is what I've been missing from 

Denzel Curry

 lately. He used to have a great balance of energy, and flow. He was never a super talented lyricist in my opinion, but he wasn't bad either. Now it seems like all his focus is just on maintaining energy. TreaZon is able to match—and sometimes even surpass—the energy of whatever instrumental he's rhyming over, all while flowing his ass off and writing well structured rhymes and similes. Both of the verses on this track are great, especially the second one.
Masked up, Comic-Con; give it up, Ramadan
I want my enemies to see it, nigga, eye to eye
I'm Optimus up in his prime, and I'm optimized
Ain't no option to decide, either ride or die
And you know I'm ridin' out for mine, I ain't gotta lie
See I'm the greatest that's alive, and it's finalized
So whoever that you got in mind, there is not a compromise
You could pay the homage or it's homicide
I fuckin' love it. Check the song out and lemme know what you think, and give Troublesome a listen if you haven't yet. Again, the follow-up drops on June 3rd, so keep your eyes peeled for that.
5. Alive
I really like the acoustic guitar that's incorporated in this song. The melodic hook here is really good too. I love how angry and aggressive the lyricism is on the first verse.
I'm about whatever and I'm dropping my location if it's anyone that really want the smoke
And I been the greatest for a minute, we can fight about it if you niggas really need to know
I ain't really friendly with nobody 'cause they always wanna get up in their feelings like a ho
Women always wanna be the only one, but that's only for umi, so I only tell 'em "no"
The second verse has a bit more diversity in terms of his rhyme schemes and flow. He killed both of the verses. There really aren't any aspects of the song that I particularly dislike, but I kinda knew what to expect from the entire song after hearing the first few lines of the first verse, so it didn't really throw any curveballs. Nothing about the song really blew me away. This shit is still really fucking good though. It's a dope track.
6. Tonight
I really like the darker style of production on this song. When writing my notes for this track, I used the word "nocturnal" to describe it, and I promise that was before I realized that the song was called "Tonight." The more personal content on this song is really dope.
Some days I'm the best, I'm the greatest
Other days my reflection, I hate it
All I feel is the stress overtaking
I wear all black, so I dress the occasion
The lines about Sylvan were quite spicy to say the least…
I'm contemplating warfare
I ain't heard a word from Sylvan in a whole year
Don't mention his name when you speak to me
Thought that nigga was my brother, but I don't care
Man, when Kobe and his daughter passed
I reached out, I was tryna make it all the past
But I never heard back, so I'm off of that
I got bigger fish that I gotta fry, so where is the piranhas at?
I wish y'all could've seen my initial reaction because when I heard it I was like…
It's interesting because I specifically remember seeing TreaZon reach out to Sylvan on Twitter around that time, and I was hoping that they would work things out, but that clearly didn't end up happening unfortunately. This is easily the most personal, revealing, and introspective song on the album up to this point. He's really spilling a lot of personal drama onto the track, which is dope.
Dad love my little brother more than me
And I know that, so I move accordingly
And my mother is in Portland now
Living drama free, out here that's a normalcy
This is not only one of the most personal songs I've heard from TreaZon, but I feel like it's one of the most personal songs I've heard all year. It's almost uncomfortable how much drama he gets into here. It's dope as hell though. I love the song.
7. Paranoia 2
The first Paranoia song appeared on Troublesome, and it's a pretty good track. This one blows the original outta the water though to be honest. Everything about this one is better. The melody of the hook is better, the quality of the production is better, and the actual singing is better. He sings the entire first verse on this song, and it goes over surprisingly well. I think this song has some of the best, most detailed production on the whole album. The actual rapped verses on this song are dope as hell too.
Man, I hate the way we lead
Nobody is doin' shit 'til it's too late to intervene
We talk about mental health like niggas really give a fuck
When someone crying nobody ain't gon' do a thing
This is another highlight on the album for me. The production is great, the hook is really nice, and of course TreaZon killed the verses. This shit is dope as hell.
8. Demon Slayer
This song has one of the dreamiest beats on the album. It also has one of the best sung hooks on the project; I think this'd be a great choice for a single. The first verse was great, and the second one is even better. The beat kinda switches up a little bit, and his flow here is fantastic. When he said he was De La mixed with de la Hoya I was like…
My only tiny gripe with this song is that it ends a little abruptly, but that's just me nitpicking. This is yet another highlight on the album for me. I think this song is dope as hell.
9. Reason produced by 
L. Williams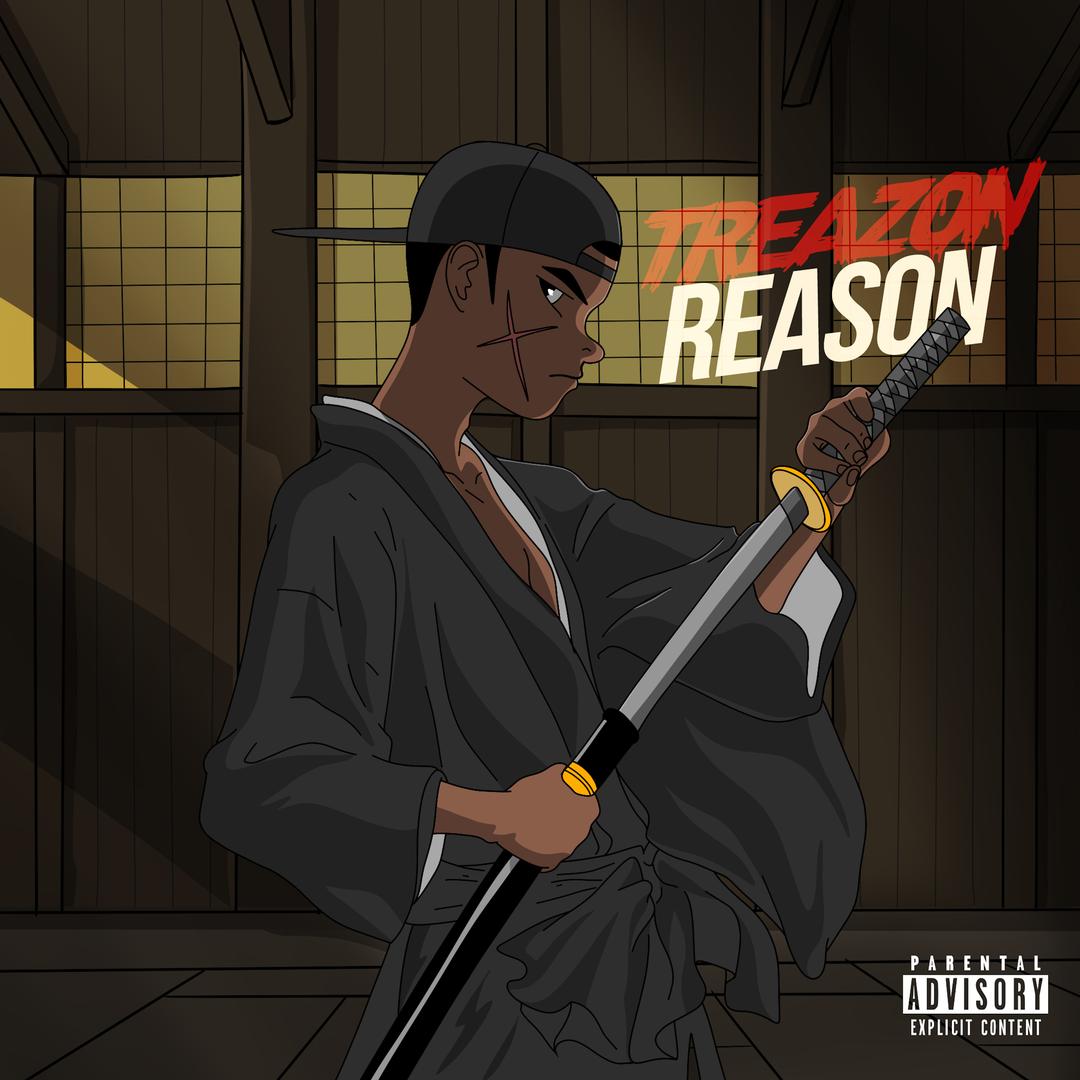 I believe this was the very first single released for this album, but I may be wrong about that. I know it came out late last year though. I definitely get why this was chosen as a single because it's really great. The colorful, upbeat Trap instrumental is pretty good, and I really like the melodic hook too. TreaZon's energy on the verses is contagious, and his flow is top notch. He killed the first verse, and he snapped even harder on the second one.
Not the one you wanna run up on
Y'all ain't safe with no buffer zone
I don't speak with no undertones
Make sure everything is crystal clear so they fuckin' know
It's one of the bouncier, and more catchy songs in the track listing. I really love it. It's dope as hell.
10. Black Ops featuring
Will Tesla

&

Dasanto

I really fucking love the production on this track. It sounds pretty different from all the other beats. To me it sounds like something I'd hear The LOX rap over. TreaZon killed that first verse, and his melodic hook is great too. I'd never heard of these features, but they actually both slaughtered this shit. The second verse from Will Tesla is great.
Words could rattle they bones
Feel like I'm battling clones
I could go at it alone
Mad 'cause I sat on the throne
Bet that I'm packin' the chrome
I'm not talkin' 'bout apps on your phone
I'm talking 'bout shit that'll send you to heaven
And god will welcome you home
Dasanto might've actually had my favorite verse on the whole song though to be honest. I might be trippin', but I feel like he went in for longer than anyone else on the song. He snapped. I love this track. The production is great, the sung hook is awesome, and all of the verses are fire. This shit is dope af.
11. Give & Take
This song and the following track are the two songs about romantic relationships and TreaZon's love life, which on paper would've been unappealing to me, but the songs both ended up being really well done. This track in particular is more about discussing the struggles of his current relationship rather than being a typical love song in which he simply expresses affection for his significant other.
Said she want me to keep her in the loop
Communicate with her when I think I'm finna lose
My mind, wants me to know that I'll never be alone at all
And she always on call, and I think it may be true
I can actually relate to a lot of this to some extent, so I appreciate this track quite a bit. The soft sample-based production is very pretty. There's no hook on this song; there's just a little break in which the instrumental has room to breathe between in each verse. The second verse was even more relatable than the first one.
I just want her anxiety gone
Want her to know always I am on call
Want her to stop overthinking all the bullshit
And it don't really matter who's right and who's wrong
The song is very good. It's not one of my favorites on the album, but I don't actually have any issues with it. This shit is dope.
12. Set You Free
I personally think this is the more romantic song out of the two relationship-based tracks. The soulful sample-based production here is fucking glorious. TreaZon's melodic hook here sounds very good. I feel like this song definitely deserves a music video because this will probably be one of the more popular tracks. The rapping here is great, and the lyricism is just as close-to-home as that of the preceding track.
You be so afraid that I'ma break your heart
Posting memes thinkin' they'll convey your thoughts
I hate it when you fuckin' do that shit
I ain't readin' that so I don't know what you be tryna say at all
As always, his delivery and flow sound phenomenal here. There's only one verse, but it's really good. The song is very well done, and another highlight on the album for me. It's dope as hell.
13. Before My Eyes
This is the best song on the album. The production here is super grandiose and anthemic, and the lyricism is very personal and dramatic. He slaughtered this shit. The first verse is amazing.
I don't take nothing to heart my father said
But I was wishing I was dead
All he used to tell me was I'm not depressed
I think he was in denial tryna bottle stress
Dealing with a son he couldn't comprehend
The sung hook here is very good here too. The entire album has a very heavy sense of anguish and mental & emotional adversity, and I feel like this is where it reaches its climax.
Running from demons until I lost to fear
When I did Troublesome anger was all I saw appear
When I got kicked off a tour, I wanted to off careers
I saw niggas switch on me crazy, and honestly all was clear
I can see the real now, but my mother had to talk me off the ledge
So y'all can thank her 'cause you all were spared
See, bein' loyal you respect reciprocation
But if niggas wasn't raised to be 100 I can't fault 'em there
I love how he picks his flow up and completely spazzed on the third verse. This is the best song I've ever heard from TreaZon. I think it's incredible.
14. L2N
This is technically the final official song on the album. The following two songs are considered bonus tracks. This is an open letter to TreaZon's daughter, and it's incredibly heartfelt.
To my heart, you will hear this song when you're old enough
Right now you're too young and you ain't gon' know what's up
Today is March 25th, 2020, you gonna be 2 in June
The time is going so fast that I be so sad when thinking of you
And how far you grew, this shit is incredible
They had told me that children can better you
But it's really an understatement
'Cause you makin me do what I never do
Both of the verses are beautifully written and super heartwarming, and at the end of the song you hear audio of his baby daughter making nondescript baby sounds into the microphone.
It's incredibly heartfelt stuff, and it may bring tears to your eyes if you've ever had kids or baby siblings. I'm personally the youngest person in my household, so I've never helped raised a child, but even I was very moved by this song. It's another major highlight for me. I think it's dope af.
+1. Thrill
This is a pretty great bonus track. The song has a very pretty, melodic, light, clear instrumental. The opening verse is really dope, and the second one is even better. There's not really a hook on this song; he just kinda talks during each break between the verses. There's a sung bridge, which is pretty good. This kinda feels like what would play as the credits are rolling, so I think it makes sense as a bonus track. I did enjoy it quite a bit though. I think it's dope.
+2. Ending Theme
I'm notorious for my strict and aggressive anti-weeb rhetoric, but I'm not gonna pretend to have a huge issue with TreaZon referring to this song as the "anime ending." This is another one of the best songs on the project. If Thrill was what plays during the credits, this is more like an epilogue, or what plays during the after-credits bonus scene. The production here is really detailed and gorgeous. TreaZon's flow here is top notch. He killed the opening verse, and the sung hook here is great too. The second verse is even better than the first. I have zero issues with this song. Again, the production is glorious, and he murdered the verses. This song is dope af.
---
This album is legitimately amazing to me. It's actually one of the best albums I've heard all year. There isn't a single song here that I dislike or am even lukewarm towards. Everything here is dope. The one aspect of Troublesome that really stood out to me was TreaZon's aggression and hunger. It's still present on this album, but in addition to that, the production, songwriting quality, and hooks have all leveled up. I'm actually surprised by how well he was able to sing on these songs. He sang on Troublesome, but it pretty much just got the job done. It legitimately increased my enjoyment of each song here though. I genuinely don't have a consistent gripe with this album. I already loved Troublesome, but this is better in pretty much every way. I can't wait to see what he does in the future because this shit right here is phenomenal. This dude is talented as hell. Y'all need to stop sleeping on this dude as soon as possible. This shit is dope af.
Favorite Song: Before My Eyes
Least Favorite Song: Alive
91