Reminder: I'll be livestreaming almost all of these songs at 5 PM EST right HERE, so join me for that. This week was kind of uneventful to be honest. Aside from me being radicalized and wanting to murder white supremacists, nothing exciting happened. Maybe I just wasn't paying attention though. I was pretty depressed, so I may have been distracted. I don't know. Fuck it. It don't matter. Fuck cops.
Sunday, June 7th
Fable Now by 
Dos Monos
This song technically came out last week on the 4th, but it somehow flew under my radar, so I didn't end up hearing it until Sunday unfortunately. At this point, I can't really say much about Dos Monos that I haven't already said before. It's some of the coolest, most unique Hip Hop coming out right now. Obviously since I can't understand Japanese I have no clue what the song is about, but the shit just sounds awesome. The production is totally insane, and all three of the MCs sound really good over it. Check it out.
Monday, June 8th
Footsteps in the Dark (Cover) by 
SiR
I was very intrigued when I saw this cover of my favorite Isley Brothers song from SiR in my subscription box, and I actually think it ended up being as great as I possibly could've hoped for. I guess the recreation of the original instrumental isn't perfect, but SiR's performance here is really impressive. Obviously the original version is still the best rendition of the song, but I think SiR definitely did it justice. Also, this is neither here nor there, but I just wanna say that Footsteps in the Dark is 100x better than Ice Cube's It Was a Good Day. I actually don't even really like that song to be honest. Maybe if I'd never heard the Isley Brothers song I would like the Ice Cube track more. It don't matter though. This track is dope.
Tuesday, June 9th
Bones of Osiris by 
Cambatta
produced by 
Chup the Producer
Cambatta's Lunar Solar Duality is possibly my most anticipated album of the rest of the year right now. The first single he dropped was fire, and I might actually like this one even more. They're both absolutely stellar. I love the dark production on this track, and Cambatta fucking slaughtered every single verse here. His rhyming ability is scary good.
Free not, everybody gotta pay to live
Laws were created by some racist pigs
You could never own a planet, but he made it his
Then he stripped the languages from my Native lips
I love his voice too. He sounds like the narrator from the Soul Calibur series. The first verse was awesome enough, but the second one completely blew me away. I wish y'all could've seen my reaction the first time I heard this couplet…
If you're not as smart as me, I'm dumb to you
My favorite color's the number W
That is the hardest fucking flex I've heard in a song all year. This is probably my second favorite song of the whole week to be honest. This dude is a fucking monster, and I'll be surprised if he doesn't end up releasing one of the best albums of the year. This shit is dope af. Do not sleep on it.
Roots of Blue by 
Blu
featuring 
Jacinto Rhines
produced by 
Exile
If anyone was gonna match the hype I have for Cambatta this week, it was gonna be Blu & Exile. I've praised every single track they've released for Miles so far, and this latest song is another superb single. I love how it starts off with the tribal chants and percussion, and the strange Spoken Word performance from Jacinto Rhines is great too. I don't know who he is, and I couldn't find any information about him online, but his performance here was actually really fuckin' cool. And breh… When that fuckin' beat dropped???
Dog… EVERY SINGLE ASPECT OF THIS SONG IS AMAZING. This motherfucker, man…
Yo, I'm the first man standin' upright holdin' a stone in my hand
After beatin' an ape, claimin' the land, takin' a stand, and feedin' my fam
Back when man ate they children, I'm killin' other animals just to nurture them
My journey further from all my people into another culture
Not knowin' my brother's 'bout to come and take over
We made it all the way to Asia, and to Australia
Then made the passage to the Americas after odd behavior
Came home and started makin' tribes outta stone
As I was listening to this song, all I could think to myself was, "…how the fuck has this never been done before?" It's such an awesome concept for a song. They really struck gold here. I fucking love it. The song is NINE minutes long, and every second is justified. I know this is an extreme statement, but I genuinely think Blu & Exile are about to release the best album of the year. Even if that doesn't end up being the case, I'm positive I'll love it to some extent. The production here is fucking glorious, and Blu's performance is astonishing. If you know anything about me, you know I love when albums are extremely black, so this was perfect for me.
I'm Kunta Kinte 'for he was enslaved by America
Picture the freedom before the terror
Who had to carry the black burners to Nat Turner
During the slave revolt we came before Columbus dumped us
Off the slavery boat, the Underground Railroad, Harriet Tubman
Yo, we probably would still be slaves if it wasn't for Frederick Douglas
I'm up in this government before all them like Booker Washington
With all his boys like W.E.B. DuBois
I LIVE FOR THIS SHIT, FOOL. Miles is scheduled for release on July 17th, and you can bet your ignorant ass I'ma be all over that shit. This song is incredible.
Wednesday, June 10th
Problematic by 
Iron Wigs
featuring 
CRIMEAPPLE
Iron Wigs is a newly formed supergroup comprised of Verbal Kent, Vic Spencer & SONNYJIM. They actually have worked together on a song called Go Get the Dank, which came out in 2017. They didn't officially decide to become an actual group until now though. Well, I don't know exactly how long this has been in the works. I didn't write about it, but that album that Vic Spencer did with August Fanon earlier this year was really great. Check that shit out if you haven't yet. Anyway, when this song first started I was a bit caught off guard because I didn't realize that it features CRIMEAPPLE, so I was like "who the fuck is that rapping on the first verse?" He killed this shit though. Also, SONNYJIM's production here is super jazzy and smooth. It sounds like some shit I'd hear in a luxurious restaurant with a fireplace. CRIMEAPPLE sounds awesome over it too.
My teeth lookin' like I got punched by Raiden
And my outfit lookin' like it's rainin', no explanation
Sometimes you gotta pull yourself up by the bootstraps
Hangin' out the window makin' noise like I'm John Cusack
The second verse from Verbal Kent was really nice too.
It's always best to shut your fuckin' mouth
Unless I speak directly to you
Even then it's probably best, I still might lose my temper
Stick this pencil tip directly through you
Push you down the stairs, hope you enjoy the flight
I'm violent towards you to bring joy to my life
Vic Spencer definitely had my favorite performance on the song. He has such a great voice for rapping. I don't think he had the best verse from a lyrical standpoint, but he just sounded really good. SONNYJIM surprisingly came through at the end to spit a fourth verse. I'm gonna be honest… He dropped an album either late last year or early this year, and I was gonna listen to it, but when I heard his British accent on the first song I immediately turned it off. I know that's a fucked up thing to do, but I just do not like British accents at all personally, especially in Hip Hop. Obviously there are some exceptions that I can get into like Little Simz, Dizzee Rascal, Slick Rick, etc., but for the most part I try to avoid anything British. Again, I know it's fucked up, but it is what it is. With that said, I didn't mind SONNYJIM's performance here at all. I'm not gonna lie and say he really impressed me, but it didn't really tarnish the song for me. The song's dope. Anyway, the full album from Iron Wigs is called Your Birthday's Cancelled, and it's scheduled for release on June 27th, so be on the lookout for that.
EVERYBODY WANT A VERSE WHEN YOU HOT 97 NAH DADDY PAY ME by 
Lord Jah-Monte Ogbon
produced by 
Kluse
Jah-Monte has released a lot of shit this year, and I think this is one of the better songs. I really love this beat from Kluse. The way he chopped that sample is really cool. Jah-Monte is really good at talking shit too. That line about selling drugs on Letgo was funny.
Fuck around and catch a blade to your face on the side
Watch the lord bring shame to your pride, it's a wrap for you
Gettin' bread, we got a knack for it
I'ma go get it, ain't gotta ask for it
My cougar bitch like it on the dashboard
If your life was a movie we pressin' fast-forward
I liked Jah-Monte when I first heard his music, but I feel like I'm enjoying him more and more every time he drops a new track. That Infinite Wisdom project that he dropped earlier this year was really good, so check that out if you haven't yet. I'm really looking forward to whatever he drops next. I'm a full blown fan at this point.
Thursday, June 11th
Blade Runner by 
Harvey Cliff MC
produced by 
Bernard Clay
I first became familiar with Harvey Cliff MC earlier this year when I heard one of his songs on Steel Tipped Dove's A Palace of Ruin podcast. I ended up listening to his Strangers on a Train album from 2018, which was pretty dope, so I was pleased to see this new single from him. I don't think I'd ever heard of Bernard Clay before hearing this, but he did a really awesome job with this song. This beat "slaps," as the cool kids my age say. Honestly, it actually kinda reminds me of the beat from Run the Jewels' Lie, Cheat, Steal. This beat is less obnoxious though, and has kind of a jazzy flair to it. I love Harvey Cliff's flow here. He sounds great over this production. It's a really weird, fun song. Check it out.
from chloe, to u by 
Chloe Hotline
Out of everything I've heard from Chloe Hotline, I genuinely think this is my favorite song so far. This shit is hard. I don't think the production is amazing or anything, but I definitely like it. It reminds me of super early UGK stuff. I like how Chloe started things off right away with a diss to Kim Petras & some other guy named Jake. I'm not sure who Jake is. The last names are censored. If I had to guess I'd say it's Jake Owen since his name fits the rhyme scheme. Apparently they're TERFs. I knew Kim Petras was a TERF, but I didn't know who Jake Owen was until now. Anyway, I really love Chloe's flow on this track.
I only feel safe on the fuckin' internet
But I post pictures of my face, and they comin' for my neck
No I don't wanna leave my house, only shit I fear is death
It was 2015 when I thought I took my last breath
It was awesome to hear her flexing about her talent and potential too. I was a bit worried because it seemed like she was discouraged before, but I'm hoping this is a sign that she's gonna keep goin' all the way in. I even liked the sung outro on this track. It's really great stuff. Check it out.
No Mo by 
Thurz
produced by 
Emani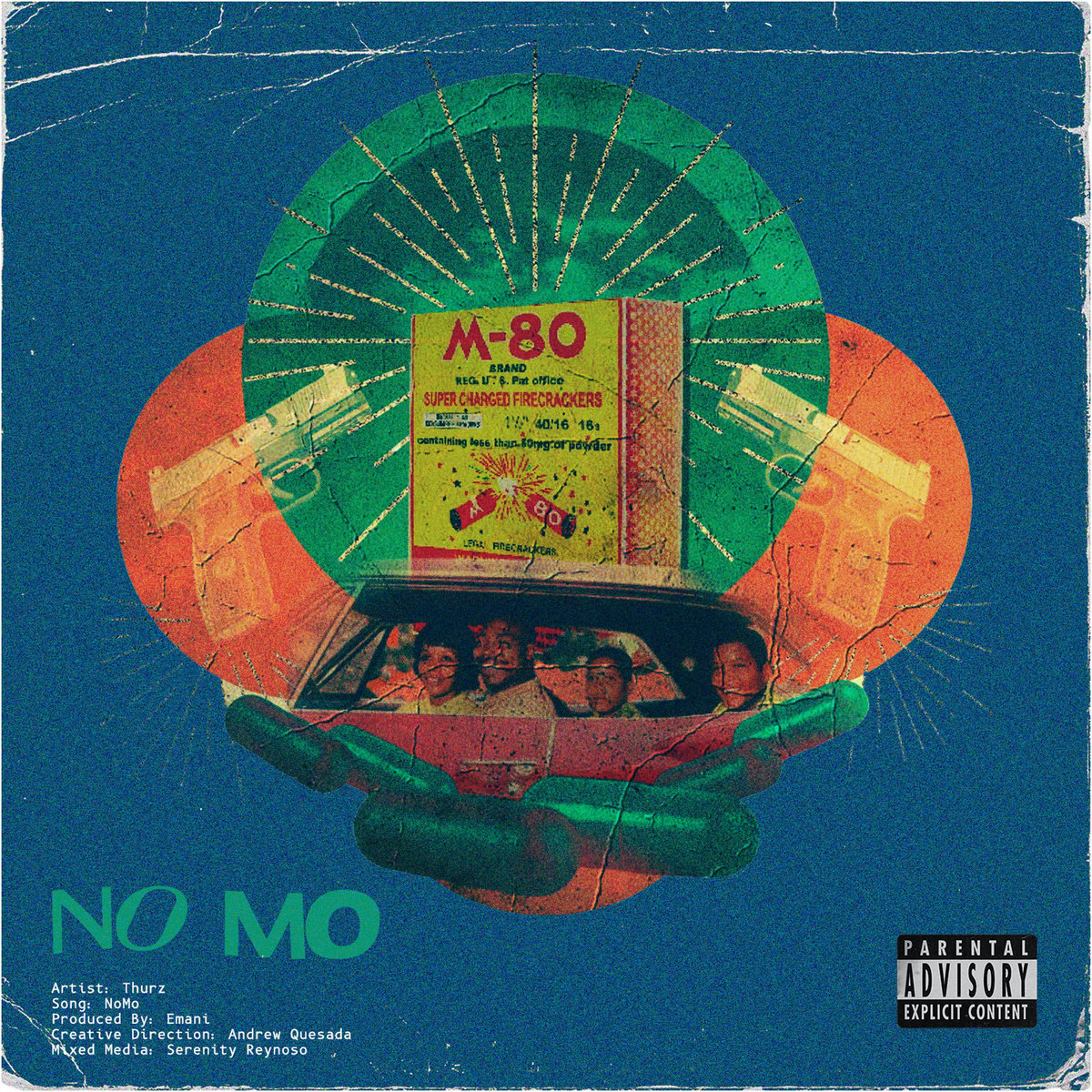 Y'all saw this coming. One thing that you can count on every week is that Thurz will be featured in these articles. This song has kind of a dreamy, ethereal Trap influenced beat with a nice angelic vocal sample. Thurz killed this shit too. His flow on the opening verse is great.
Try not to blow fingers off, M80s, car alarms go off
In the city never played lacrosse
'Less we ride in the Buick, back when niggas had MS-Dos
Had to dial-up when the connection lost
To download, a whole day it cost
When the streets really test you if you hard or soft
Get ruffled like Chips, no tartar sauce
Saved by Rap & basketball, sad that shit couldn't save us all
Aside from the actual song, I also just really love the art direction and the way this track was presented. The song's artwork from Andrew Quesada is dope as hell, and I really like videos that have that vintage aesthetic. He did a great job here, so shoutout to him. The song is super dope. Check it out.
Friday, June 12th
Hope Against Hope by 
Alex Wiley

 produced by 

Alex Wiley

&

Noah O'Connor
Alex Wiley is an artist I've been keeping up with for the past couple years, and I think he's a talented dude, but he's not really the kind of artist I typically listen to. He's a lot more focused on crafting a relaxing, chill atmosphere than blowing anyone away with well written verses. The majority of his songs are short as hell. It's just the production and sonic atmosphere that I look for in his music. This song is no different. Every line went in one ear and out the other. I enjoy this the same way I enjoy a lot of Lance SkiiiWalker's music. The chill production and mellow vocals are just super relaxing. It's not a favorite of mine this week, but I definitely enjoyed it.
Get Up by 
T-Pain

 produced by 

T-Pain

,

LevyGrey

&

11VN
I was admittedly pretty skeptical when I saw that T-Pain put out a protest song, but this honestly ended up being pretty good to me. It's a pretty cool, kind of dramatic Electro-Pop song. It kinda reminds me of Childish Gambino's Algorhythm. The production here is really dope to me. The hook here is really catchy too, and the encouraging lyrics are much appreciated. It also kinda reminds me of that Kendrick Lamar & Weeknd collaboration that appeared on the Black Panther soundtrack. The main difference is that this song is actually good. This was probably the most pleasant surprise of the week for me honestly. I enjoyed this way more than I was expecting. Check it out.
Black 2 by 
Buddy
produced by 
Roofeeo
Buddy released his debut album a couple years ago, and I actually thought it was one of the better releases of 2018. I've had my eye on him ever since he dropped his Idle Time mixtape under Pharrell Williams' i am OTHER imprint in early 2014. The aforementioned album was entitled Harlan & Alondra, and it had a popular single called Black, which was basically an unapologetically pro-black anthem. It was actually being blasted at the BLM protest I went to a couple weeks ago. Now was a pretty smart time to release this track. I'm hoping this is just something he already had in the works. Part of me feels like it'd be kinda fucked up if he just decided to capitalize on the current political climate. I guess it's his right though as a black artist. I can't really get mad at him for something like that. However, if Macklemore decided to drop White Privilege III I'd definitely be taken aback. Anyway, this song is really dope. I actually like it more than the original song to be honest. The opening verse isn't amazing from a lyrical perspective, but his flow is butter. In terms of the content, it's kinda just him rapping about a bunch of stereotypes.
Everybody wanna be an athlete
Everybody wanna rap on beats
Everybody wanna eat watermelon and fried chicken
But sorry it's a black thing
Everybody wanna hit after me
Watch your back 'cause they after me
Got different women up in my living room tryna measure my dick
Maybe it's a black thing
There's not really anything political about the song at all. I guess the hook has some slight social commentary, even if it's just a rewording of a popular Paul Mooney quote.
Everybody wanna be black, don't nobody wanna be a nigga
The second verse is way better than the first one in my opinion.
Everybody tryna get dreads and shit
But they ain't African
All the light girls gettin' a tan so they can darken they skin
I'm sorry, it's a black thing
I'm glad Buddy doesn't let his white friends say the N word. Some times certain people give off that "I let my white friends say the N word to me" vibe. The first person who comes to mind for me is Travis Scott. He definitely lets white people say the N word. I honestly probably would've guessed that Buddy would fall into that category if you asked me before I listened to this song, but the lyrics make it obvious that he actually has respect for himself and our people, so I fuck with him even more than I already did.
If you ain't a nigga, then you can't say "nigga"
It's a black thing
It's not my favorite Buddy song ever, but I definitely enjoyed this quite a bit, and I love the super black theme. This shit is dope.
---
This week was kind of slow to be honest. I mean, there was obviously still a good amount of dope stuff. There was also just a lot of really wack and underwhelming stuff. It's fine though. It's not like there was a complete drought. There's plenty of dope stuff here. As always, if I didn't write about something that came out this week, it's because I either didn't hear it, or I just didn't enjoy it enough to highlight it here. Anyway, if you're bored later today at 5 PM EST, come stop by

the virtual club

to bust some moves. It's fun. You'll be glad you came.