I thought it'd be kind of unnecessary to write an update in a separate post, so I'm just gonna use this article to mention this… I'm gonna be switching up my format for reviews indefinitely. There's too much shit that I wanna cover, and I'm gonna be really busy starting in August since I'm heading back to college, so from now on most of my shit will be formatted like those "Tardy Album Reviews" I used to do last year. If you don't like it, you can go fall down somewhere. Anyway, I'll be livestreaming these singles right HERE from now until about 9 PM EST, so click the link and join me if you're not too busy.
Monday, July 20th
Believe It or Not by 
Dave East
produced by 
StreetHeat
Now that I think about it, I don't think I've ever actually listened to a Dave East project. I've heard a shit ton of his singles though, and I like a lot of his music. I usually love him on features, and I think he has a great voice for rapping. I don't think this song is mindblowing or anything, but it's the kinda shit I typically enjoy from him. The production is dope, and Dave did his thing. His rapping has never been super lyrical and complex. I just think he says some really hard shit sometimes. Oh wait, forget what I said about never hearing a project from him. I just remembered that I really enjoyed the album he did with Styles P about two years ago. That shit was hard. Anyway, I wouldn't exactly call this a "must-listen" single, especially if you've never been a fan of him in the first place, but this is just more of what I typically enjoy from Dave East. I think it's pretty good.
Dropping like flies by 
T.Lucas 
produced by
Michael Avon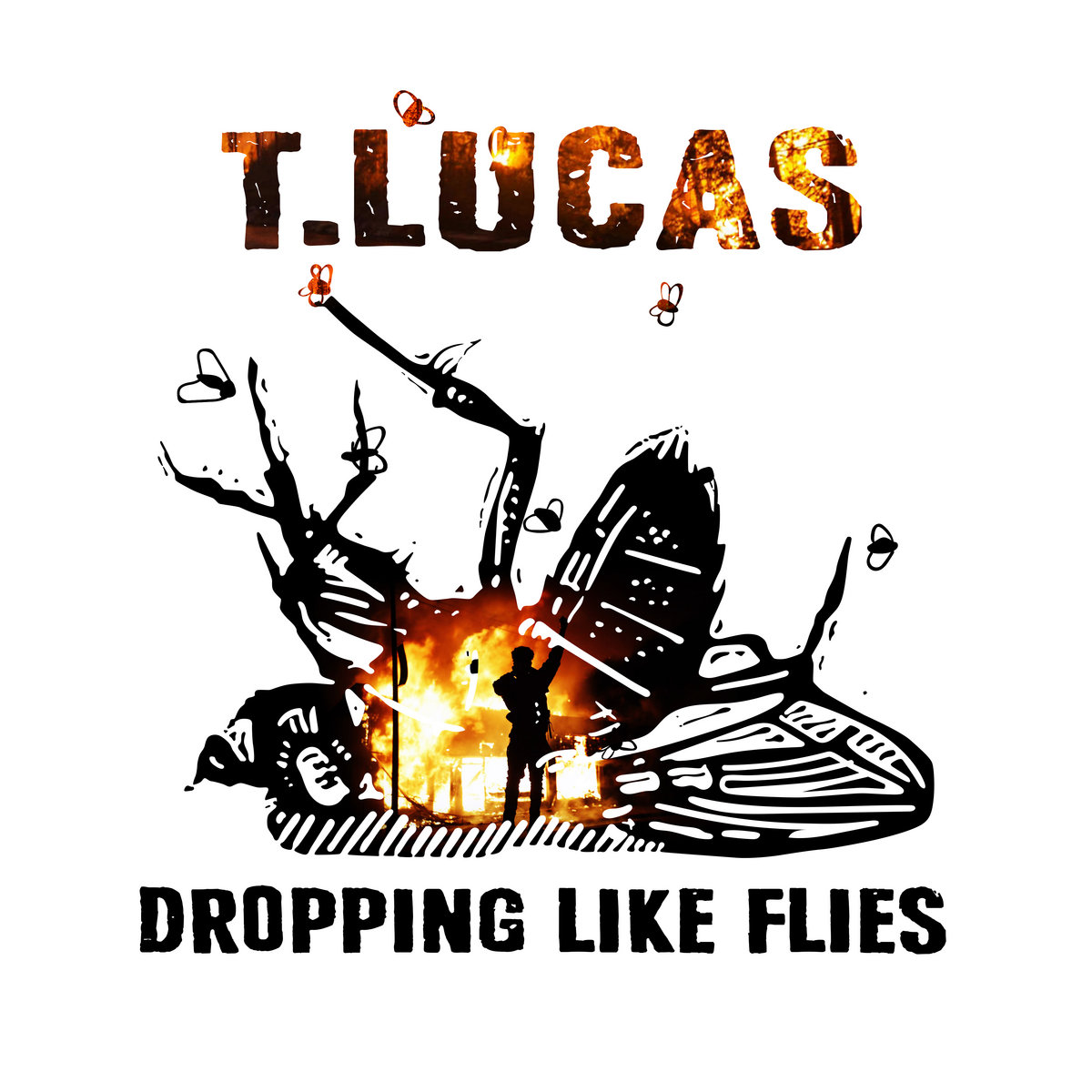 I recently became familiar with T.Lucas due to his latest extended play being completely produced by Substantial, whose music I really love. The EP is called Dirty Sneakers, and I'm still considering covering it. T.Lucas was also featured on the latest project from K-Beta, and he really stood out and kinda stole the show there, so I was pretty intrigued when I saw this latest song. As you may be able to surmise from the cover art and song title, this track is inspired by the recent police violence that has been highlighted and exacerbated by months of civil unrest. I frankly find the dark, Trap inspired production from Michael Avon to be kinda dull, but T.Lucas himself was able to keep my attention with his rapping.
Hoppin' out, the sergeant wanna frisk me
Pop a shot, it grazed and barely missed me
This been goin' on since 1860s
Don't know if I'm free or maybe will he lynch me?
Kamikaze, treat me like a nazi
I can't breathe, I'm dying
While they takin' pictures like the paparazzi
Of a lifeless body, said I had a shotty, callin' for my mommy
The production actually kinda grew on me as the song progressed to be honest. The content of course resonates with me, and I think it's very well executed. T.Lucas killed this shit honestly. I think the song's really dope.
Tuesday, July 21st
Sirens by 
Sadistik
featuring 
Wicca Phase Springs Eternal
produced by
deadangel
&
White Shinobi
Sadistik already released one of my favorite projects of the year with Delirium, so I was super excited when he announced a new album recently. I can't remember if he revealed the actual title yet, but I'm just happy to already have a single. It's just as beautiful as I could've hoped too. The forlorn atmosphere of the production fits Sadistik's style perfectly. I'd never heard of Wicca Phase Springs Eternal, and I'm not sure if they're a band or just one person, but the vocalist sounded pretty good to me. I was caught off guard at first because I didn't realize there was a feature, so I thought Sadistik was singing it himself. The verses from Sadistik are of course beautifully written.
No more blood-letting when the leeches bite me
One more love letter 'fore the creatures find us
I'll show you the shadows that my secrets hide in
Take what they need then they leave you lifeless
A chrysalis lives so deep inside you
Below the surface where demons riot
A broken person grows so subversive
Choke on words so the screams are quiet
The whole song makes me feel like I'm falling. I don't know how else to say that, so I hope those who listen understand what I mean, but I guess it's not that important. All you need to know is that I love the song. I can't decide whether this song is more gorgeous lyrically or sonically. It's a beautiful track though, and easily one of my favorites of the week. Don't sleep on it. It's dope af.
NO STRAY BULLETS by 
Chloe Hotline
produced by 
Daringer
I almost missed this track, but I thankfully found it just in the nick of time. Anyway, this is actually a diss track targeting Westside Gunn, and it's performed over the instrumental to Buffs Vs. Wires. The animosity was sparked by some dumb transphobic shit he said on Twitter.
I'm gonna be honest… I'm not even a little surprised that Westside Gunn is transphobic. With certain artists, you can just tell what kinda attitude they have towards certain communities based on their music and style. 75% of gangsta rappers are misogynists, 85% of them are homophobes, and 99% of them are transphobes. Westside Gunn's not the only dumb nigga in the Griselda camp though. Benny has also tweeted a ton of questionable shit. Apparently he was tweeting in support of Michael Bloomberg's presidential campaign back in March. He comes off like one of those dudes who fetishizes wealth and idolizes the elite. As much as I love Conway's music, I won't be surprised if he ends up saying some dumb shit in the future too. Anyway, lemme get to the point… This shit is fire. I know Chloe said that she's not gonna be focusing too much on rapping from now on, but I'm glad she decided to respond to Westside's idiocy with this. I commend her for this, and I think people need to follow her lead and just start calling people out on wax whenever they say some dumb shit. She killed this shit too. Westside Gunn seems like a fucking idiot to be honest. I hate rappers who literally only care about money. Fuck that nigga. Anyway, check the song out and let me know what you think. It's one of my favorites this week.
Lost in Time by 
Wifisfuneral
featuring 
Coi Leray
produced by 
Jimmy Duval
I have a really love-hate relationship with Wifisfuneral's music. He has a lot of singles that I find to be absolutely horrific, but I actually really love a fair portion of his material too. With that said, this latest track is not what I was expecting at all. I wouldn't even call it a Hip Hop song to be honest. It reminds me a lot of something that Lil Nas X would do, except less goofy. This is like if Lil Nas X suddenly became an emo Soundcloud artist. Even the visualizer that goes with this song on YouTube reminded me a lot of the visualizers for Lil Nas X's 7 EP. Wifi's singing throughout this entire track, and it goes over surprisingly well. I think the production is pretty dope too. The lyrics are pretty trash, but that's par for the course with these "emo" Soundcloud artists who are constantly popping pills. Coi Leray's performance was pretty forgettable, but I suppose it was sufficient. I fuck with this song from a purely aesthetic standpoint. If somebody told me this song is trash I'd probably get it. As much as I like the production, it does get pretty damn old by the time the track ends. It's far from my favorite single from Tuesday, but I liked it more than I thought I would, especially after hating the first single so much. This track is pretty good to me though. Give it a listen, and let me know what you think.
Wednesday, July 22nd
The Climb Back by 
J. Cole
This is one of two singles that J. Cole dropped on Wednesday for his upcoming album, The Fall Off. I think this is the weaker of the two songs, but I still enjoyed it to some extent. Surprisingly, the one aspect of this song that I really enjoy is Cole's actual rapping. I think he killed both of the verses on this song to be honest. I unfortunately just find the production and hook to be so boring that it drains any and all energy I have whenever I listen to it. It puts me in the same mood as that wack ass Power Trip song he did with Miguel. Ok, it's actually not quite that bad. I don't care for it though. He caught my attention pretty quickly with the opening quatrain of the first verse though.
To the left of that decimal, I need seven figures to play the joint
Turn up your decibels, peep how I decimate a joint
Check out my projects like them workers that Section 8 appoints
And you'll see how I flipped like exclamation points
I kinda wish he didn't remind me that he actually made a song called Foldin' Clothes later on in the verse, but I'm not gonna pretend he didn't kill this shit. Again, I don't like this song nearly as much as the following track, but I still think he did a good job with the actual rapping. This is a pretty good song to me.
Lion King on Ice by 
J. Cole
produced by 
J. Cole
,
JetsonMade
&
T-Minus
This song is way catchier and more sonically pleasant than the previous single. Not only is the production legitimately fantastic, but Cole's vocals on the hook actually sound way better than they did on The Climb Back. Believe it or not, when I first heard this track I really thought it sounded like a Drake song. Particularly the hook. I can imagine Drake singing that shit. Obviously the actual rapping is nowhere near lazy enough to be a Drake verse. I don't think the wordplay was as impressive as it was on The Climb Back, but the actual content was actually pretty interesting. It was kind of a cheap shot, but I have to admit that it was cool to see him reference the ostensible death of Lil Pump's career.
Niggas dissed me, it was nonsense
I sat 'em down like his father
My niggas asked, "Why you bother?
We should've caught him and mobbed him"
I said, "We gotta move smarter"
Don't wan' be the reason for one more sad song
I tried to warn niggas they wouldn't last long
I hope that you see how they came and they went
They shots never hit, but they made they attempts
May have a good year like that name on the blimp
But you know what it takes to be poppin' this long?
That's gotta sting for Mr. Pump to hear. Again, it's kind of a cheap shot since Lil Pump is such an easy target. However, even though I like Lil Pump, I'm not gonna pretend to feel bad for him. As much as I enjoy his dumb music, he was a fucknigga in all honesty. Anyway, I think this is easily the best solo track that J. Cole has released in a long ass time, and I'm really hoping that the rest of The Fall Off will have some even better material than this. This track right here is dope af to me.
Thursday, July 23rd
Free Speech by 
Thurz
produced by 
ML3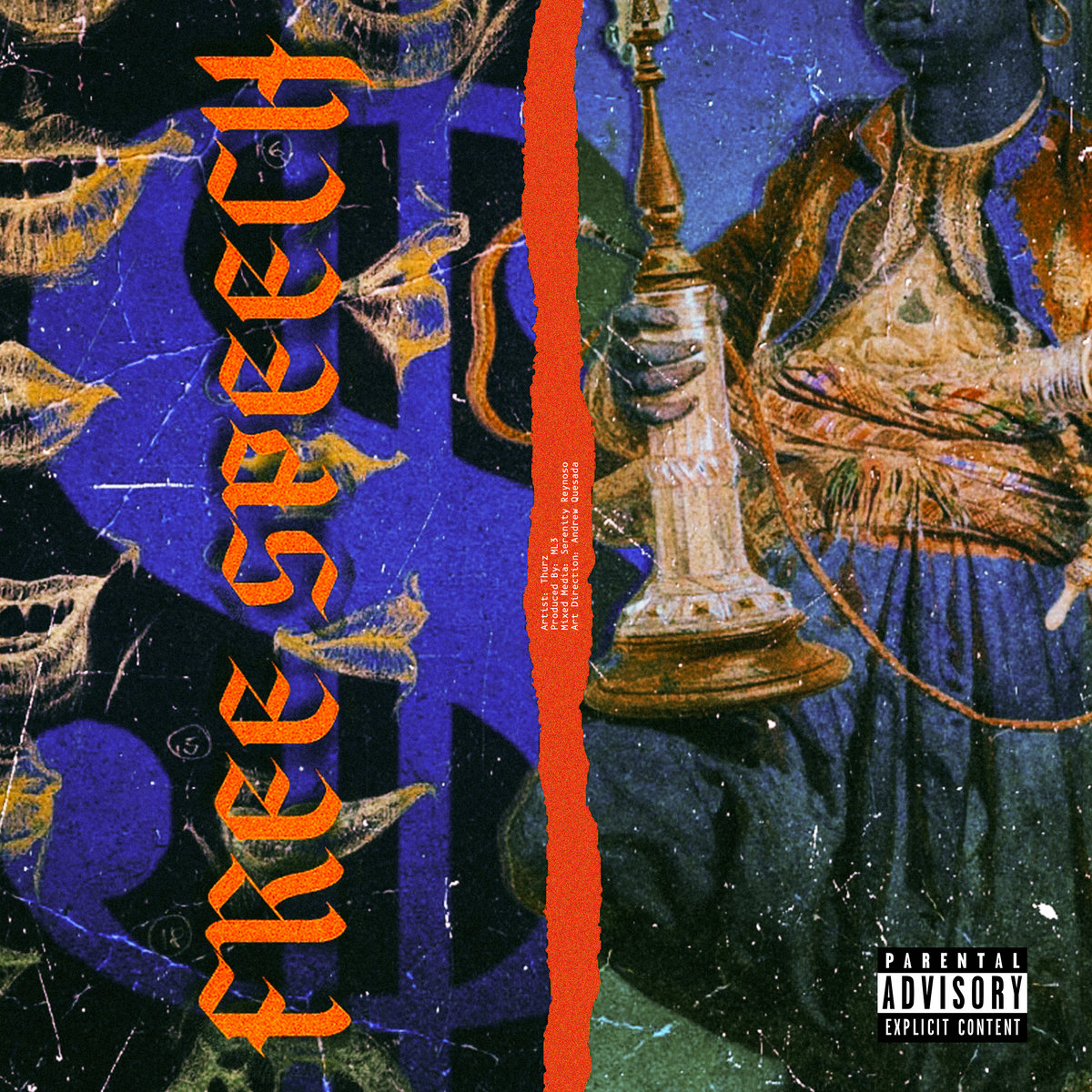 Once again, Thurz has released another fantastic single. I love ML3's production on this track, and Thurz killed it. I'm not sure if it was intentional, but it seemed to me like he may have been influenced by Kanye West's latest meltdown. He had a line referencing Get Out, which Kanye recently claimed was about himself. He also of course provided most of the beats to Jay-Z's popular album, The Blueprint.
Yellin' "get out!" as blueprints get drawn up and ran
For new shops servin' potato salad with raisins that's very bland
Live and direct, that blind copy shit, you know it's a spam
1st Amendment is a joke, too much truth will you get banned
Kanye obviously gets a lot of attention for exercising his first amendment rights too. Thurz explicitly references Kanye's "no one man should have all that power" line in the hook as well. I don't think the entire song is specifically about Kanye West, but I'm pretty sure the references were all intentional. Anyway, the song as a whole is really dope, so be sure to check it out, and let me know what you think about it.
Otherworld by 
Marlowe
Marlowe 2 is one of my most anticipated albums of 2020, so I was pretty excited when I saw that they released a fourth single on Thursday. I have to admit that this is my least favorite track out of all the singles they've released so far, but I definitely still like it. I think it's a good song. It just didn't blow me away like the others. I think L'Orange's production here is really good, and Solemn Brigham's performance is pretty solid. It's just that nothing in particular about this track really blew me away. I think the hook is a little dry personally. Maybe if it was better I'd be a lot more into the song. The first verse wasn't super impressive lyrically, but it was definitely sufficient. I think the second verse was definitely more entertaining.
Tried to keep my feelings tucked, partner help me dig 'em up
Eyes all on the crown, they stare you down, try not to win too much
I was once disgruntled, got my uppance now we back in play
Skate forever, said I never slip, instead I figure 8
When I dream I'm still awake, I get throwed and seize the chase
Hope this mess don't leave a stain, hell, I'm supposed to lead the way
On my plate a lot at stake I thank the lord for legal pay
All the better to keep my place, so much time away they never see my face
The bars aren't crazy or anything, but, like I said before, they're sufficient. Overall I think the song's a little dry, but I definitely enjoyed it. Check it out, and let me know what you think.
Friday, July 24th
STIGMATA by 
Backxwash
featuring 
DeathIrl
&
Ada Rook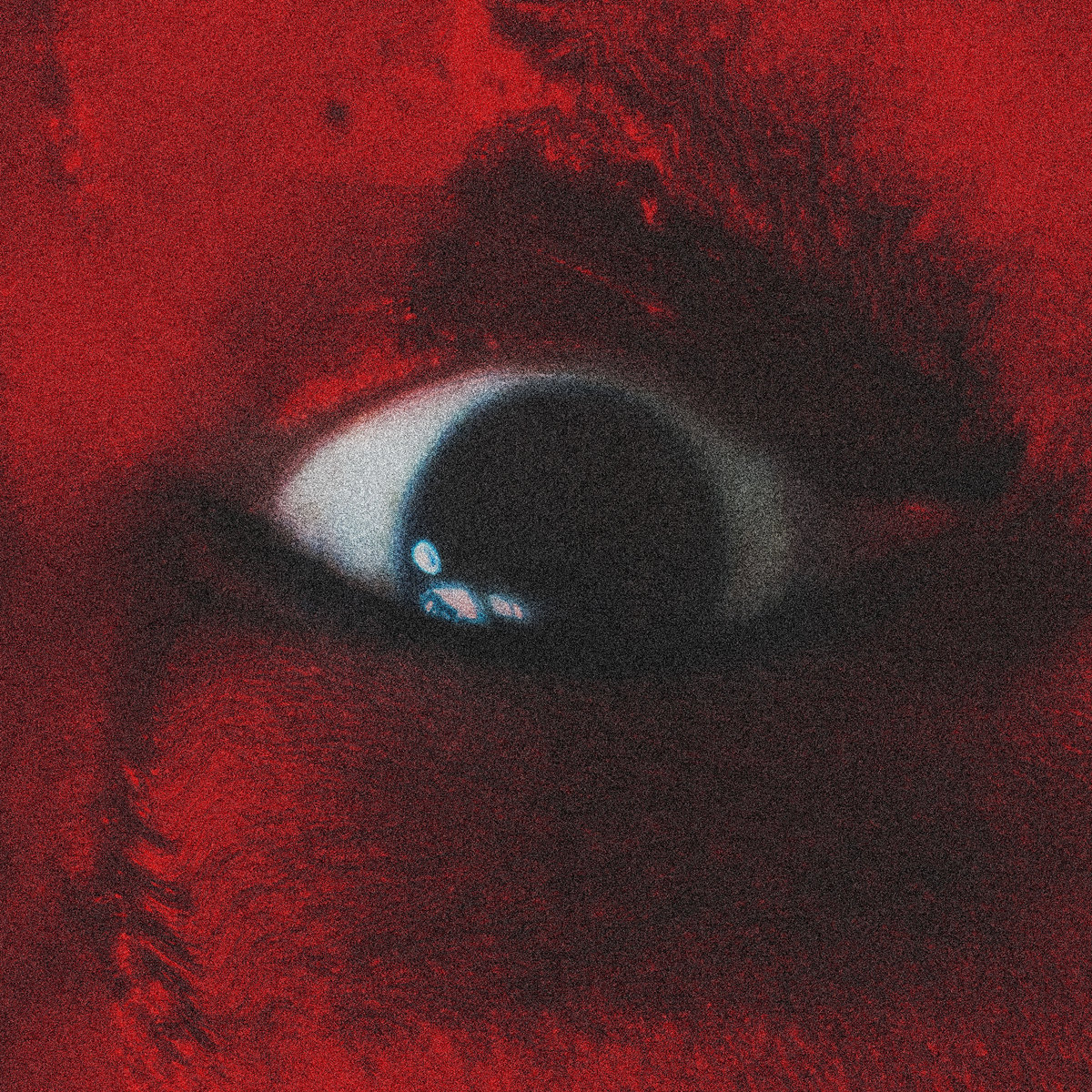 I posted a review for the latest Backxwash album semi-recently, and really enjoyed it, so I was pleasantly surprised to see that she was already releasing more music so soon. I honestly think this is one of the best songs I've ever heard from her. This would've been a major highlight if it appeared on her aforementioned album. The production here is superb. It really sounds like it was performed by a full band. It's super polished. I like the aggressive hook from Backxwash too, and she did a great job with the first verse as well. I'd never heard of this DeathIrl person before listening to this song, so I wasn't sure how I'd end up feeling about their contribution, but they ended up doing a really nice job with the second verse. The electric guitar from Ada Rook was actually glorious too. I generally dislike electric guitars, but it sounded great here to me. The song is dope af. Don't sleep on it.
CHANGE by 
Takuya Kuroda
featuring 
Corey King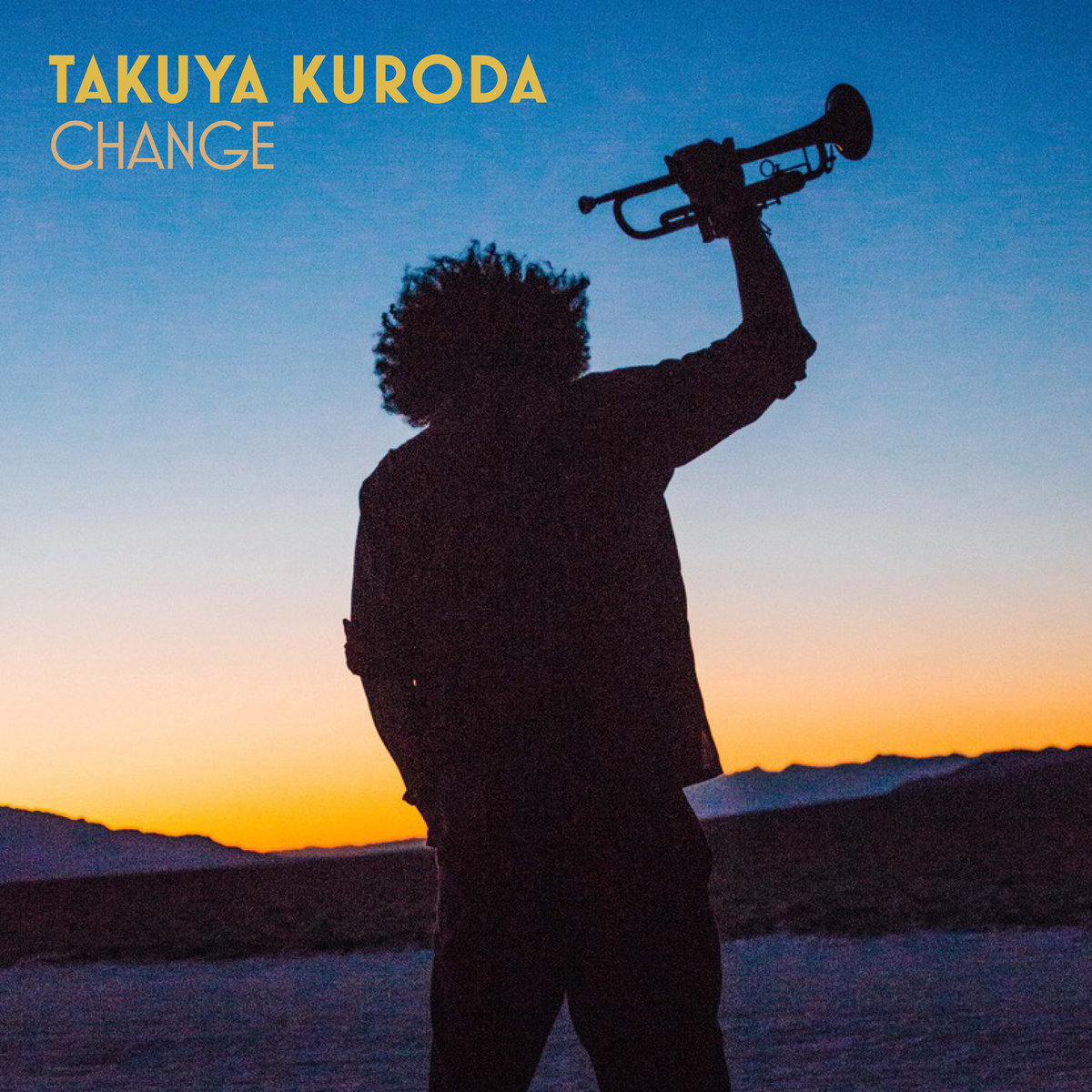 This is the first single from Takuya Kuroda's upcoming album, Fly Moon, Die Soon. I'd never heard of him before, but I got an email with some information about him earlier in the week, and was pretty intrigued. He's an esteemed trumpet player who's worked with DJ Premier in the past, and was signed to Blue Note Records at one point. Anyway, this single right here is really great. It sounds like cool breeze blowing through your hair in the form of music, and the light, soft vocals from Corey King sound fantastic. The music video is also really cool. There are some shots that seem to be filmed at Seaport, right by the Brooklyn Bridge. That was cool to see because I used to smoke weed there with my friends all the time. Anyway, check the song out, and let me know how you feel about it. I think it's dope as hell personally. The album is scheduled for release on September 18th on First Word Records, so be sure to keep an eye out for that.
Saturday, July 25th
The Sequel by 
T.R.3
produced by 
Rapsody3000
&
YSP
I haven't kept up with every single thing T.R.3's released since the last time I covered his work, but it's mainly just because I don't check Soundcloud as consistently as I used to. I'm pretty sure he's still been dropping music this whole time. Anyway, this song right here is fire. I love the somber, jazzy production. T.R.3's voice still reminds me a lot of Mick Jenkins, but not to a fault. The way he raps is different enough to prevent him from sounding like a clone. I like the first beat a lot, but it's really cool how it switches up after about a minute and a half. The first part of the song is really low key, and it kinda reminds me of something that could appear on his GRIEF extended play. That project is fire by the way, and you should definitely check it out if you haven't yet. Anyway, the second beat feels a bit more intricate and layered. It might just be because the first beat didn't really have any percussion at all. The second one kinda reminds me of Kendrick Lamar's untitled umastered. project. The lyricism is really personal here.
I'm your mourning son, and you help dry all my tears
Now I'm rising up, coming home like my dad never did
Been scared since a git, we all just some grown ass kids
I'm pitching a fit 'cause when you taught to hold that shit in it ain't easy to vent
I missed my childhood 'cause I'm too busy aiming at my dad
Said that I'll be better, end up falling in the same traps
The song is fire, and definitely one of my favorites of the week. Give it a listen and let me know what you think.
---
I'm not gonna lie… This week was kinda barren in terms of new singles. There were a shit ton of albums that dropped, but not many new songs. This is one of slowest weeks of the year so far. The shit that we did get is really dope though, so don't sleep on these tracks. I probably missed some shit too, so let me know what you've been feeling this week. Peace.