This was another very terrible week for me personally, so I honestly didn't start working on this blog post until yesterday. As a result, I probably missed a few songs that otherwise would've made it into this list, so you'll have to forgive me for that. All I'm gonna say is that when it rains it pours, y'all. I don't have it in me to livestream these tracks today, so you'll just have to listen on your own. Sorry I guess. ¯\_(ツ)_/¯
Monday, August 10th
Zodiac by 
Sadistik
featuring 
Mick Jenkins
produced by 
Cansino
This is the second single from Sadistik's upcoming project, Elysium, which is scheduled for release on August 24th. Sadistik has already released one of my favorite projects of the year, so, needless to say, I'm really excited for this new one. This latest track is really good. Mick Jenkins did a nice job on the second verse, but I'd be lying if I said I wasn't more impressed by Sadistik's performance here. That's not a surprise though because there aren't many artists who can touch Sadistik. His writing here is just as gorgeous as it always is.
Always been a castaway
Don't save me, I'm just trash today
I'm refuse
Usually you're bruised when you get used to feeling used
All these ups and downs I learned to ride the waves
Most the nightmares are when I'm wide awake
I don't wanna go don't let me die today
If it makes me numb I'll take the side effects
Mick's verse started off kinda slow to me honestly. I mean, the writing was great throughout, but his flow was kinda shaky at first. He kinda found his pocket once he got warmed up though. The song ends super abruptly and I kinda wish the structure was a bit more fleshed out, but overall I definitely enjoyed it. I think it's dope. The music video is beautiful by the way. Definitely check that shit out.
IF (IF WAS) by 
Jeru the Damaja
This is actually the second single that Jeru the Damaja has released this year. To be honest, he's an artist I didn't think I'd ever hear from again. I was surprised when he was featured on that Planit Hank EP from last year just because it felt like I hadn't seen his name in forever. People don't really talk about him that much these days. This latest track is really dope. I think the animated music video is kinda terrible, but I really like the song itself. Jeru's still got a perfect voice for rapping, and the beat here is pretty solid. I'm not sure who produced it, so if anyone reading this knows feel free to put it in the comments.
Believe me, what comes around goes around
In the meantime, if you don't swim, you'll drown
Keep it movin' when things get rough
If "if" was a spliff, we'd all get fucked up
The hook is nothing special, but it serves its purpose well enough. The selling point of this song is really just the lyricism for me. I think he killed this shit. Check it out, and let me know what you think.
No More Teardrops by 
Vic Mensa
featuring
The Rebirth Brass Band
,
Malik Yusef
&
Wyatt Waddell
produced by 
Young Chop
,
Keyon Christ
,
Rance
,
Vic Mensa
&
Jonnywood
This was a much appreciated return to form for Vic Mensa. Last year he released his critically panned 93PUNX album, which I refuse to listen to. I know there's virtually zero chance of me actually enjoying it, so I'm not putting myself through that. However, I still have a lot of respect for Vic Mensa as a person and artist. It took me a while to warm up to him, but his political statements and disrespect towards DJ Akademiks made me a fan. I still haven't ever heard his popular Innanetape mixtape, but I really enjoyed his Autobiography album. He has some cool extended plays too. I didn't really have any expectations going into this song, but it's actually fire. I think the anthemic production is pretty great, and Vic Mensa snapped on this joint.
Strange fruits still swingin' from the trees
White folks protesting 'cause they can't leave
Try twenty-five to life; that's a real quarantine
They just take the mask off when they can't breathe
But we got officers knees in our esophagus
Face blue 'cause he running out of oxygen
Got his brains blew by one of his accomplices
Add you to the list of his accomplishments
The hook is nothing special, but it works. The second verse was arguably better than the first one.
They try to tell us to believe in the government
But even when Barack is president, niggas had to sell rocks
One out of fifteen niggas in the cell block
The other fourteen, don't nobody care about
I'm in the courtroom pullin' my hair out
'Cause I get another year for each one of my dreadlocks
I love the way the percussion kinda switches up during the second recital of the hook. Like I said, the hook isn't really that great, and it gets really old by the time the song ends to be honest, but overall I really fuck with this track. Malik Yusef's outro was really cool too. The song is dope.
Thursday, August 13th
Kick It by 
Childish Major
featuring 
Jace
produced by 
Chris Beatz
This week the official soundtrack for Madden NFL 21 was released. Most of the songs that I checked out were just slightly above average to me honestly, but this is one of the few that I actually enjoyed enough to highlight here. I was happy to see a collaboration from Childish Major & Jace again. That song they did called Catfishin' is amazing to me, so I hope to see even more work from them in the not too distant future. Anyway, the hook on this track is pretty average to me, but I love the production, and the rapping is solid too. The opening verse from Childish Major is nothing special, but his flow is at least kinda cool. His pronunciation is incoherent at times, but overall I enjoyed his verse. Jace definitely had the more entertaining performance. His flow was great, and his lyricism, while not super impressive or anything, was at least more interesting than that of Childish Major. Overall, it's a pretty good song to me. It's not one of my favorites of the week, and it's not gonna blow anyone away, but I enjoyed it. Give it a listen, and let me know what you think.
Bruce Beach by 
Thurz
produced by 
ML3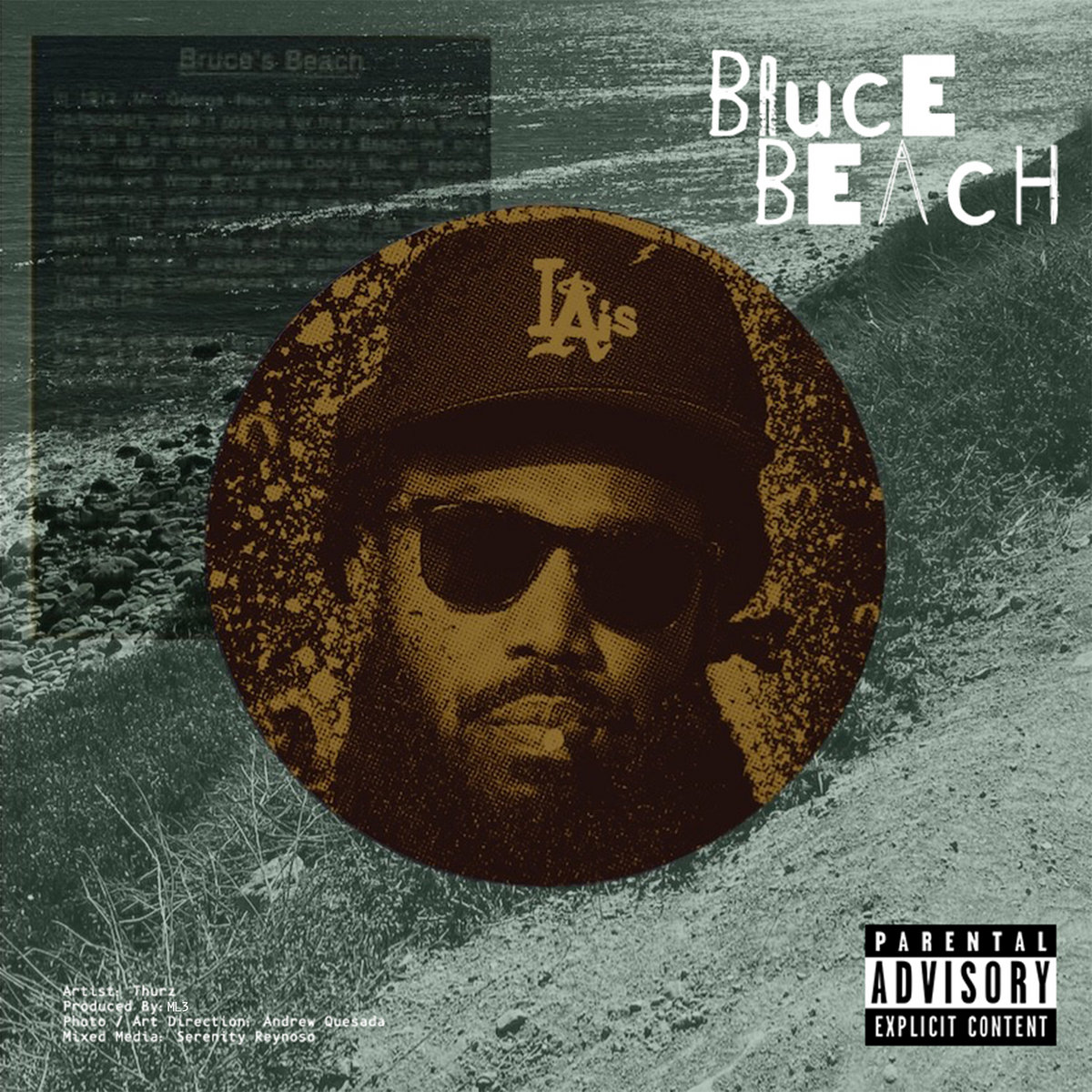 Thurz has pretty much solidified himself as the MVP of 2020 for me to be honest. Plenty of artists have done the weekly song series thing in the past, but I don't know if anyone else has maintained the level of quality that Thurz has been able to consistently provide throughout one of the most chaotic years since… Well, 2016 was pretty rough. This one is wild though. Anyway, I love the melodic production from ML3 here, and Thurz killed it as always. I loved the opening verse, and was surprised by how well the sung hook ended up being. The second verse is great too. I think the inspiration behind this song is pretty interesting too. It's a really sad story. I'm too lazy to explain it, so if you're interested just Google "Charles & Willa Bruce." Anyway, the song is dope. Check it out.
Backstage Pass by 
Smino
produced by 
Monte Booker
,
Jonny Pierce
&
The Drums
This is the second of two songs that I really enjoyed from the aforementioned Madden NFL 21 soundtrack. I think this song is fucking awesome. Smino is an artist whose albums I like, but the second one honestly paled in comparison to the first. A lot of his work has gotten stale to me over the years, so much so that I didn't even bother checking out the mixtape he dropped earlier this year. I probably will at some point, but I'm in no rush. This shit right here though? FIRE. Maybe he should do more work with The Drums because this type of instrumentation works for him perfectly. I think this beat is amazing. I think the melody of the hook is great, although Smino's vocal performance kinda leaves something to be desired. He sounds much better on the actual verse thankfully. The lyricism isn't super interesting, but that can be said about nearly every Smino performance I've ever heard. It's really his vocal delivery and flow that keeps me hooked. I think this track is dope as hell. Give it a listen and let me know what you think.
Friday, August 14th
H.old O.n, P.ain E.nds by 
Mega Ran
featuring 
Bag of Tricks Cat
produced by 
DJ DN3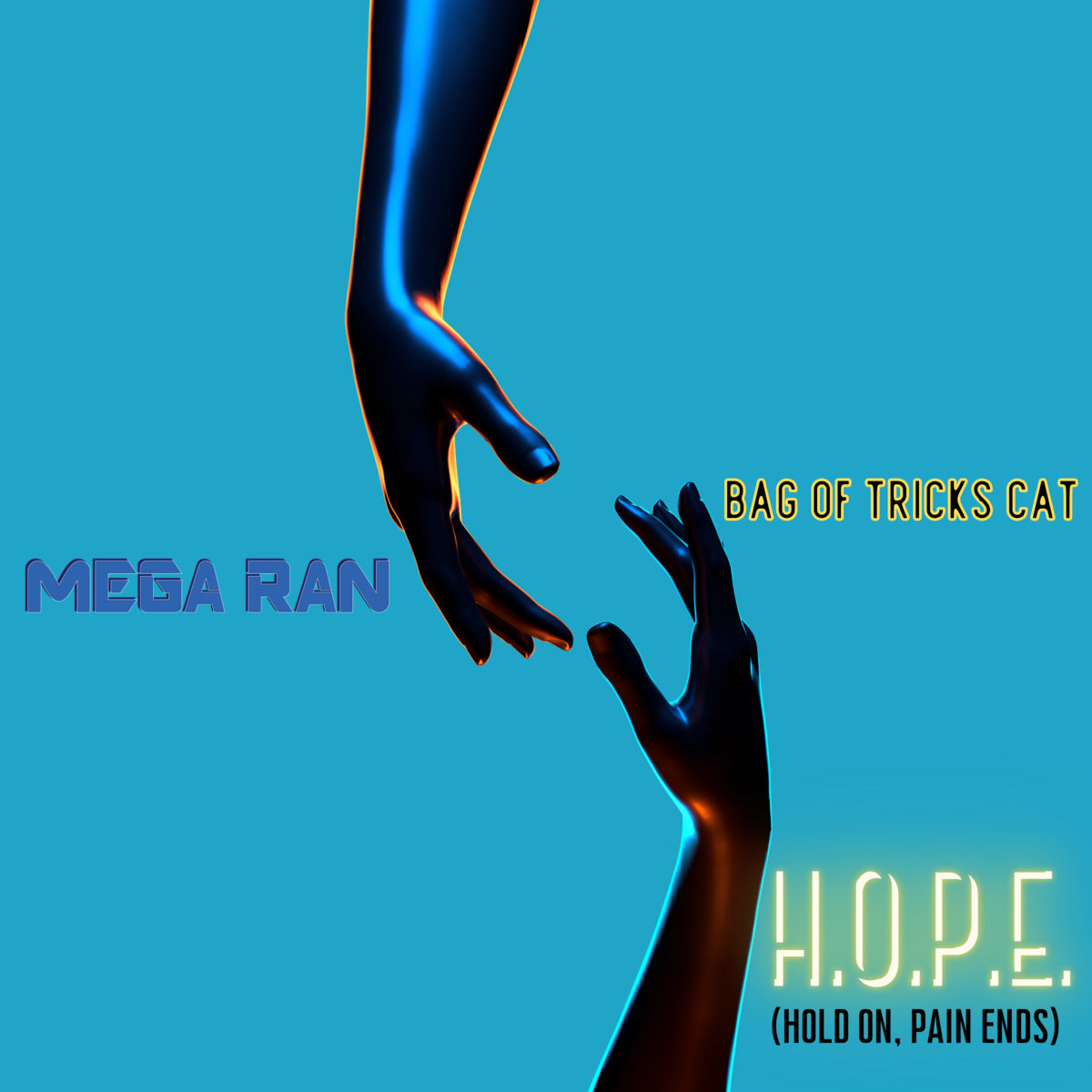 This is one of my favorite songs of the week. After the past couple weeks I've had, I really needed a song like this. As many of you hopefully know by now, I'm a huge fan of Mega Ran. I really enjoyed those Emerald Knights albums that he did with Bag of Tricks Cat, so this was a pleasant surprise for me, and it ended up being about as great as I could've hoped. I love the melodic Electronic production from DJ DN3, and the sung hook from Mega Ran is great. The opening verse from Bag of Tricks Cat was really well written too.
I tried to my best to find the words that'll put you at ease
While we're fightin' racism, misinformation, and disease
But I can't 'cause these problems feed my anxieties
And I'm not the only one, many suffer silently
Mega Ran's performance was great too. He's always been a top tier MC, and it seems like he's just getting better with age. The content itself is what makes the song resonate with me personally. It's nice when rappers can make super positive, uplifting music like this without it being corny. I really appreciated this one. I think it's great.
My Power by 
CHIKA
produced by 
Lido
In case you aren't aware, XXL released their "Freshman" list for 2020 this past week. The only artists on it who I have any interest in personally are Baby Keem and CHIKA. Surprisingly enough, CHIKA was actually new to me, so for once XXL actually put me onto a dope artist. Shout out to them for doing their job for the first time in years. Anyway, she's easily the best MC on the list from a lyrical, substantive, and technical standpoint. I'm positive that she'll have a bright future ahead of her. This song in particular is a great introduction. I actually got a lot of Queen Latifah influence out of this one. The kind of accessible, poppy, almost kid-friendly instrumental sounds like something she'd spit over. CHIKA also reminds me of Chance the Rapper, but mainly just due to the production she typically chooses. Honestly, she doesn't sound like a "freshman" at all. She sounds like a seasoned artist who's been at it for ages. I guess it makes sense. She's where she's at right now for a reason. This shit sounds expensive though. It sounds like there was a fat ass budget for this track. I guess that also makes sense since it's from a soundtrack for a Netflix film. That's cool. As someone who's completely new to her work, she seems like a cool ass person, so I'm really glad she was on that list. She's got a great flow, a great delivery, and a great writing ability. The opening verse is dope.
I change trajectory, never can get the best of me
Spicy, I got the recipe, all of my people next to me
Dare you to try and mess with me
I'm better as your friend and not an enemy
Disintegrate your clique 'cause what's a tick next to a centipede
This crown is more dramatic than a pregnancy
I came into the world, and now they cannot put an end to me
I tried to make a dollar, but instead I made change
Now I see the bigger picture, man this life is so strange, what a range
The melodic hook is really good too, and the second verse is even better than the first one. She killed this shit.
I used to dream of six figures
Like can they hear me, I'm a sick spitter
Michelangelo, they making stick figures
Self-doubt disfigured, old bonds broken
Only gold records, man, no bronze tokens
Look at my story, recognize l'm so chosen
Finally found a light, my fire bright lit out smoking
Chuckle as the demons realize they throat closing
Then hit 'em with a leg drop like I'm Hulk Hogan
The heavens wide open
I think the song is dope as hell. It's easily one of the best singles of the week, if not the best. Check this shit out.
Ultra Black by 
Nas
produced by
Audio Anthem
,
Corbett
&
Hit-Boy
I've been called a Nas stan before, and I'm guessing it's because I'm not really a Jay-Z fan, and I actually liked NASIR. However, I have to admit that I was slightly underwhelmed by this track. Obviously since I'm writing about it here I enjoyed it to some extent, but I was just hoping that the first single from this upcoming album would be more explosive. This track is cool though. I certainly appreciate the content and general sentiment. I think the production is cool—it actually reminds me a lot of something Thurz would rhyme over. The beat was actually not that great to me on my first listen, but it grew on me heavily the second time I heard the song. My favorite aspect of the song is really just the subject matter. I love how it's a celebration of blackness.
Grace Jones skin tone, but multi that
Multiple colors, we come in all shades, mocha black
Accept where I'm at and not fight me on it
Emotional stares like I might be wanted
Pitch black like the night, I'm ultra black
Sanford and Son reruns, jokes are black
Oh yes, oh yes, God bless success
We goin' ultra black, like the Essence Fest
The writing isn't amazing or anything, but it's definitely good. The closing lines of the first verse generated a lot of headlines since he was poking fun at Doja Cat.
We goin' ultra black, unapologetically black
The opposite of Doja Cat, Michael Blackson black
Honestly, I don't know why people were so upset about this line. I don't think it's meant to be taken too seriously. Like I said, he's just poking fun at her. It was a huge controversy, so I don't see an issue with him referencing that. I personally don't fuck with Doja Cat, and nothing anyone says will get me to forgive her for that "Dindu Nuffin" song she made. I wasn't into her music before, but now I don't even wanna give her music a chance. That's the prize she gets for playing that stupid game. Anyway, I think the song is dope. It's far from Nas' best work, but I do like it. I saw a very concerning tracklist for his upcoming project floating around the internet, but I'm pretty sure it's fake. If it's real, then all hope is lost. This song is dope though. The album is called King's Disease, and it's scheduled for release on August 21st. Be on the lookout for that.
Saturday, August 15th
DEVILMAN by 
EXOCIETY
featuring 
Rav
,
Scuare
&
Kill Bill
produced by 
Ashido Brown
This shit is fire. This might actually be my favorite track of the week. I know I've said that for like 4 different songs already, but still. This shit is awesome. According to Rav, any time a song features more than four members of EXOCIETY, it's just gonna be credited towards the whole crew, so that's cool. Obviously I'm familiar with Rav, Scuare & Kill Bill, but I actually think this was my first time hearing any of Ashido Brown's work, unless I'm forgetting something. This was a hell of a first impression though. Honestly, this sounds like a hit song. This sounds like the kind of beat that you'd hear behind a huge mainstream collab with people like Drake, Lil Wayne & Nicki Minaj. It's just cool that this song actually has good rapping. The opening verse from Rav is awesome.
Catch me spillin' feelings 'til I die
I keep hittin' sentimental rhymes and kill 'em on the mic
Hope you idiots surmise, I would rather you ignore me
I don't do it for your love, not the 'gram, not the glory
The lowkey, melodic hook on this track is awesome too. I think that's Scuare's voice in the background, and it sounds gorgeous. I actually think he had my favorite verse on the song. He's still got that immaculate flow, and his melodic delivery was a perfect fit for this instrumental. Kill Bill of course murdered the closing verse as well. Just from a purely lyrical perspective, he probably had my favorite verse. His flow was great too. Overall, I think they knocked it outta the park. This had to be a super exciting track for longtime EXO fans. I still feel like a relatively new fan, and this ended up being arguably my favorite track of the week. There's not a single aspect of this one that I don't love. It's dope af. Don't sleep on it.
---
This week was pretty good for music releases. As far as my personal life goes, it was horrible. I feel like shit. The music helped though. I wasn't even planning on getting this up today, but doing this has been a good way for me to distract myself from my deteriorating mental health. Don't worry though, I'll be fine. I'm used to this kinda thing. Anyway, let me know what your favorite songs from this week were. If a single dropped this week and I didn't mention it here, I either didn't hear it, or I just didn't like it enough to highlight it.