Once again, I started writing this a little late, so forgive me if I miss a few singles here and there. I've said it a lot recently, but I can't stress this enough; I'm busy as fuck.
Sunday, September 6th
Ode to Camp Lo by
Griff/Scorcese
featuring
Alaska
&
DJ Chong Wizard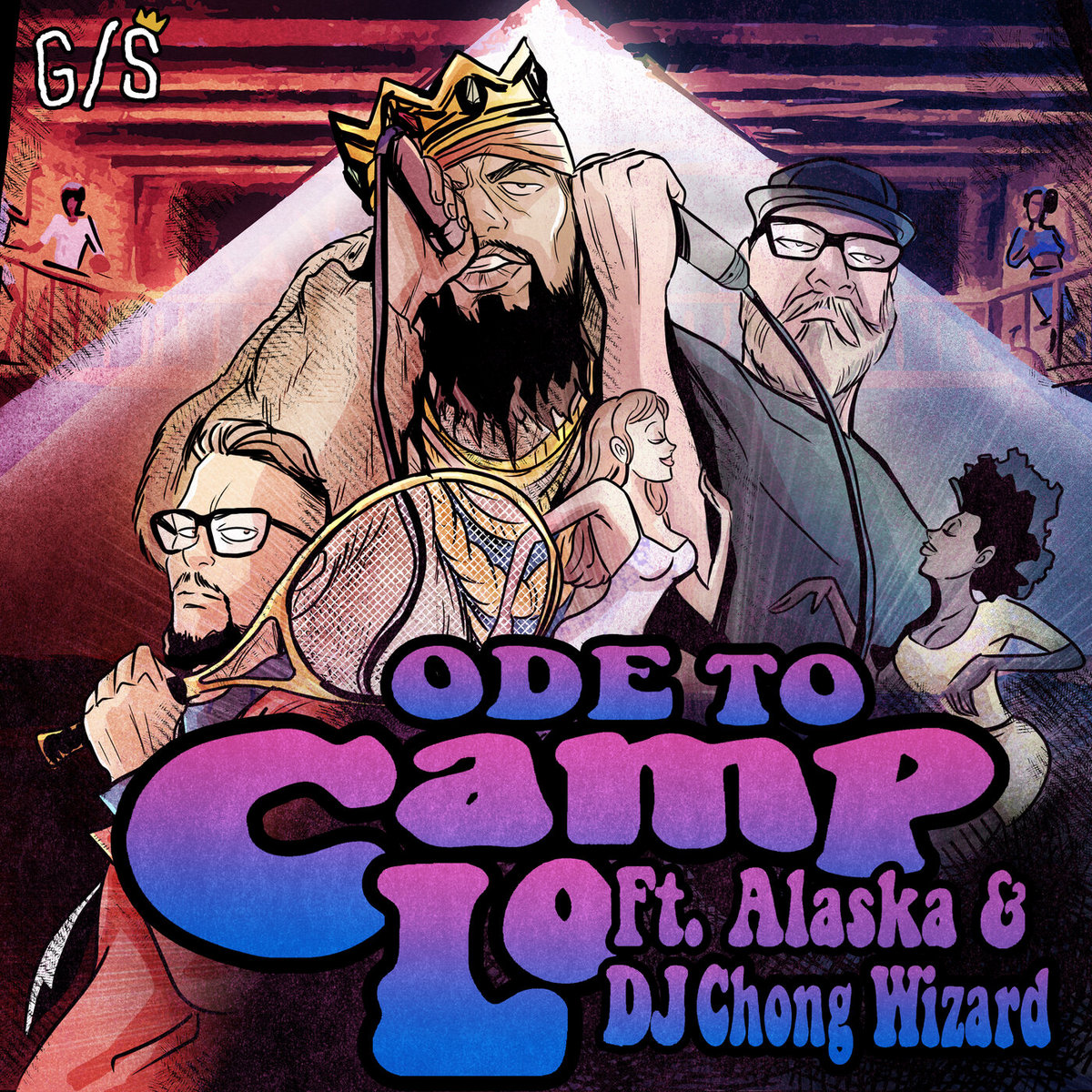 This track actually dropped last week, but I didn't end up hearing it until this week, which is why I'm covering it late. Anyway, I think this shit is fucking awesome. This might actually be my favorite song that I've ever heard from Scorcese. First of all, this beat is amazing. I love how fucking weird it is. The way Scorcese was flowing over it was really nice too.
We belong to Switzerland skiing slopes, sniper zero scopes
Flee the coast, handwritten notes, kids seein' ghosts
The Gucci suede, thirty shooters movin' with a Boosie fade
Maneuver K's like Super Dave, Palm Springs we drink for days
We came for Lay's, Doritos, extra green in our mojitos
We heroes for hire with a fist like iron
The poor we treat like China, the fools we treat like virus
Our revival cause our rivals to despise us
He killed this shit. The record scratches and Camp Lo samples on the hook are of course much appreciated. Fun fact: Luchini is one of the first Hip Hop songs I ever heard. As anyone could've guessed, Alaska absolutely murdered this track.
Base in your face, gotta taste for that Ricki Lake
Average white girls, now your mouth's numb from lickin' flakes
Red sickle takes, free the tea leaves, T.D. Jakes
Me, I'm sellin' CDs and blend tapes for Ben Franks
I think I misquoted the third line in that excerpt, but it is what it is. I tried my best. Fuck it. Anyway, the way they were trading quatrains for that final verse was awesome. Again, this is one of my favorite songs Scorcese has ever done. I think this shit is dope af.
TEN DEMANDS by
AWKWORD
featuring
Jesse Jett
produced by
Jesse Jett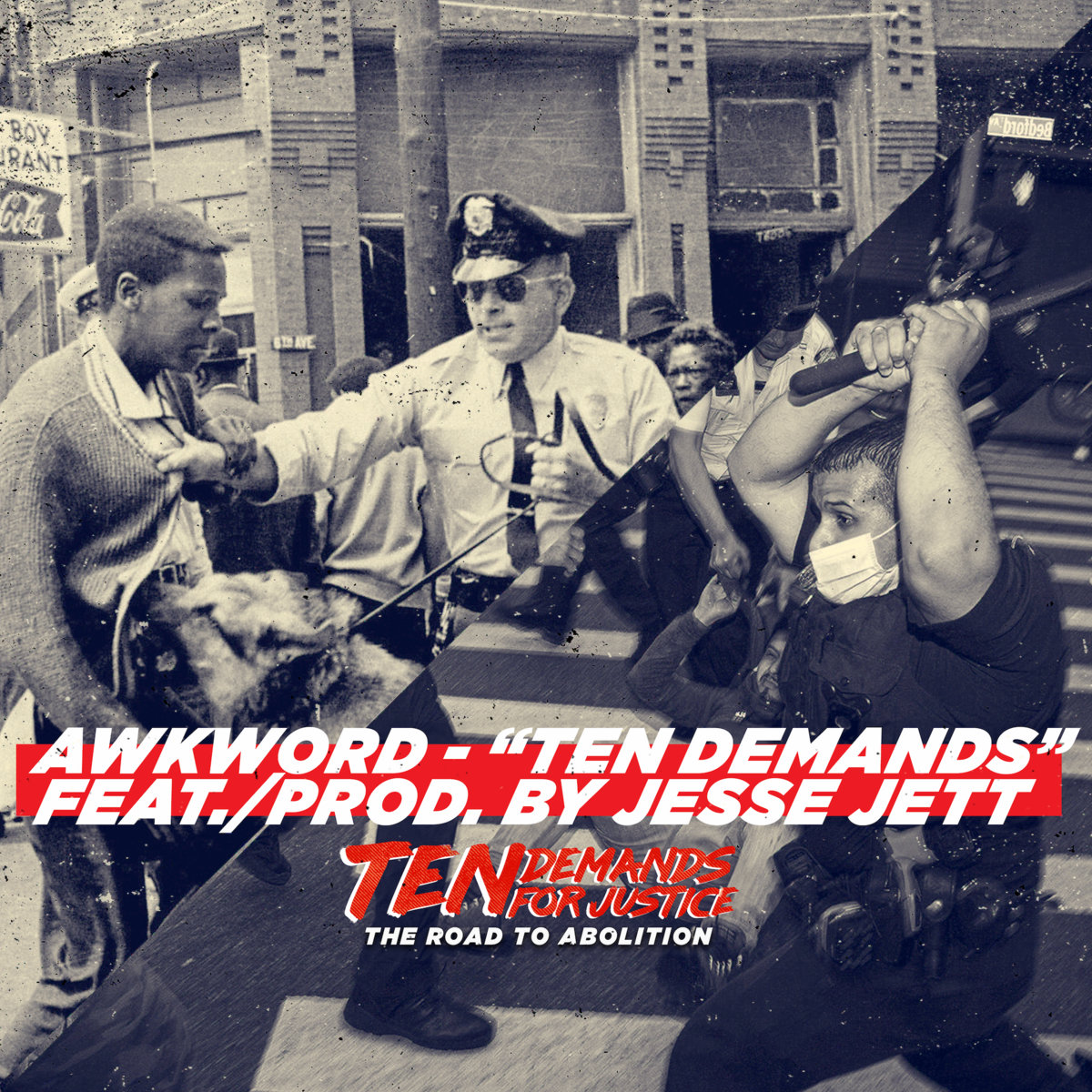 AWKWORD has been teasing this song for probably over a month at this point. It's basically the theme song that goes along with the Ten Demands for Justice. I think this was actually my first time hearing a song from AWKWORD. I've been meaning to check out his monumental World View album from 2014, but it's kind of a daunting record, and I've stayed busy all year. This shit is hard though. Right off the bat, AWK starts things off with exactly the kind of energy we need right now.
Every city, every town, burn the precinct to the ground
This is the first line of the first verse, so I immediately knew I was gonna fuck with this one.
They imputed crime to color, collapse communities for profit
Stop and frisk on body cams, reform's not for stopping it
But rather rendering a system even more permanent
So the rich rely on cops, and the cops do the murdering
The media reports to ensure the social scare
So everyone fears a world if cops weren't there
Statistics show cops are trained for collecting collars
And punitive systems produce recidivists and dollars
The sung hook from Jesse Jett is pretty good too. I've been following him on Twitter for maybe a week or two. Or probably longer. I actually have no idea how long I've been following him to be honest. It don't matter though. The point is, even though I've been following him for a while, this is my first time actually hearing any of his work. He did a good job here though. His production here is nice too. It kinda reminds me of that song Nobody's Listening by Linkin Park. Anyway, I really like AWKWORD's voice and delivery on this track. He sounds really angry and aggressive, yet calm and composed at the same time. The second verse is only about 8 bars long, but it's pretty dope. In the third verse, AWK focuses more on the actual goals and vision of the Ten Demands as opposed to highlighting the current issues from which they arose.
Cops don't stop crime, so we're placing peace keepers
Training counselors, mediators and teachers
Freeing protesters, political leaders
And blasting revolutionary rap from the speakers
We getting reparations & apologies
For past and current crimes, damaged psychologies
The war on drugs is over, watch the drop in all the robberies
Close the jails and prisons, equalized economy
Out of everything that's happened involving police over the past year, it seems like this Ten Demands for Justice movement is the most well-structured and organized agenda being pushed. I of course stand with everything they're fighting for, and I fuck with this song they have to go along with it now. This shit is dope. Don't sleep on it.
Tuesday, September 8th
Bacon & Eggs by
Verbal Kent
featuring
Chris Orrick
produced by
The Other Guys
This is the first single from Verbal Kent's upcoming collaborative album with The Other Guys, which is scheduled for release on October 9th. I first became familiar with Verbal Kent when he was working with Chris Orrick and Apollo Brown as the Ugly Heroes. I hadn't heard any of his solo work until recently when I was familiarizing myself with his work before checking out Dueling Experts. The Other Guys are a production duo that I always associated with Tanya Morgan for whatever reason, but I don't think they actually ever worked with them. I checked my iTunes library and most of the work I've heard from them was with Substantial. That seasonal analog series they've been doing for the past couple years has been really dope too though. Check out Winter in Analog if you have some time on your hands. That's my favorite one so far. I haven't heard the second Summer one or the Spring one yet though, so maybe those are even better. Anyway, I actually think Verbal Kent sounds much more suitable for this production style. He sounded slightly awkward to me over Lord Beatjitzu's instrumentals to be honest. I think he killed this shit though.
Listeners listen insistin' I insist I instigate
I'll punch a hater in his face, the instagram might dissipate
Opportunity knocks, the look in his face like "who did he box?"
Made an example of the dude, then he dropped
Chris Orrick's performance on the second verse was pretty dope as well. I usually like him more than Kent, but I actually don't know whose verse I prefer on this track. They both did their thing. The song is dope. Check it out.
Face the Serpent by
K-Beta
produced by
DJ J-Scrilla
I believe this is the third single from the upcoming collaborative album from K-Beta & DJ J-Scrilla, which is slated to drop on October 30th. I unfortunately missed the second single, Beta Blockers, when it dropped, but I can confirm that that shit is fire. Anyway, this is actually my favorite single so far. First of all, the content really had me hooked. Usually when I watch a reality TV show about someone's struggles with addiction I can't look because it makes me too uncomfortable, but I absolutely love when artists make music about it. It's easier for me to hear about it than to actually see it. Especially if they're talking about heroin. I can't watch someone put a needle in their wrist. That shit makes my skin crawl. Songs about that kinda shit always have me hooked though.
I was selfish, pretended I was helpless, stumblin' drunk
No surprise I fell in a ditch
Sellin' wolf tickets for no money back and I'm
Now surrounded by a whole hungry pack of 'em
Used to be a apex predator, my vision was all range
Then I hit that rock, my position on the chain
Became that of a scavenger, not a leader
But a bottom-feeder schemin' and chasin' after the habit
Look at me now, put me down, it's so easy
With my teeth so rotten & my skin so greasy
My will to live killed and flipped over
Belly up; in the river of regret, I'm a floater
The way he had that animal kingdom scheme going throughout the whole song was really dope. Also, DJ J-Scrilla's production on this track is actually insane. Particularly during the break between the two verses. Everyone involved in this track did a fantastic job, and this is easily one of my favorite tracks of the week. Don't sleep on this one. It's dope af.
Praise the Lord by
Agallah
&
Sadat X
featuring
Greg Nice
produced by
Agallah
This is the first single from the upcoming collaborative album by Agallah & Sadat X, The Gods Have Arrived. To be honest, I think this is my first time ever hearing Agallah rap. Unless I'm forgetting something, I only knew him as a producer before hearing this track. I think he sounded pretty dope here though. It was dope. The hook from Greg Nice is nothing special, but it serves its purpose well enough. Sadat X sounds old as hell on this track, but not really in a bad way. He actually kinda sounds like Scarface to me now that I think about it. Anyway, I really liked how he went in about his confusion with white Jesus as a child.
I couldn't understand
Why this man didn't have a tan
Hair of wool, but on the picture gotta perm
The god never drank this germ
I studied lessons, actual facts that shows and prove
My grandma said "blasphemy!"
The preacher in the church, he asked for me
You got these people's heads in the sky, hand in they pocket
Gold chain and a plane, you wanna rock it
He said "you god, make it rain"
I said "I know and understand as the original man"
He actually sounds like Scarface mixed with Bill Cosby to be honest. He sounds old as shit. I liked his verse though. Clearly it's not the most technically sound performance, but I felt what he was saying despite my own religious beliefs, or lack thereof. The production here was really dope to me at first, but I kinda wish it was less repetitive. It's pretty much just the same loop repeating throughout the entire track with little to no variation. It's still a good beat though. I like it. The full album is scheduled for release on September 25th, so keep an eye out for that.
Trauma by
Homeboy Sandman
produced by
Quelle Chris
This is the best song of the week. Homeboy Sandman is one of those artists who I am trying to sneak into my current top 10 favorite rappers list. I just have no idea who he should replace. Maybe Jay Electronica. Obviously I'm a humongous fan of Jay Elec, but it gets harder and harder every day to justify his placement in that list. If he put music out more consistently I'd be more confident about it, but I can't even pretend I don't understand why people do a double take when they see his name in that list. I'll have to give this some more thought, but that's neither here nor there. Anyway, if you suffer from PTSD and have done any kind of reflection on what's happened to you, I think you'll understand why this song resonates with me so much. The way Homeboy Sandman kinda ruminates on how certain traumatic events threw off the entire trajectory of his personality and life really cut deep for me because I thought I was the only person who felt that way.
I used to think about it, didn't make me feel nothing
Acting like it mattered didn't make me feel tough and
Feeling tough was really like my number one focus
From growing up in a city lots of people feel hopeless
And listening to music about sex and violence
Just a matter of time 'fore we was like "let's try this"
Started having sex when I was 12 years old
My brain wasn't even done growing
Coming from a mom that used to wild and bug
'Fore I was a teen I really needed that love
2 years later she would dump me for a senior
Solidifying my misogynist demeanor
Hearts that young aren't meant to be broken
Later on I'd get into incessant weed smoking
Now at 39 I still be wishing and hoping
Somehow we wind up together; I am not joking
Jeeeeeezus, man. That shit cuts deep. Y'all should've seen my face the first time I heard this shit. This song is some heavy. ass. SHIT. Rappers rarely rap about this kinda shit, so to finally hear someone say something like this makes me feel less alone.
No wonder my relationships with women always fail
What's crazy is I'm lucky 'cause at least I'm not in jail
Compared to everybody else, I had it so easy
Got family that was touched up by uncles that's so sleazy
Won't put they business in the street 'cause they know who they are
The question I have trouble answering is who am I?
For almost 40 years I was afraid to even ask
My father always taught me men are not supposed to cry
Dog. The pain. I feel it. This shit is so needed. I fucking love it. This is easily one of the best songs I've heard all year, and I'm absolutely psyched for the full album, which is scheduled for release on October 16th. It's called Don't Feed the Monster, and it's looking like it's gonna be a very dark, emotional record, so I can't wait for that shit.
It turned out that the only way that I could ever heal
Is start to work through all the trauma I had kept concealed
It hasn't happened overnight
I know that it might take a while
May even take a life
But one way or another I just gotta make it right… Right?
If you sleep on this track you're fucking up. This shit is amazing. Do not miss this one. Seriously. It's dope af.
Wednesday, September 9th
The Gates by
Aesop Rock
Aesop Rock is one of my favorite rappers of all time, so I was really excited when he announced his next album, Spirit World Field Guide, along with this single. I'm not really sure if I should cover it though. I'm technically not even supposed to be writing about this song due to the Rhymesayers boycott. Let me know what you think I should do. I didn't cover that Freedom Finger soundtrack that he dropped earlier this year just because it didn't seem like a major release, but I did listen to it. It was dope. This next album is over twenty fucking songs though. I'll definitely listen, but I already feel bad for not committing to this Rhymesayers boycott. Fuck it. Whatever happens happens. Anyway, this shit is dope. I wouldn't say it blew me away as much as I wanted it to, but I definitely fuck with it. I think the production is cool, although it did start to get a little stale by the time the song was over. I was mainly impressed by the way it built up during the hook, but overall it's definitely not one of my favorite beats from him. It sounds like it would've fit in snugly with the rest of that Freedom Finger project to be honest. At least in terms of the production. Aes' actually rapping is of course what sold me on this track. As always, he was rhyming his motherfucking ass off. As far as the content goes, he seems to be describing the "Spirit World" which the album is named after. I'm personally not into the Fantasy genre when it comes to storytelling at all, but I can definitely tolerate it in a Hip Hop song. I think this is really dope.
I know a rodeo from these pony shows
I don't stay for tea, I can't slow the code
I go coyote, alone & ghost
I'm in the goddamn smoke, ear, nose, and throat
The hook is nothing special, but, like I said, I like the way the production develops during this section of the track. The second verse is even better than the first one in my opinion. That part about him writing lyrics on whatever he can was awesome.
I write cryptograms at all waking hours
I tattoo the mail and all paper towels
I'm on the kitchen walls, I may paint the house
It could breach the yard, it's omega-bound
I think the song is really awesome lyrically. Again, the production wasn't amazing to me, but it was cool. It definitely wasn't bad. Overall, the song is super dope to me, and I'm looking forward to the full project.
Thursday, September 10th
Trappin' Out the Hyatt by
Grafh
featuring
Smoke DZA
&
ElCamino
produced by
Rain 910
This is the third and final single from Grafh's upcoming album, Good Energy, which is supposed to drop on the 18th of this month. I think I dug both of the first couple singles, but this is probably my favorite so far. Believe it or not, the most exciting aspect of this track to me was the placement from Rain 910. I actually really wish he had a verse because that dude is a really dope rapper. He had my favorite song on that first Army of Trust album. His production here is pretty good, although it's not anything you won't get from any other street rapper these days. Grafh is an undeniably skilled MC, but some of his bars just seem really immature to me.
Nigga your gangsta just ain't believable
And your wifey's vagina just ain't Febreezable
It ain't feasible to pull up if it ain't your vehicle
Take the scenic route, the things I seen and do just ain't repeatable, my nigga
Whip game magic, I make a movie
I just took the white in the cut, and I made a smoothie
I just took the wife that you love and I made a groupie
I'm MacGyver, take the pipe out the oven and make a uzi
To be fair, this lyricism isn't any less mature than the average rapper, so I guess it's unfair for me to get on his case about that. His verse is dope. He actually kinda killed it honestly. Forget what I said about him being immature. I was hatin'. He did his thing. The sung hook from ElCamino is nothing special, but it works. Smoke DZA's verse was cool, but it was nowhere near as great as that of Grafh. I still enjoyed it though. ElCamino thankfully had a really great verse at the end. Sometimes he doesn't rap as well as I expect him to, but he did a nice job here.
Cocaine sellin' like food, we on a mean run
Every time we look up the street, here a fiend come
Every time I look at my phone somebody need sumn
Niggas was tryna take over, we had to bleed sumn
I always knew I'd be rich 'cause I don't need nothin'
That same block where I pitched, I had a mean hustle
The only time I would leave was when I had to eat sumn
Shit, even then I was still across the street hustlin'
I'd say overall Grafh had my favorite verse, but ElCamino came close. Smoke DZA did his thing too. This shit is hard. Check it out and let me know what you think.
Roof Off by
Thurz
produced by
D.K. the Punisher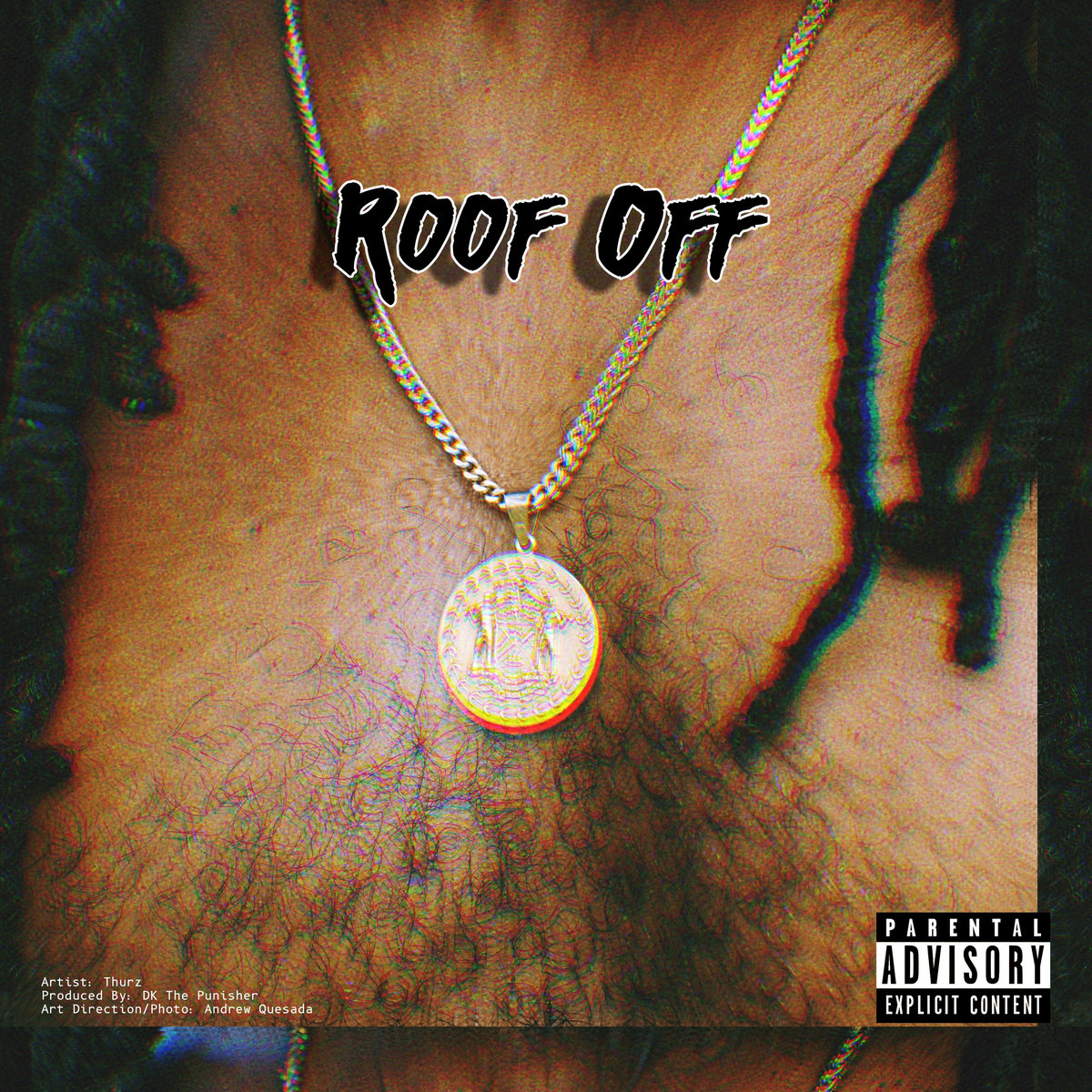 I feel like I've been saying "this is one of my favorite songs from Thurz in a while" every week for the past few months. I really like this one though. It's a slower burn than most of the other tracks he's done lately, so it was kinda nice to get that variation. I love the melodic, downtempo production from D.K. the Punisher. It actually sounds like something Lil Nas X would hop on to be honest. It has that kinda Western aesthetic. It also kinda reminds me of Kendrick Lamar's How Much a Dollar Cost? It's an amazing beat honestly. I love it. I don't know if I just haven't been paying attention, but it feels like Thurz has been putting more Caribbean influence in his work lately. He raps certain parts of this song with a far more believable version of the patois that Drake tried to appropriate a few years ago. He sounds perfect over this beat. The way he transitions from the aforementioned Caribbean accent to his more traditional rapping style makes for a really cool switch up. It almost sounds like two different people on the song.
I been vegan since I felt heavy breathin'
And saw the meatloaf just leakin'
Up out his stomach, soul leavin'
He caught a shot to that belly
I heard track 2 Makaveli
And heard them IROK tires burnin rubber, the time heavy
Cold like the snot in up your nose, need a Netty
The hook here is pretty catchy too, despite its simplicity. The second verse is even more enjoyable to me than the first one.
Walkin' through the journey made me pacifist
Passive shit except when I'm too passionate
Taste of vengeance is on my pallet
Far from a gangbanger, I'm pro-black
And you anti-that if you thinkin' to attack
Overall, I think the song is dope as hell. Don't sleep on this one.
SHINY THINGS by
brainorchestra.
This is a really nice, laidback instrumental track from brainorchestra., who I first became familiar with due to his appearance on the latest full length album from Elaquent. He recently put out an instrumental EP called The Wizard's Scroll, which I'll hopefully be covering sooner rather than later. Anyway, as you all know by now, I'm not that great at breaking down production, so I don't have too much to say. I just think this beat is really good. The title is very fitting too. The instrumental sounds very pretty, and relaxing. The image that he chose for this song fits well too. I feel like this would be a great song to have on while I'm just chilling and shmoking weed. It's really dope. Check it out.
Friday, September 11th
Opera Show by
Planet Asia
&
A-Plus tha Kid
featuring
Che` Noir
produced by
38 Spesh
This is the first single from Planet Asia & A-Plus tha Kid's upcoming collaborative project, which is scheduled for release on October 16th. I actually don't think I'd ever heard any of A-Plus tha Kid's music before hearing this song. I don't even think I heard any features from him unless I'm forgetting something. I actually really liked his performance here though. Planet Asia handles the first verse and of course does a great job, as always.
The other side look hella good, my district burnt
Right there the quinoa was ready, and the fish was turnt
Six minutes into smackin' his arm
What happened? Autobots decepticons transform
Wave runner, these be the grounds that you caged under
Desert storm camouflage beige hummers
Che` Noir comes in right behind him and does her thing. I was honestly disappointed in her album with Apollo Brown, but she wasn't bad at all. She did a nice job here. I was very impressed by the final verse from A-Plus tha Kid though. His flow was super smooth.
I been mindin' my own, tryna live long
Lookin' back over my past and shit I did wrong
Pushin' crack, hustlin' bags, I was a kid grown
In high school, come get your 20 sack of mid on
I liked school, but I was hardly ever there though
How could I learn? Textbooks wasn't my concern
Money to earn, didn't stop 'til we hit the top
Hundreds to burn, now they seein' that it's our turn
Overall, I think it's a very good song. Everything is super traditional, and nothing about the song in particular really blows me away, but I don't have any real complaints. This shit is dope.
Honor & Glory by
Street Justice
featuring
38 Spesh
produced by
38 Spesh
This is the first single from Street Justice's upcoming project, Community Service, which is entirely produced by 38 Spesh. Street Justice is one of the members of the Trust Army that I'm not super familiar with, but I usually really enjoy him on features. He killed this shit too.
I congregate like an Amish preacher
Without an artist's feature
I concentrate like a college speaker

Avoiding snakes and the bottom feeders
Who playin' follow leader?
I'm here for change like a parking meter

They showin' hate, so they heart is weaker
And make it hard to reach 'em
I motivate like I'm Condoleezza
It would've been cool if he switched up his flow at least once, but I don't mind too much. He was spittin'. I've never been too crazy about 38 Spesh's production. This beat in particular is nothing special, but it is definitely sufficient. That's pretty much how I feel about the overwhelming majority of his beats. His verse on this song was great though.
This is me, take it or leave it
As you can see, play in the cement affected my way of thinkin'
You could brag 'bout your chains swingin'
'Cause I help take chains off of niggas like Abe Lincoln
And they wonder why we ain't speakin'
When I fell, they up and left, I wanted the same treatment
Heard your response, became speechless
I could tell from your views we ain't schooled from the same teachings
Street Justice's sung hook on this track is kinda terrible to be honest, but it's not bad enough to ruin the song. I think this is pretty good.
Stash Box by
38 Spesh
featuring
Benny the Butcher
produced by
38 Spesh
This is the first single from 38 Spesh's upcoming solo album, Interstate 38, which is slated for release on October 30th. I'm not really crazy about his production on this one, but I will say that it's not the weakest beat from him that I've written about this week. As always, his actual rapping is pretty great.
It broke my heart when they killed Moran
I can't believe the DA mentioned my name when his girl was on the stand
Understand that's my lil man
They found the niggas that did it, I pray they all get killed in the can
I actually think Benny sounds fantastic over this beat to be honest. He killed this shit. I feel like in the past I've been more impressed by 38 Spesh as a rapper, but I think Benny got 'em on this one.
In camo print, in my head I'm hearin' piano riffs
Rambo clip, in the hood with the door of the lambo flipped
And any beat I tamper with, I trampled it
Niggas know it ain't no stamp on it 'less the champ on it
That was probably my favorite quatrain on the whole song to be honest. He was rhymin' his balls off here. The song is really dope. I don't know if I'm gonna be covering the whole project, but this is definitely a promising first taste. Check it out and let me know what you think.
Light One Write One by
Elzhi
produced by
JR Swiftz
This is the second single from Elzhi's upcoming album, Seven Times Down Eight Times Up, which is entirely produced by JR Swiftz and scheduled for release on September 25th. I loved the very first single, which dropped last week. I'm not as head over heels in love with this one personally, but it's still very good. JR Swiftz's production here is really dope, and of course Elzhi's rhymes were top notch.
Them other niggas good, but let's be real
My cup runneth over, they need fresh refills
They probably got 'em from the fast food spots that make you obese
In the hood, are those the only places we could go feast?
If so, I wonder if it's more to it
Since every corner got a liquor store with crooked police
That's where you in a stolen car and not a car with no lease
And you got drugs inside a stash box along with yo' piece
The hook is pretty straightforward, but I think it serves its purpose well. The song doesn't have a super interesting concept or anything. It's just a laidback, somewhat jubilant sounding instrumental laced with some superb lyricism from one of the best writers in the industry. The song is dope as hell. Don't sleep on this.
---
This was another pretty good week for music in my opinion. The average number of songs in each one of these posts that I do seems to be 14, and that's exactly how many tracks I included here, so that's a good sign I guess. Let me know what you've been fucking with this week, as well as how you feel about these ones I mentioned. As always, if something dropped and I didn't mention it here, I either didn't like it that much, or I just didn't hear it.