This album was released on February 21st this year. Elaquent is a producer who I first became familiar with last year when he released Blessing in Disguise with my favorite record label, Mello Music Group. It was mostly an instrumental project, with a few features peppered in here and there. The formula was flipped for this new project though. Now there are only a handful of solo, instrumental tracks. I've heard about three of the songs already since they were released as singles, and I've enjoyed everything I've heard, so I think I'm gonna really like this album. This should go without saying, but every song is produced by Elaquent.
---
1. Forever (Intro)
This is just a quick instrumental intro, and it's pretty nice, but since there's not much going on I don't have a lot to say about it. I'm not good at identifying instruments, but I think that's a saxophone. I don't know for sure. There's also some piano in there. It's a pretty unassuming track on its own, but I think it leads into the following song very well.
2. Guidelines featuring 
Oddisee
One benefit of doing those "Best Singles of the Week" posts is that I can just be lazy and transcribe my original thoughts, so that's exactly what I'm gonna do here. Don't like it? Too bad. Eat a dick.
This track was released alongside an announcement of an upcoming album from Elaquent, which is expected to drop on February 21st. Elaquent's last album, Blessing in Disguise, released at the very beginning of last year if I remember correctly. I thought it was pretty great, but there was only one song on it that I really loved, and it was the one with Croup, so I was pleased to see that this upcoming project will be full of collaborations. Not that I don't like Elaquent's instrumentals. I think he's a good producer. I just wasn't head over heels about the instrumental tracks on that particular project. This first taste of the next album is really great though. Oddisee fits perfectly over this beat. The shit is smooth as hell, and the melodic hook is fantastic. This is definitely one of the best tracks to release this week. Maybe Elaquent & Oddisee should do more work with each other in the future because this is really a perfect marriage. Check it out.
3. Airwalk featuring 
Chester Watson
I apologize for telling you to eat a dick. I've been busy though, so it saves a lot of time when I don't have to write new shit about every single track, especially when my opinion hasn't really changed at all.
This is probably the last single we're gonna get from Elaquent's upcoming album, which is set to release on February 21st. I'd never heard of this Chester Watson dude before hearing this, but I honestly think this is the best single from the album so far. The jazzy production is fantastic, and this dude can rap his ass off. His super lowkey, monotone delivery fits over this beat perfectly. It's almost weird how monotone he sounds though. I can't tell if he's really tired or stoned, or if he just really sounds like that all the time. It's dope though. If the beat wasn't so good it'd probably make the song boring, but I think it complements his verse really well. This shit is fire. Check it out.
4. Social Experiment
This is an instrumental track, and I actually love it. I don't know why I feel like I'm enjoying this so much more than anything from Elaquent's previous album. It's a really smooth, relaxing, jazzy beat. The piano is my favorite part, but the synth sounds really good too. I'm kinda glad he left this as an instrumental. I'm not really sure who I'd get to perform over this, but I love it as it is. This shit is dope as hell.
5. Thread Count featuring 
Guilty Simpson
I've personally never really been much of a Guilty Simpson fan, but I think he's pretty okay in general. I love the instrumental on this track; the horns are just super catchy. This song was previewed in the trailer for the album, and the beat was stuck in my head for hours after I watched it. Nothing about Guilty Simpson's performance really did much for me, but I think he flowed decently enough. I don't think he was bad at all. I had the involuntary head nod throughout the entire song, but I think it had more to do with the production than anything. With that said, I think Guilty Simpson was fine here, and I didn't mind him at all. This track is dope to me.
6. Chase the Light featuring 
Cavalier
Cavalier is an artist who I've only heard on features before in the past, but I typically like him. I love this instrumental; it sounds a bit more spacey than any of the preceding beats to me. I don't know if "spacey" is the right word, but it has the kind of aesthetic that I typically associate with artists like FlyLo. It kinda reminds me of Orbit Brazil, which is one of my favorite FlyLo songs. The first verse from Cavalier is really nice, and I like his hook too. The second verse is even better than the first one in my opinion. I'm still mostly impressed by the actual production, but Cavalier did a really good job here. This is dope as hell.
7. One Week by 
A L L I E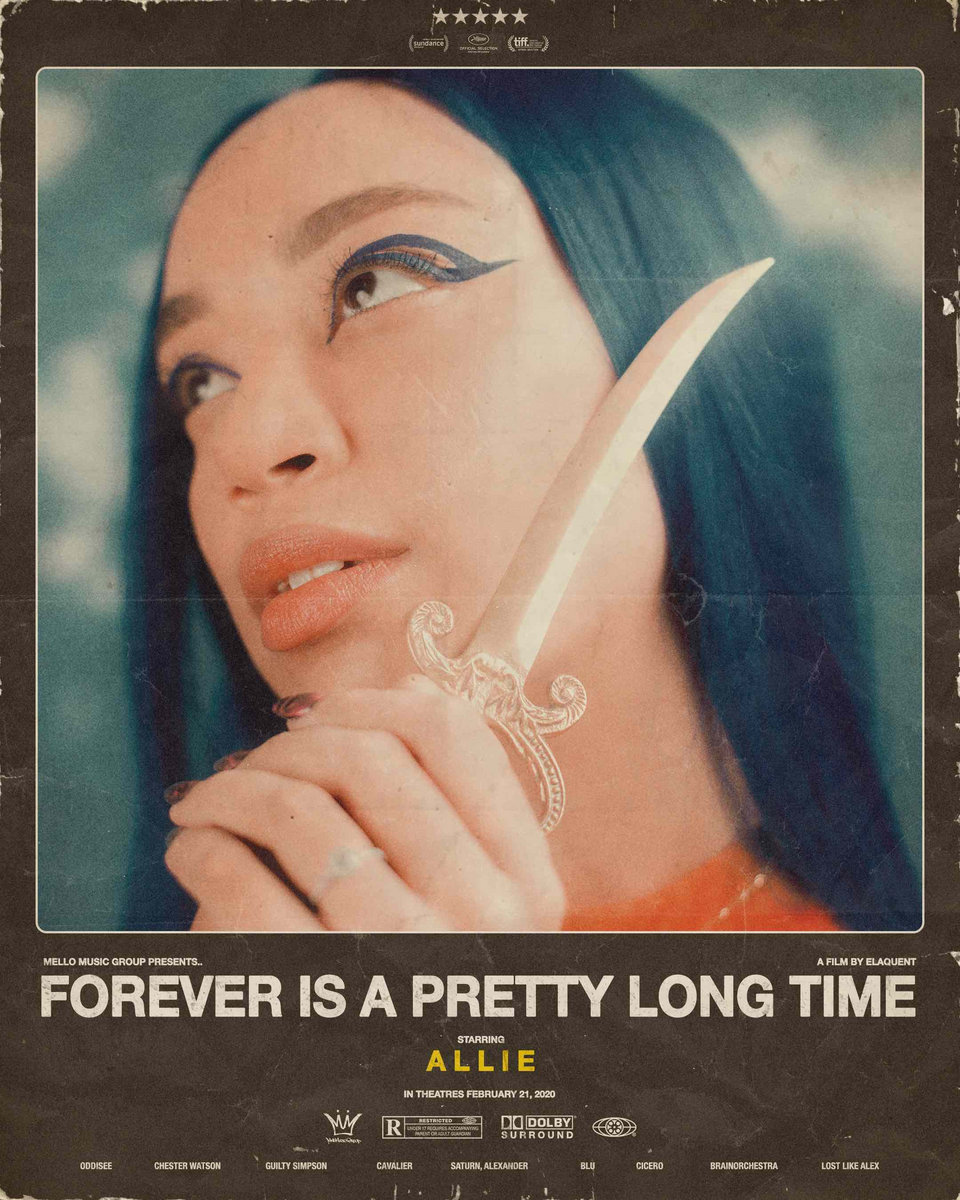 I really enjoyed the first single that Elaquent dropped with Oddisee in the second week of 2020, but I think this new one is even better. I'd never heard of this A L L I E vocalist before checking the song out, but she thankfully ended up really impressing me. The instrumental from Elaquent is Sade levels of smooth, and A L L I E fits over it like a glove. I really don't have any gripes with the song at all. It's genuinely one of the best R&B songs I've heard this year. To be fair, I obviously haven't heard as much R&B & Soul as Hip Hop so far, but still. This shit is fire. Do not sleep on it.
8. Jollof
This is another really fantastic instrumental track. It actually sounds pretty different from most of the other beats. It reminds me of Logic's 'Til the End. That's not a diss by the way; that song came out back when Logic was still a really good and promising artist. This is probably super inaccurate and maybe a little offensive, but it sounds like it takes influence from an indigenous tribe of some sort. I have no idea what the fuck I'm talking about though. The percussion and vocal sample sounds really fantastic here. This is definitely a highlight on the album for me; I actually like it more than a lot of the songs that have featured vocalists. This song is dope as hell.
9. Annoyed featuring 
Saturn, Alexander
Saturn, Alexander is an artist whose name I've seen on Twitter a lot in the past, but I've never actually heard any of her music. I'm pretty sure Big Sto is a big fan though. I kinda see why after hearing this. She has a really great voice and flow. I think she sounds great here. The first verse is dope as hell. This isn't my favorite beat on the project, but I don't think it's bad at all. It reminds me of something that Mick Jenkins would rap over. It also reminds me of KAYTRANADA. I unfortunately don't really care for the simplistic, repetitive hook on this song at all, but it's not bad enough to really tarnish the track that much for me. The second verse was pretty solid. I mainly like this because of her flow and delivery, but the production is cool too. This isn't one of my favorites, but I'm definitely gonna keep an eye on Saturn, Alexander. This shit is dope.
10. Reminisce featuring 
Blu

&

Cicero
I'm a big fan of Blu, so this was actually my most anticipated song from the album. I'm kinda mad at myself for not reviewing that album he did with Damu the Fudgemonk last year. That was one of my favorite projects of 2019. I don't think I'd heard any of Cicero's music before listening to this album, but the name did look familiar to me. Her vocals sound pretty solid to me on the intro of the song though. The verse from Blu is cool, but I have to admit that I was a bit underwhelmed. I've always really liked his voice even though it's objectively a little nondescript, and I think he sounds really good over this beat. I just don't think his writing is that great here, and his flow was nothing special. That's not to say that his lyricism is trash here or anything. It just didn't stand out to me that much. Honestly, this is easily my least favorite track on the album. I definitely enjoyed it to some extent, but I was hoping that Blu would have one more verse, and I wasn't super impressed by the vocals from Cicero. Everything here is good enough for the song to avoid being deleted from my library, but I can't say that I truly love anything about it. It's still pretty good to me though.
11. Lottery Check featuring 
brainorchestra
brainorchestra is one of the few artists involved in this album with whom I was completely unfamiliar prior to listening. Elaquent's production style typically reminds me of J Dilla, but this song sounds a lot more West Coast. brainorchestra actually turned out to be a really dope rapper. The beat here was a little underwhelming to me at first, but the way it builds up as the song progresses is really fucking dope. I think brainorchestra's performance was pretty nice here too. Overall, the song isn't really a highlight for me on this album, but it's definitely not a dud either. I enjoyed it quite a bit. This is a dope song.
12. Time featuring 
Lost Like Alex
Lost Like Alex is another artist I'd never heard of prior to listening to this album. I really need to look into his work though because I love his performance on this song. Everything about his feature here is really impressive to me. I love his voice, and his flow, delivery, and lyricism are all on point in my opinion. Out of all the new artists I discovered from this album, he's definitely my favorite. I love the kind of dark, jazzy, low-key instrumental on this song too. Aside from the intro, this is the shortest song on the album, but it's actually my favorite track despite the abrupt ending. This shit is dope af.
13. Vices
As much as I loved Jollof, I think this is my favorite instrumental track on the whole album. I love how smooth and jazzy the piano-driven production is. This sounds like the kinda shit I'd hear playing in the background at a super fancy restaurant. The piano is my favorite instrument, and this is exactly why. I love how calming it sounds. Shit like this makes me wish I never stopped taking piano lessons. I need to start learning that shit again. Anyway, this shit is dope af, and easily one of my favorite songs on the album.
---
I loved all the singles I heard from this album, but it actually ended up being better than I was expecting. I think the production is really great across the board. None of the featured artists really bring any super emotionally potent or thought provoking content, but I wasn't expecting that kinda thing anyway. It's just a really fun, chill project. I will say that I think I was more pleased by the production in general, but this project introduced me to some really cool artists that I'll be keeping an eye on in the future. I'm wondering if Elaquent will be releasing the instrumentals for these songs at some point. I'd understand if he chose not to though. This is the kinda shit that my mom would play in the kitchen while making dinner. She would refer to this as "cool vibes." This shit is really good. Don't sleep on it. It's dope.
Favorite Song: Time
Least Favorite Song: Reminisce
88