First thing's first, rest in peace to Fred the Godson. I wasn't ever really a huge fan of him, but I was really caught off guard and shocked by his death this past week. It's a really sad situation. My condolences to his family and friends. To anyone reading this, please stay the fuck in your house and wash your nasty ass hands. Also, please do not shoot up lysol. That's not a good idea. I don't, uh… I don't think that'll go well. Let me know how it turns out if you do try it though. If you actually do that, I won't feel bad for you because you're a fucking idiot.
Monday, April 20th
OUTSIDE by 
Dumbfoundead
featuring 
Satica
produced by 
Big Banana
If I'm not mistaken, this is Dumbfoundead's first release since CAFE BLEU, which came out towards the end of 2018. The production here kinda has the same atmosphere as most of that project, which I really enjoyed. It's very chill, melodic, and kinda jazzy. I guess this song was written in the past few weeks because it contains a shit ton of references to the current pandemic that we're all enduring.
The homie said, "chill, there's plenty fish to fry"
Like self-quarantining, keep the feelings inside
But look at 2020, this could be the end of times
Like the Charmin off the shelves, I'ma let my feelings fly
All of the verses are super well written, and Satica's vocals on the hook are really nice too. It's basically a quarantine-themed love song. Love songs are really hit or miss for me personally, but I thankfully ended up enjoying this one. I think it's great. Check it out.
Dangerookipawaa Freestyle by 
Ab-Soul
produced by 
Devin Williams
Ab-Soul hadn't released any solo material since 2016, so I was really excited when I saw that he dropped this song out of nowhere. This shit is fire too. First of all, the production from Devin Williams is glorious. This is a lot more soulful than most of what appeared on Do What Thou Wilt. Soulo's rapping on the first part of this song isn't amazing or anything, but he sounds pretty good, and I like the way he was flowing. He doesn't really go in until the beat switches up though. I feel like the first part of the song was him rapping off the dome, but he definitely wrote that second half.
I'm Dangeroo Kipawaa, refrain from gettin' involved
Or your safety's at stake for sure like a surf and turf you enjoy
Raw backwards on all of you rappers, you heard it before
The rawest rapper of the planet's name is Herbert IV
Sex, drugs, money, and mayhem, the workers of Satan
Still take 'em to church and say, "Amen," my words in a playpen
Ridiculous, the sickest with it, you just a common cold
So novice, I'm the post office pushin' the envelope
It's a really dope track. It's not the craziest verse I've ever heard or anything, but I definitely really enjoyed it, and I hope we don't have to wait too much longer to hear more from Soul in the future. This shit is dope.
All I Give Is Love by 
T.R.3
produced by 
hennyboy
Unless I'm missing something, I think T.R.3 is the only artist that I like who has come close to Thurz in terms of the quantity of music released in 2020. Right now those are the two artists vying for the M.V.P. title this year. This track in particular has a very soulful, almost Gospel-ish aesthetic to it. The production kinda sounds like something Chance the Rapper or Kanye West would use. I don't mean that as an insult. It's actually a good beat. The song feels very uplifting and inspirational. T.R.3's flow here is really nice, and I like the hook a lot too. It's a dope track. Check it out.
Keitel Sword by 
Kembe X
featuring 
ICECOLDBISHOP
produced by 
Wolf
One of my biggest regrets of 2019 was not covering Kembe X's album, I Was Depressed Until I Made This. That's one of my favorite albums of 2019, so I feel really bad for not writing about it, especially since it was such a huge leap in quality from his previous album, Talk Back. Kembe X has quietly become one of my favorite newer artists, so I was super excited when I saw this this track. Anyway, ICECOLDBISHOP is an artist I've heard of in the past, but I never got around to checking out his music. My friend Buffalo Staple told me that he thinks I'd really like him, so I was excited to see him here. The first verse is performed by Kembe X, and he fuckin' killed this shit. His flow was really awesome. I love how his cadence switches up when he says "plannin' on livin' forever." I don't know though… ICECOLDBISHOP kinda stole the show to be honest… That dude fuckin' spazzed, man. Well, honestly I can't really say he stole the show because they both slaughtered this shit. The energy ICECOLDBISHOP had was really overpowering though. I need to check that dude out. Make sure you don't sleep on this single because it's my favorite track that dropped on Monday, and easily one of the best of the week. Also listen to Kembe X's latest album if you haven't yet because that shit is amazing.
Tuesday, April 21st
Edamame by 
Zacari

 produced by 

J-Louis, Ransom

&

Aaron Bow

Zacari officially signed to Top Dawg Entertainment early last year, and subsequently released an incredibly underwhelming extended play called Run Wild Run Free. I think he's a good vocalist, but most of the music I've heard from him has just been really bland up to this point. I did enjoy this single in particular, but I can't say that I really love it. It honestly kinda just sounds like a reprise of LOVE. from Kendrick Lamar's latest album, except without Kendrick. I do like it though. The fluffy, dreamy production is nice, and I think Zacari's vocals sound pretty good. It's definitely not my favorite song of the week, but I enjoyed it enough to highlight it here. Check it out.
This Woman's Work by 
Zacari

 featuring 

Che Ecru

 produced by 

Mike Hector

&

Nikki3K

Again, I liked Edamame, but this song frankly blows it outta the water. It's much more interesting and sonically ambitious. Basically, if Edamame is romantic, this song is sexy. It really sounds like a Weeknd song though. That's the comparison that immediately came to mind, and when I scrolled to the comment section the very first thing I saw was someone saying that they wanted a Weeknd & Zacari collaboration. Just for the record, I think that'd be completely pointless. That'd be like if Future did a song with Desiigner. The similarity is really uncanny. If somebody told me this was a new single from The Weeknd, I most likely wouldn't question it. However, it should be noted that I haven't listened to the overwhelming majority of The Weeknd's music. The only full project that I've heard is that EP that he dropped in 2018. I tried listening to House of Balloons once, but it was so goddamn boring that I couldn't finish it. Anyway, I think the production on this track is really great, and I love Zacari's performance over it, especially when the guitar comes in during the hook. When he really reaches into that higher register with his vocals, it's really impressive. I think the track's dope as hell honestly, although I will say that I wasn't crazy about Che Ecru's contribution to the song. It's really good aside from that though. Check it out.
Wednesday, April 22nd
Why Worry by
Isaiah Rashad
produced by 
Crooklin

Isaiah Rashad has become one of the most popular members of Top Dawg Entertainment, and a lot of it has to do with how stingy he is with music. He only has one EP—although it is approximately the length of an album—and one full album. The EP, Cilvia Demo, was critically acclaimed, and I personally loved it. In fact, I'd say it's one of the best projects ever released by Top Dawg Entertainment. Unfortunately, the album that eventually followed was a huge drop in quality when it comes to the lyricism. I still enjoyed it to some extent when it it came out though because it was very good sonically. I was very disappointed, but I still think it's a good album. I feel the same way about this new song. The lyrics weren't particularly interesting to me, but I really like this track sonically. The production is very dope, and Zay's flow here is great. The lyrics aren't bad or anything. There's not a wack line in the song. I just don't think they're very memorable. Everything he said went in one ear and out the other. I guess I shouldn't be surprised that the song is reminiscent of his album from 2016 because he apparently recorded this in 2017. Oh well. It's far from his best work in my opinion, but I still enjoyed it. Check it out.
Thursday, April 23rd
Gold Tooth Maneuvers by 
CHEWSTICK

 produced by 

C,Watts

&

Glassc!ty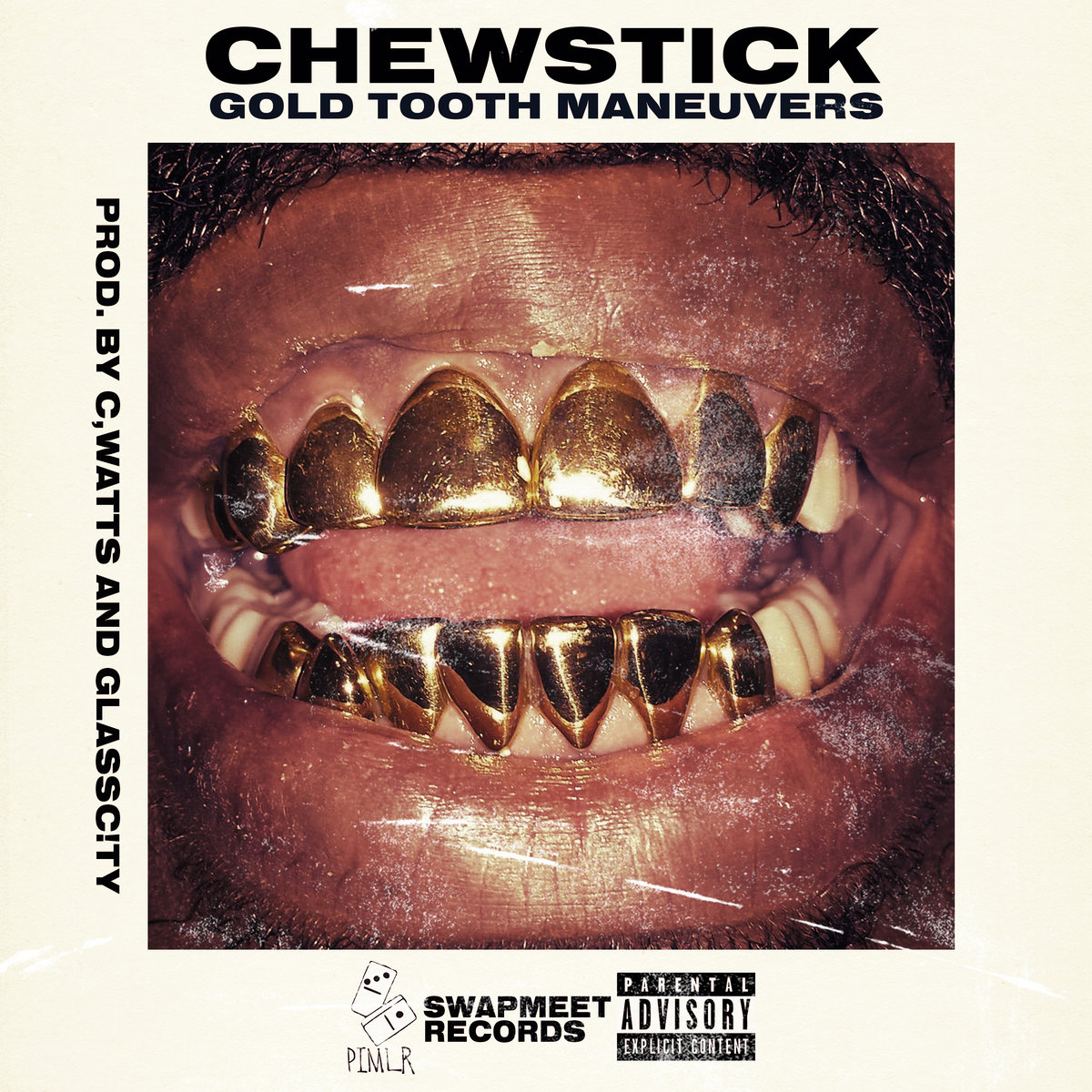 CHEWSTICK is a newly formed trio consisting of Thurz, C,Watt & Bless Escro. First of all, the production on this track is absolutely glorious. I've only been to California a couple times in my life, so there's probably not much validity to what I'm saying, but to me it sounds like a drive through the streets of California at night in the form of music. It actually kinda reminds me of the instrumental from 9 by Drake, except it has a lot more energy to it. Anyway, this was my first time ever hearing Bless Escro rap unless I'm forgetting something, but that dude was rapping his ass off on the first verse here. He definitely proved himself to be a competent MC alongside Thurz. That line about going from Dolomite to Israelite was really nice. Thurz murdered this shit though. There were so many dope lines… I loved the Duck Hunt lines, and the eczema ones were great too. His flow was awesome. This is probably my favorite song from Thursday of this week to be honest. I love the production, and both of the verses are fantastic. Don't sleep on this one. It's dope as hell.
Rapper Weed by 
SiR
featuring 
Boogie
produced by 
SiR
I still haven't listened to that album that SiR dropped in 2019, but I did enjoy his first album with TDE. I think it was called November. Was that… 2017? I can't remember. It was pretty good to me though. It had one song on it that I really fucking loved… Lemme check real quick… Oh right. SiR has a song called Something New, and I think that shit is fucking incredible. Definitely check that song out if you haven't heard it. Fucking love that track. This new song is pretty good too though. I think SiR has a really great voice, and this beat that he made is surprisingly pretty good too. That vocal sample that comes in during the hook sounds really familiar, but I can't remember where I've heard it. That's really bugging me. If anyone knows where it's from, please let me know. EDIT: I'm pretty sure it's the same sample that Sylvan LaCue used for his song, "Grateful." I think Boogie fit really well on this song. His writing wasn't amazing or anything, but his flow was nice, and I really liked his kinda melodic delivery. The way his verse ended and transitioned into the hook sounded really good. The song is dope. Check it out.
Friday, April 24th
Ironhead by 
Rasheed Chappell
produced by 
38 Spesh
Rasheed Chappell isn't someone with whom I'm super familiar, but I've heard him on a couple features in the past. He was on a pretty good Recognize Ali song back in 2018, and I liked him on the latest Planet Asia album too. Anyway, this song ended up being even doper than I was expecting. I really like Rasheed Chappell's voice—he does sound slightly like Logic to me at times, which isn't necessarily a bad thing at all—and his flow here is really great.
Stayin' still, we breathe out then sparks fly
Separating bodies from souls, like apartheid
This the dark side, this the underbelly
These the rules of law when you run with felons
The production from 38 Spesh isn't super amazing or anything, but it's pretty good. I fuck with it. I really don't have any specific gripes with the song personally. I think it's dope. This is the first single from Rasheed Chappell's upcoming album with 38 Spesh, Ways & Means, which is scheduled for release on May 1st, so keep an eye out for that.
Quarantine 16 by 
Noveliss
produced by 
Art
As the title of this track implies, it's pretty much just a quick verse, rather than a super memorable, fleshed out song. The verse itself is very good though, so it's worth checking out.
One stroke of the writing utensil fires a missile from the think tank
But I stop it prior to impact and explain to my enemies
That it's indeed not where you from but where you been at
As you can see from the kinda weird rhyme patterns here, Noveliss has always had a very unique, off-kilter flow. There are certain MCs to whom you can listen without any instrumentation and still figure out where the beat would fit under their flow. That's not the case with Noveliss. If I had to produce a beat to put under an a cappella verse for him, I would be completely lost. Well, technically I'd be lost with any rapper because I don't know how to make beats, but I'd be extra lost with him. Anyway, check this track out and lemme know what you think. Also, be sure to give that latest Clear Soul Forces album a listen if you haven't already. It's the best album I've heard so far this year.
vALENTINE FROM RESIDENT EVIL by 
Tokyo Cigar
produced by 
Odd Nosdam
I really enjoyed Tokyo Cigar's feature on the recent album from Iceberg Theory & August Fanon, so I was excited to see him rapping over this beat from Odd Nosdam, who's pretty much an underground legend at this point. I think Tokyo Cigar is a perfect fit over this heavy, gritty sounding beat. This shit literally sounds underground, if that makes sense.
Life is a ditch
You never know until the dirt hits your lips
If these walls could talk
They'd crack jokes about your body in chalk
If you only ever listen to super clean, accessible Pop Rap and melodic Trap music, you're probably not gonna be able to get into this. If you're more acclimated to this grittier underground sound, I think you should be able to appreciate it. I'm really glad I stumbled upon this track because I think it's awesome. There wasn't a lot of information about it, but the show notes of the YouTube page said "Mixtape coming soon," so hopefully we can expect a full project in the near future. In the meantime, check this track out and lemme know what you think.
The New Normal by 
Vangarde
This was another really pleasant surprise that I had no idea was coming. Vangarde is a newly formed duo consisting of Mr. Lif & Stu Bangas. They're gonna be dropping a full project soon, and this is the first single. There seems to be a big Gang Starr influence on this song in particular, which is really cool. Well, Mr. Lif pretty much states right away that Gang Starr was a big source of inspiration.
Vangarde, we're here in honor of Gang Starr
Turn it up as loud as you can, let it bang hard
The mission is tradition with the vision supreme
We grew up hearin' the Guru over beats by Preem
Mr. Lif's flow and rhymes all over this track are smooth as hell, and I actually think the production from Stu Bangas is really pretty. A lot of the more recent stuff that I've heard from him lately has been pretty aggressive, so this more chill instrumental was a nice surprise. The horns sound really gorgeous. Shoutout to Tone Spliff on the cuts too; he did a great job. This easily one of my favorite songs of the week. Give it a listen, and lemme know what you think.
---
I feel like this week was relatively slow for some reason. I mean, there weren't really fewer good songs this week than there usually are, but most of them just came out on Monday & Friday. The rest of the week was kinda barren. It's cool though. It made writing this post easier. As always, if a song came out this week and I didn't write about it here, it's because I either didn't hear it, or I just didn't like it that much. Anyway, check these songs out and let me know what you think about them. Once again, rest in peace to Fred the Godson. Be safe.