Sunday, May 24th
CUTIE PIE! by 
JPEGMAFIA
Out of all the songs JPEGMAFIA has released this year, I'm pretty sure this is my favorite. This song focuses more on his actual rapping than any of the others have, and I really love the kinda low-key, jazzy production here. He's still not an amazing lyricist or anything, but he had some nice lines here.
You niggas trash, still slaving away on Sylenth
Matter fact, you slaves no matter who niggas sign with
Lemme look at your deal
21 savage
To these Milli Vanilli ass niggas
Don't even own what they rhyming
His flow on this song is surprisingly smooth as hell. It actually reminded me of Q-Tip's performance on Thank You by Busta Rhymes. That's the one artist who kept coming to mind as I was listening, although the weird, robotic vocals on the outro kinda reminded me of something TOBACCO would do as well. There's not really a single aspect of this song that I dislike. I don't think it's amazing or anything, but if the lyrics were more interesting I probably would to be honest. This shit is dope. Check it out.
Monday, May 25th
Mother Tongue by 
Sa-Roc
produced by 
Sol Messiah
Sa-Roc has been dropping singles more frequently lately. It's not really clear whether these are for an upcoming project or if they're just loose promotional tracks. I'm just glad to be hearing more work from her though. This feels a bit more upbeat and lighthearted than the previous few songs, but Sa-Roc is still rapping super aggressively. She killed this shit. I really like how short the hook is. She gets it out of the way really quickly in order to get right back to the bars. The second verse is even crazier than the first one.
I'm a sonic representation of dark matter
Any space I rock's where the meteors and stars gather
I got hard data verifying my regard for the bar battle
At the heart of the game, my palms on the charge paddles
I fucking love it. I can't wait to hear even more from her, hopefully sooner rather than later, because this shit is fire. She's a beast. The song is dope as hell. By the way, if you haven't listened to her MetaMorpheus EP from 2016, you're fucking up. That shit is amazing. Make sure you listen to the Bandcamp version because it has 8 extra tracks that aren't on streaming platforms.
AYO ICEBERG WHERE MY FIDDLER TAPE AT? by
Iceberg Theory
produced by 
August Fanon
This song was released to commemorate Iceberg Theory reaching 1000 followers on Twitter recently. I'm not great at identifying instruments, but if I had to guess I'd say that this song has a flute loop. That's what it sounds like to me, but I may be wrong. It don't matter. It sounds dope. As always, Iceberg's lyricism is unique and esoteric.
Chickens coming home to roost rap
World change, you could choose to adapt
Body desecrated, but the tomb was intact
In alembic, and all the elements were soon to react
Him and August Fanon don't really throw any curveballs here, so you pretty much know what you're gonna get if you're familiar with their work. That's not an issue at all though because this shit is dope. Check it out.
Tuesday, May 26th
Civil Rap Song by 
Dos Monos
featuring 
Audrey Tang 唐鳳
I believe this is the second single Dos Monos has released this year, but I may have missed something. Obviously since I don't speak Japanese, I wasn't able to really appreciate the lyricism here apart from a few English phrases peppered in here and there. I heard somebody say "social distancing" at some point, so that was kinda cool. As always, I mainly enjoyed this song due to the atmosphere and production. This song sounds like pure chaos. It reminds me of The Day the Niggaz Took Over by Dr. Dre. All the weird ass sounds sound like the fall of an empire in the form of music. I love it. The way they were all flowing over it was really cool too. The Audrey Tang samples sounded so fucking awesome. I really love this track. I think I might like this one even more than the previous single they released. Don't sleep on this song. It's really goddamn cool.
Amen by 
Backxwash
Backxwash is an experimental Hip Hop artist from Canada who I've been hearing about for maybe 2 or 3 years now. I have next to no experience with her music, but I'm planning on covering her latest album, God Has Nothing to Do with This, Leave Him Out of It, as soon as I can. I'll try to catch up on her earlier work first though. Anyway, this song is fucking awesome. I love the super dark, hard hitting production, and the angry, aggressive-sounding hook is dope as well. I really fucking love her flow on the verse too.
Why the fuck everybody in the church for?
Why the fuck everybody so dirt poor?
Why the fuck do these motherfuckers need a jet
When everybody else ain't got a million yet?
This shit is hard as bricks. I really love the dark music video and art direction for the entire album too. I'm looking forward to the project. It'll be out by the time this article is published, so be sure to check it out. This shit is dope as hell.
Thursday, May 28th
1985 by 
Freddie Gibbs
produced by 
The Alchemist
This was perhaps the most pleasant surprise of the entire week. Ever since The Alchemist & Freddie Gibbs released that album Fetti, which was tarnished by the presence of Curren$y, I've been hoping that they'd do an album without him, and out of nowhere they did exactly that. I'm personally not as obsessed with Freddie Gibbs as the rest of Hip Hop Twitter seems to be, but I'm definitely a fan, and The Alchemist is one of my favorite producers of all time. The album is called Alfredo, and it'll be out by the time this article is published, so be sure to check that shit out. Anyway, the production on this song is awesome. It sounds like something Action Bronson would rap over. The entire song is just one verse from Freddie, but it's very good. His flow is fantastic as always, and the aggressive lyricism is awesome.
Bitch, I'll fuck up your face with a razor
How I make sure your motherfuckin' family can't view your body
Nigga thuggin' and shit, put my blood in this shit
Prick my finger, Alfredo, Illuminati
The song isn't really super creative or different. It's just really well done. I'm hoping that the full album throws a few curveballs, but I guess we'll see. This shit is dope as hell.
iamlegend by 
Flatbush Zombies

 produced by 

Erick the Architect

&

Linden Jay
Last week Flatbush Zombies began teasing an upcoming extended play entitled Now, More Than Ever, which I believe is scheduled for release on June 5th. My enthusiasm for the group has depleted over the past few years. I really enjoyed their debut studio album, but every subsequent release has felt more and more watered down. On top of that, the stinging mediocrity of last year's Beast Coast album made me lose a lot of faith in everyone involved. I'm hoping this next project will be an improvement. The teasers they've released have been really cool to me, and I like this latest single. The first verse from Meechy was great. As always, his super gruff delivery sounded fantastic.
Been seven years in this game, nobody robbed me for my chain
Nobody disrespect the set, nobody ever fucked my bitch
Evil nigga, slither to the crib and give her dark dick
Bigger spender, but that's only 'cause I work hard, bitch
Destruction is a form of creation, says Donnie
But I'ma different Darko, and this a different story
The hook from Zombie Juice is unfortunately pretty forgettable. Erick's performance here is nice though. I really like his production, and his verse was solid. It's not amazing or anything, but I enjoyed it to some extent. I mean, he wasn't really sayin' shit, but it was cool. I kinda wish Zombie Juice had a verse. Even though he isn't much of a lyricist, he at least tends to have a more intricate flow than the other two members. It is what it is though. I like the song. It's nowhere near their best work, and I'm really hoping the other tracks on the project are better than this, but I do like it to some extent. The music video is really cool too. Check it out.
Hi Bye by 
Chris Rivers
produced by 
Riddiman
This is the lead single from Chris Rivers' upcoming project, Self Inflicted Bubble Boy. I personally have no idea what the fuck that means at the moment, but I'm sure it'll be explained by the time I'm finished listening to the project. Anyway, I really love this song. Chris Rivers' singing on the hook isn't particularly good, but it's sufficient. The production here from Riddiman is absolutely glorious. This is perhaps my favorite beat of the entire week. I fucking love it. Chris Rivers' writing is top notch here too.
She told me only say "bitch" if I'm referring to karma
Messed up a couple times, but I'm still finding nirvana
When it comes to matters of the heart I'm playin' my part
But it's been dark, came full circle just to end where I start
It's a very short song, so I'm glad he kinda cut the second recital of the hook in half in order to spit one more verse. I think there's something wrong with the file that Chris uploaded to YouTube unfortunately because the song cuts off very abruptly in the middle of one of Chris' lines. I'm sure that issue will be sorted out on the album version, but it is pretty annoying. The song itself is great though; I really hope the next album ends up not sucking because his 2019 album with Mello Music Group was a dud. We'll see. Check this shit out & lemme know what you think.
Dancing in the Sun by 
Thurz
produced by 
ML3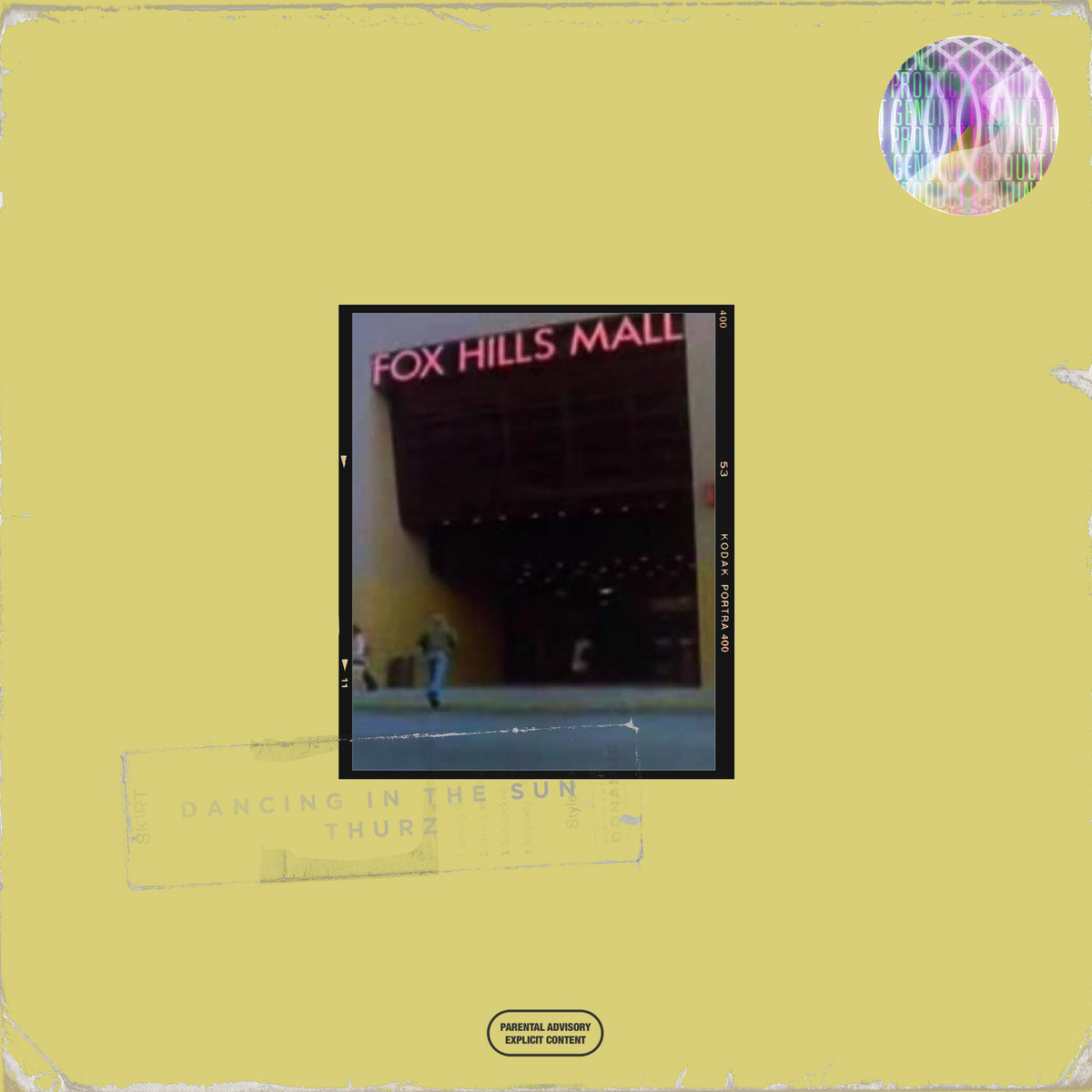 Unless I'm forgetting something, I've enjoyed every single song Thurz has released this year for his Thurz on Thurzday series. However, I think I like this song more than the previous few tracks. The production from ML3 is fantastic, and I love the autobiographical content from Thurz about his younger days in school. The hook is simplistic, but it's perfect. The way the beat switches up for the second verse is fucking perfect too. This is tied with the next song for my favorite track from Thursday, and it's one of my favorites of the entire week. There's not a single aspect of it that I don't love. Do not sleep on this shit. It's dope af.
Kill Your Idols by 
Kemba

 produced by 

Brasstracks

&

DJ Charlie Hustle
Kemba is another one of those artists whose music I scramble to listen to whenever he drops, so I was happy to receive an email about this new song. It didn't disappoint at all. I love the soft, lush, dreamy production. It kinda gives me the same feeling that Kanye's Ultralight Beams gave me the first time I heard that song. As always, Kemba's writing is stellar. His vocal delivery is super emotive too. I don't wanna use the word "fragile" to describe it, but it sounds like there's a lot of pain in his voice. I guess "vulnerable" would be more appropriate, but I don't want it to be associated with weakness.
Knight in shining armor don't exist these days
Niggas got bulletproof vests, niggas go straight for the head
Honesty and honor don't exist these days
Niggas don't got no respect, niggas don't get no respect
All of your idols were made in a marketing prep
Them niggas hot off the press
I never had a role model my momma ain't dress
They never got off the breast
Ironically I got a lot on my chest
Honestly, I got a lot of regrets
Promise you'll try to find me in death
The writing here is brilliant. The hook is perfect too.
I got grains of my past
This a drink, this a trap
I got angst, I got rage
I'm afraid they might clash
I had rocks in my trap house
Baby this is glass
Why you shocked when I lash out
Maybe this effect
The second verse also has some of my favorite lines in the song.
Superman wear plain clothes
My opps wear uniforms
New apps made new alarms
Cops can't hear through the phone
Like I said before, this is tied with Dancing in the Sun for my favorite track from Thursday. I think the song's amazing. Don't sleep on it. It's dope af.
Friday, May 29th
FIND A WAY by 
DUCKWRTH

featuring 

Alex Mali

 & 

Radio Ahlee

 produced by

DUCKWRTH

,

Xtina Prince

&

The Breed

DUCKWRTH is one of the more exciting artists I've become familiar with over the past 12 months. I really enjoyed his THE FALLING MAN extended play from last year, so I was excited when I saw that he'd released this new song. This track is really dope too. I don't know exactly how to describe it, but to me it kinda sounded Native Tongues-ish. It sounds like a modernized pan-African Jazz Rap song with Electronic influences. The vocals from Alex Mali on the hook are really nice. She did a great job on this song. Her opening verse was super dope. DUCKWRTH's singing on the second verse sounded very good too. He actually raps on the third verse, and it's weird as fuck. I love his flow and the lyrics are really cool, but the way he was pronouncing his words on the first quatrain really caught me off guard. It almost sounded like he was trying to sound like a white guy. It sounded like a stereotypical white surfer dude accent. I don't know how else to explain it. It really caught me off guard, but the verse itself is dope as hell.
Awake the zombies
Land of the sun, where the children song-sing
Rage in the air, I need peace of mind please
Breathe in the light, keep my demons 'round me
It's all apart of the plan
I tough, I fight, I big up my friends
I put in my time, I water my plants
I elephant chant, cross nebula sand
There's really not a single aspect of the song that I dislike. The production and overall aesthetic kinda reminded me of GoldLink. The main difference is that this is actually good. Anyway, check the song out and lemme know what you think. I really fuck with it.
Gave It to 'Em by 
The LOX 

produced by 

AraabMUZIK 

& 

Swizz Beatz

I believe this is the second single that The LOX have released this year. It's taken from their upcoming fourth album, Living Off Xperience. I'm not sure when that's supposed to come out, but I'm looking forward to it. Anyway, I really like this beat; it definitely sounds like something I'd hear on a Styles P album. I can't see Jadakiss choosing something like this. Anyway, I really liked the opening verse from Styles, and Jada sounds great on the hook. I actually think Sheek Louch killed this shit to be honest. He definitely had my favorite verse.
Big man with the muscles acting hard, put the razor to 'em
Silverback, brains on the wall, I gorilla glue 'em
Cross anyone of my niggas, I don't care how you do 'em
Send his cold body bag home, I don't care how you flew 'em
Brother, cousin, used to work with 'em, I don't care how you knew 'em
Send my main bitch to go fuck 'em, I don't care how she screw 'em
Plant based, vegan, or beef, I don't care how you chew 'em
LOX got too many fuckin' hits, it's hard to brew em
The closing verse from Jada was pretty good too, although I kinda wish he switched his rhyme scheme up because it was a bit uneventful coming after Louch. He still did his thing though; he sounded very good. This has me pretty excited for the upcoming album, so I hope to hear more about that sooner rather than later.
Southside Mez by 
Mez

 produced by 

Mez

,

Kal Banx

,

T-Minus

&

Lonestarr
I've been aware of Mez for about 6 years now, but I didn't really start listening to him until he was featured on Dr. Dre's Compton album. That was back when he was known as King Mez, and to this day I still prefer that stage name. Yes, the "King" moniker is super cliché in Hip Hop, but at least it's more memorable than Mez. On top of "Mez" having three letters and one syllable, it's also a stage name for at least three other artists. I'm sure none of them are as popular as this Mez, but one of them is a Grime artist who's released 4 different extended plays in the past 2 years. I'm just gonna keep referring to this guy as King Mez. Anyway, he's from my home state of North Carolina, so I've had an eye on him ever since I discovered him. I loved his work on that forgettable, overhyped Dreamville compilation from last year, and the Data Plan EPs that he's been releasing since 2018 are pretty good too. I'm just wondering why we haven't gotten a full length album from him. He's just been doing features and dropping singles for years now. The aforementioned extended plays didn't have more than two songs each, unless I'm mistaken. He seems to have the respect of a lot of big artists, from 9th Wonder to J. Cole to fucking Dr. Dre of all people, so it's just bizarre to me that he releases so little music, but I digress. This song right here is really good. The hook is very simplistic, but I actually like it a lot, and the production here is pretty dope too. The actual verses are what make the song so entertaining though. His flow is really great here. The lyricism in the first verse wasn't amazing or anything, but he at least held my interest. His flow on the second verse was even better, but I have to admit that the way he ended it was kinda annoying to me. The song is dope though. I've always loved his voice, and I think he sounds great here. In all honesty, the main reasons I like the song are just because of his flow and voice along with the art direction. The music video is dope. The song's good too though. Check it out.
Flowers for People Under the Stairs by 
Murs
produced by 
Prozack Turner
As you can probably tell from the title of this song, this is Murs' ode to the legendary underground Hip Hop duo, People Under the Stairs. I feel like Murs himself is probably considered an underground legend at this point, and I feel bad for not covering more of his stuff. I wrote a pretty lukewarm review for his 2015 album, but I don't even know if that's still up. I might've deleted it. I hate pretty much every review that I wrote before 2019, so it might be gone by now. Anyway, this song right here is pretty dope. It's cool for him to shine some light on one of the most under-appreciated Hip Hop acts of all time. The upbeat production from Prozack Turner is really nice. The throwback flow from Murs was cool too. His cadence sounds like it was lifted directly from a Grandmaster Flash song. The biographical lyricism is cool, and the hook is pretty good too. It's not my favorite track of the week, but I definitely enjoyed it enough to highlight it here. Check it out.
---
As always, if a song came out this week and I didn't write about it, I either didn't hear it, or I just didn't enjoy it enough to mention it here. As I do every week, I'll be livestreaming these singles today (Sunday, May 31st) at 5 PM EST in the virtual club. Click

HERE

to check it out.