Sorry this shit is late. I'm gonna be honest. I'm writing this at 10:30 PM on Sunday, September 6th. This was supposed to be published at noon today, but I haven't even started yet. I've just been super busy with school. Now that my classes have actually begun, and I'm fully moved into my dorm room on campus at Hofstra University, I've been really goddamn busy. I don't have nearly as much time to work on this blog as I used to, so things are unfortunately gonna be a bit inconsistent from now on. I might not be able to post shit on this blog on a reliable schedule. I'll just post shit whenever it's ready. Fuck it.
---
Sunday, August 30th
In West Hollywood Going Crazy with YUNGMORPHEUS by
Lord Jah-Monte Ogbon
produced by 
YUNGMORPHEUS
I don't think I'd ever heard of YUNGMORPHEUS before hearing this track, but I was super impressed after I finished listening. I think his production on this track is fucking fantastic. This is one of my favorite beats of the week. That sample is so fucking dope. Jah-Monte of course did a great job over it too.
This strictly for the heads
Young Whitney with the head gettin' frisky in the bed
Wanna verse? You get hit me with some bread
Run up on me, I'll put 50 in the head
Relyin' on the white man for your fundin' and shit
Don't come for me unless you come with a stick
The hook is pretty cool too. Overall, I wouldn't say it's one of my favorites of the week, but it definitely has one of my favorite beats. Don't sleep on this shit. It's dope.
Pick Pocket by 
Illogic
produced by 
Illogic
&
DJ BomBay
This is the first single from Illogic's upcoming album, Autopilot, which is slated to drop on October 20th. I loved his appearance on the recent BLUu Edwards album, so I was happy to see him announce this project. I really love the dark, kind of trippy production on this song, and Illogic's writing is just as enthralling as ever.
A devout skeptic, questions find me comfort
Tryna stand out among these mannequins as a man again
Decoding doubts, message lessons usher wonder
We frame behavior as Vader without understanding Anakin
A complex man holding onto the simple things
Diligently dicing the indignant for the fun
But ladies see the smile and they crown him "the dimple king"
Insisting I give 'em a little rhythm of the drum
The scratches from DJ BomBay are great, and I love how weird the beat gets during the hook. The Busta Rhymes sample was really cool. This is easily one of my favorite songs of the week to be honest. It might actually be my number one favorite. Don't sleep on this one. I think it's dope af.
Monday, August 31st
LAST DANCE! by 
JPEGMAFIA
JPEGMAFIA has been releasing singles at a steady pace throughout 2020, and this is supposedly the last one, hence the title. I honestly haven't been feeling a lot of the tracks he's dropped. I'd say I fuck with maybe 40% of them. Maybe half. I don't know. I just don't think the production has been that interesting, and his lyricism has never really been that substantive. I guess that could be said about this latest song too. The main reason I actually like this one is just that his melodic flow and delivery actually fit over this beat really well. I think it all came together into a dope track. I still don't really give a fuck about any of the lyrics. I just think this shit sounds good. The more melodic direction he's gone in lately has been very hit-or-miss with me. I think it works well here though. This shit is dope.
Paint a Picture by 
J-Live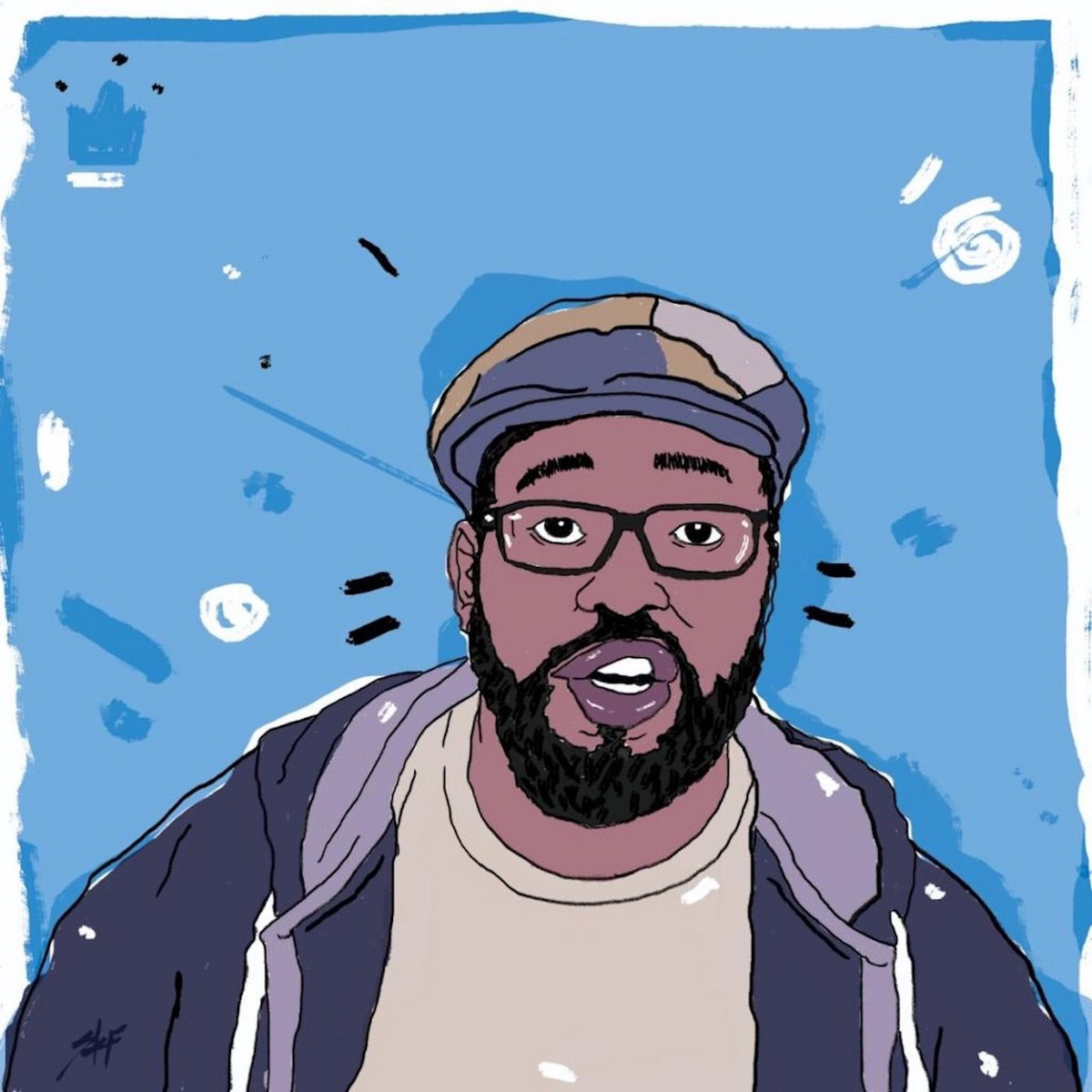 I feel kinda bad that I've never written about J-Live on this blog before. He's in that kind of weird space where he's a super talented artist with multiple classic albums, and yet he's somehow still super underground. People really don't talk about his work enough, and I'm not an exception. There's a first time for everything though, so I'm glad he dropped this dope new single for me to write about. The boom bap production is super hard-hitting, and J-Live's writing is on point as always.
Ever careful of my wishes, well versed in the ways of the waves
As tides turn, still waters be knowing things
Ain't always what they seem, gift and a curse, a limo or hearse
A thousand pictures, a word, a chapter, a verse
The hook is fire too. The second verse is even better than the first one in my opinion. I wish I had this kind of attitude…
A stubborn samurai stalling his seppuku
Searching for solutions in the math like sudoku
No point in Hara-kiri
It's not time for the fat lady to play Mariah Carey
I might be down a couple runs, and, yeah, it's kind of scary
But I aint even stretching to the sounds of Harry Carey
It's not even the seventh, it might just be the sabbath
The rest before my genesis
I wish I could cope that well. Anyway, the song is super dope, so be sure not to sleep on it. Let me know how you feel about it.
EXCITED by 
Allan Kingdom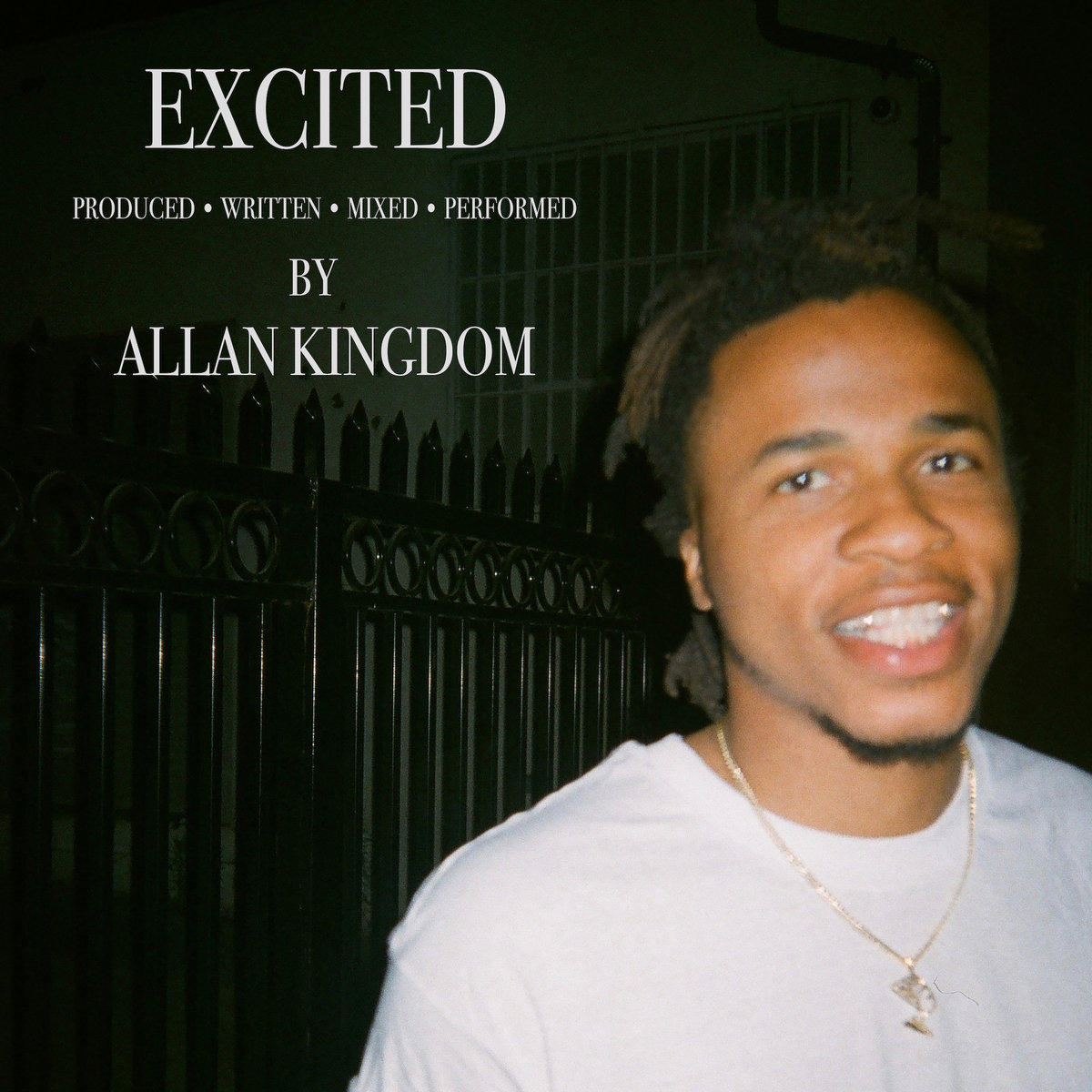 Allan Kingdom's approach to Pop Rap will never not be weird as fuck to me. I don't know exactly what it is, but he just seems like such an eccentric, bizarre person. I don't know if it's the unintentionally hilarious, ostensibly low-budget artwork, or if it's his warped vocal delivery. It just sounds super fucking weird. Not necessarily in an artsy way, but also not in a cheap, off-putting way either. It's just really unique, and I don't think there are many other artists who sound like him. Theophilus London usually comes to mind whenever I think of Allan Kingdom, but that's probably just a subconscious thing since they're both featured on that one song by Kanye West. Anyway, I actually think this shit is super catchy. I wouldn't be confused if somebody told me they hated this. I just think it sounds good personally. I really like the beat, and the way the vocals are layered in the hook sounds really good in my opinion. I liked his verse too. I didn't pay much attention to the lyrics, but I liked his flow. His voice kinda reminded me of Taylor Bennett mixed with Travis Scott, which I'm sure sounds weirder on paper than it actually is. The song is pretty good. The lines about slavery and people's great great great grandmamas being beaten and raped felt a little out of place, but it might've made more sense if I paid closer attention. I fuck with this track. Let me know what you think.
Tuesday, September 1st
Simile #7 (see page 127 & Ttrabul 2) by 
Slauson Malone
featuring 
Jai
I don't know any of the details, but I'm assuming this song is from an upcoming full length project. The description for this video mentions something called Vergangenheitsbewältigung, which is apparently scheduled for September 16th. That's probably an album. Cool. I look forward to that, especially since this song is so good. I enjoyed Slauson Malone's 2019 album, and this honestly sounds exactly like something that could've been on that project. The production is very despondent, and emotional, and muted, and melodic. The vocals sound very nice, almost like something James Blake would do. I have no idea who this Jai kid is, but he sounds surprisingly cool on this track. Overall, I think the song is really dope. There's not much to dig into lyrically, but just from a sonic perspective, this shit is super dope to me. Check it out.
Wednesday, September 2nd
Killing Kings by 
Grafh
featuring 
Ray Emmanuel
,
Mysonne
&
Sly Pyper
produced by 
Black Nailz
This is the second single from Grafh's second album of the year, Good Energy, which is slated for release on September 18th this year. I really like the production from Black Nailz. I was kind of excited to hear Sly Pyper's performance here because I usually dig him on features, but I was a little lukewarm on his appearance when I first heard the song. I don't dislike it, but it's definitely my least favorite aspect of the song in all honesty. Anyway, the opening verse from Grafh is fire. I of course appreciate the content of this song, and I think each MC nailed it.
I never thought the phrase "history repeats itself" was that deep
Until they hung a nigga last week
Ray Emmanuel was the only artist on this song with whom I was completely unfamiliar, but he ended up really impressing me. His flow was really nice. His accent and delivery also kinda reminded me of T.I. and Lute respectively, but that's probably just me. Most people will probably read that comparison and be like "what in fuck's name are you talking about?" Anyway, I've been aware of Mysonne ever since I first got really into Hip Hop, but I'm more familiar with his activism than his actual music. He really did his thing here though. I wouldn't try to argue if someone said he had the best verse.
Where the niggas who gon' ride at? Fuck runnin' your mouth
They just shot Breonna Taylor dead in her house
We ain't even talk about how they did little Elijah
So I don't give a fuck if your precinct is on fire
My niggas is gettin' tired of just marchin'
We been doin' that since the 60s, all respect to Martin
But the revolution is startin', we woke up from the dream
Now it's Malcolm time, we gon' get justice by any means
He killed this shit. The song is really dope, so be sure to give it a listen and tell me what you think in the comments.
Stay by 
Namir Blade
This song is amazing. I was pretty blown away by the first single I heard from Namir Blade, but this one is just as good, if not better. I don't know how the fuck MMG somehow manages to find so many dope artists that completely blow me away in different ways. This dude doesn't sound like some random ass generic struggle rapper from around the block. This dude sounds like a big budget veteran. The first thing that caught my attention was the title of the song along with the little comment Namir made about the the track. Some of you may have noticed that in the past few preambles to these Best Singles of the Week posts, I've mentioned being super depressed and having a shitty personal life. To be honest, I've been struggling with a really difficult break up, so that's why I've been down for the past month. As a result, this song really hit home for me.
Could you stay with me?
If I played it cool, would you wait for me?
Man, this shit was so needed. The writing is so good, and his vocals sound amazing. The production kinda sounded to me like something that Cordae would rap over. I'm so fucking sad bro. Lmao. This shit is amazing to me though. There's not a single aspect of this song that I don't like. It's my favorite song of the week for sure. Don't sleep on this shit.
JASON by 
Elzhi
produced by 
JR Swiftz
This is the lead single from Elzhi's upcoming solo album, Seven Times Down Eight Times Up, which is scheduled for release on September 25th. I remember hearing about this album back at the beginning of the month. I was watching an IG Live from JR Swiftz, and he said something along the lines of "the cat's out the bag; I'm doin' an album with Elzhi." However, for me, the cat was still inside the bag, so that was breaking news personally. Ever since then I've been on the lookout for an entire album by Elzhi produced by JR Swiftz, and surely enough it's on the horizon. I never would've guessed that these two would be working together on a full album, but I'm glad it's happening. Anyway, it's only been a couple years since Elzhi put out that Jericho Jackson album, but for whatever reason I feel like I haven't heard new shit from him in forever, so I was really happy to hear this. First of all, the production from JR Swiftz is absolutely pristine. As soon as the beat dropped, I was sold. This album is about to be fire. In terms of the content, this track kinda reminded me of She Sucks. This is apparently the final song on the album, so it seems like kind of a strange way to close things. I'm sure it'll make sense in the context of the full project though. Hopefully. Anyway, Elzhi rhymed his ass off on this joint.
You heard of Jason, that kid who had a rocky past
Died a thousand deaths and woke up in a hockey mask
Bloody blade, Sake glass, couple blunts of broccoli stashed
Knock you on your cocky ass fast as a Kawasaki crash
He fucking slaughtered this shit. I feel like the beat is even better than what JR Swiftz typically does too. It almost felt like they were competing. Every five seconds my focus would shift from the lyricism to the production. That in itself was a really interesting experience. I think this shit is amazing, and I can't wait for the full album. This is another one of my favorites this week. It's dope af. If you sleep on this shit, you're fuckin' up.
Thursday, September 3rd
One for the Team by 
Ruste Juxx
produced by 
TooBusy
Ruste Juxx has been putting in a shit ton of work lately, but I was still somewhat surprised to see a new song from him already. I'm assuming this is from an upcoming project, but it could just be a loose single. I don't know for sure. Anyway, this shit is dope. The production from TooBusy actually kinda sounds a little Wu-Tang-ish to me. I could definitely see RZA making something like this. Ruste Juxx sounded perfect over this shit too. I love the way he was flowing over this one.
Pleading for their lives, but their prayers were rejected
Under my dominion they was forced and subjected
To practice obedience and bow to my kingdom
Flying guillotines chopping domes when I swing them
Bring them to hell with flames at tall stature
4k cams with frames that can't capture
The quality I bring to the screen
Smoke a L to the lung for the team
This shit is super hard. Those lines in the second verse about the smart slave murdering the master and his wife were awesome. I think this track is dope as hell. Don't sleep on it.
T'Challa by 
Thurz 
produced by 
ML3
I'm actually shocked that this is the only musical tribute to Chadwick Boseman that I heard this week. Well, that's not entirely true. To be fair, Mega Ran did post a video of himself rapping a verse about Chadwick almost immediately after the news of his passing broke. This is the only fully composed song I've heard so far though. Anyway, this shit is awesome. The production from ML3 actually sounds like it could be theme music for a new TV show about the Black Panther or something. It's really fucking cool. The hook from Thurz is really cool too. Not to sound like a fucking dork or anything, but this sounds like some shit a real Wakandan would make to pay tribute to their king after his death. The opening verse was great. That line about shitting in a flower pot and expecting a rose to grow was dope. I'm not sure if fertilizer works that way. I don't know shit about gardening. Anyway, as much as I enjoyed the first verse, the second verse is where he really knocked it outta the park in my opinion.
American Dream is just a pyramid scheme
68% of people serving life without a stream
Of light for parole, black and brown you know
That every seed planted, they don't ever want it to grow
Make you wanna shoot the sheriff, give the deputy chance
To change careers shootin' bullets at his feet to dance
We all need a little Killmonger to stay sane
Keep your eye on us from the ancestral plane
I think the song is great, and it's definitely an admirable tribute to Chadwick Boseman. Check this one out, and let me know what you think.
Greasy September (For the Young Lovers) by 
Darko the Super
If I'm not mistaken, this is the lead single from There's a Horse in the Hospital, which is the next album from Darko the Super. I'm not exactly sure when the album is supposed to drop, but it's got arguably the best album cover I've seen this year, so that alone has me super excited. The song is awesome too. I fucking love how weird this shit is. First of all, Darko's production on this song is amazing. I love this sample he flipped. It sounds like one of those old school Doo Wop love songs. It sounds like it was influenced by the same sound that PSYPIRITUAL harnessed for the closing song of his album with The Lasso. I love how weird Darko's flow is on this shit too. The way he flows makes no sense, but it somehow works. This quatrain right here reminded me of how lonely I am…
Even though the world's ugly
I got a girl to love me
And I love her too, maybe even more
Together we could never be bored
I love how happy this song sounds though. This shit definitely belongs on my happy playlist, even if some of the lyrics are kinda dark.
There's a turd in the punch bowl
And I ain't a Huxtable, raised on Uncrustables
I'm unemployed
Finding things hard to enjoy
They're drunk on fear
Homegirl sunk in her tears
From the big Apple to the city of angles
Our love was strangled, hurt and mangled
I think the song is awesome, and I can't wait to hear the full project. Again, there's no word on an official release date just yet, but I'm gonna be all over that shit when it drops. Check this one out and let me know what you think.
Rocks in Your Shoes by 
Duncecap
I believe this is the lead single from Duncecap's upcoming album, Resting Dunce Face, which is scheduled for release on October 2nd this year. I'm not super familiar with Duncecap's work. I'm pretty sure I'd only ever heard one song from him before checking this one out. I remember not really being into that song, but loving the music video. As a result, I ended up being surprised by how much I dug this one. I really like the faded, glitchy, Electronic, kind of woozy sounding beat. This is a super weird comparison, but the first thing that came to mind when I heard it was Travis Scott for whatever reason. I like it though. The beat is dope. Duncecap's actual rapping is dope too. This has me wondering why exactly I didn't fuck with the first song I heard from him. I don't even remember what that one was called. I guess it don't matter. Anyway, this song is pretty goddamn short, but it doesn't feel skeletal. There's enough happening to prevent it from feeling incomplete. I love the dynamic production, and Dunce's lyricism had me interested throughout the entire track.
Tragedy is comedy, not every lens zooms
Post up in the shop and fix what troubles you
I like the way my mouth dances when I spit a tune
My bars are choreography for my lips to move
The song is really dope. I'm glad I gave this dude another chance because he's talented. Also, Duncecap is a cool name. Let me know what you think of this song.
Friday, September 4th
+Terius by 
Chloe Hotline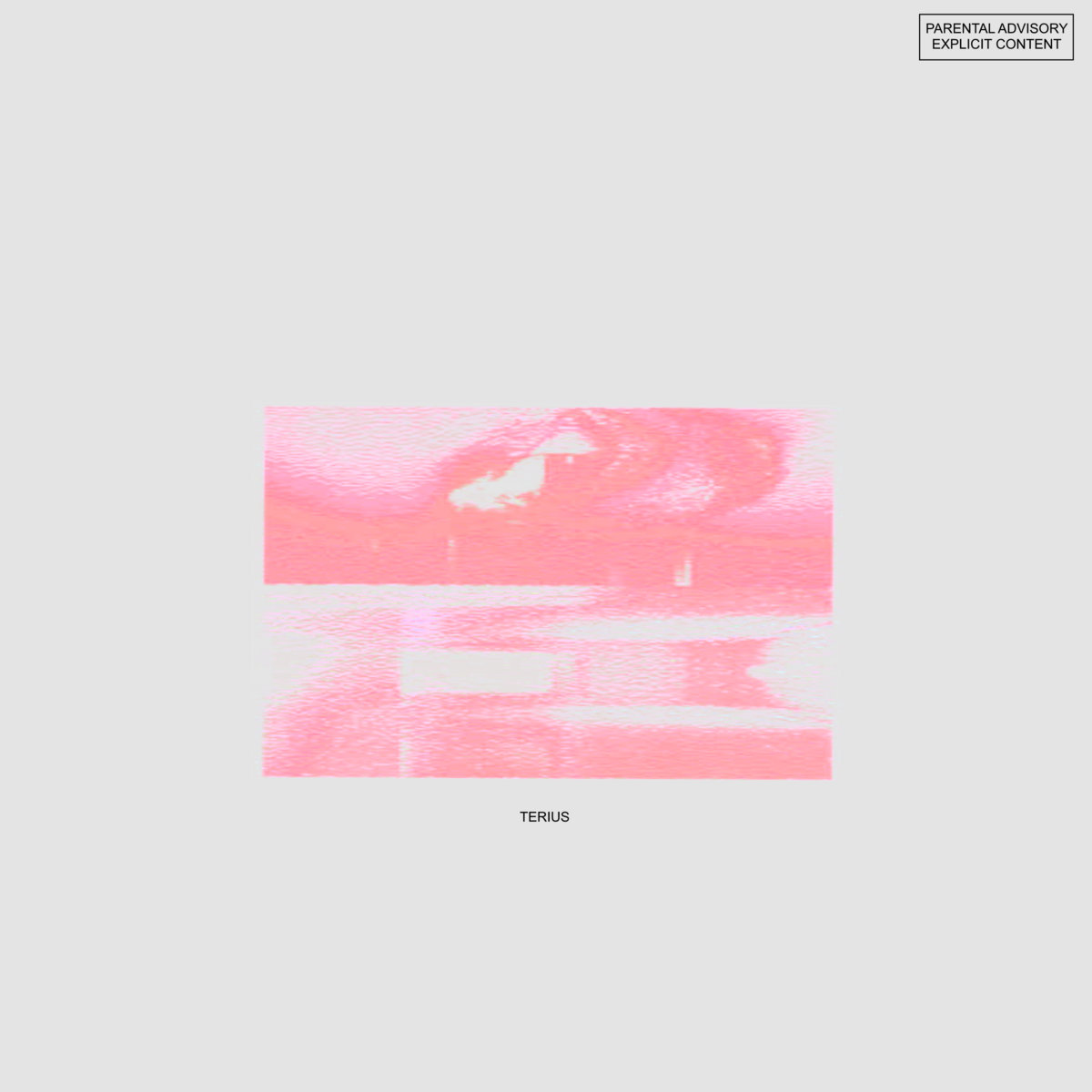 This is one of my favorite songs I've ever heard by Chloe Hotline. It's really between this and +Cellphone. I'm not sure if they're loose singles or if they're both supposed to be on her upcoming album NSTYNCT, which is supposed to come out some time next year. It don't matter. Anyway, I think I mainly like this track due to the production along with Chloe's flow and delivery. The music video really added a lot for me too. The overall manner in which this track was presented really had me hooked. This was my favorite part.
You see that shit? That shit is dope as hell. Anyway, check the song out and let me know what you think. Watch the video too. You can tell she pretty much just shot the whole thing in her bedroom too, and it still ended up being more interesting than the average generic Hip Hop video with some douchebag rapping at his camera surrounded by nice cars and hoes with fat asses, but I digress. This song is dope. Check it out.
---
This was actually a pretty solid week for music. When I first started writing this shit it didn't seem like there were as many songs as usual, but I was satisfied by the time I was done. I'm sure I missed some dope stuff too since I started so late. Anyway, let me know what your favorite tracks were. Did you fuck with these tracks or not? What else would you have included here? Let me know. As always, if something dropped this week and it isn't mentioned here, I either didn't like it enough, or I just didn't hear it. See y'all soon.